Mobility Control And Data Plan Down (C9800)
Options
Mark as New

Bookmark

Subscribe

Mute
‎08-07-2020 03:55 AM - edited ‎07-05-2021 12:22 PM
Hi,
Currently have a couple of C9800 controllers in a LAB environment for a POC. They both at this time connect to the same switch but on different subnet's so no firewall to consider.
Each WLC can ping each other, yet I am struggling to bring up the mobility tunnel.
Here is controller 1 details:
And the same for the other controller: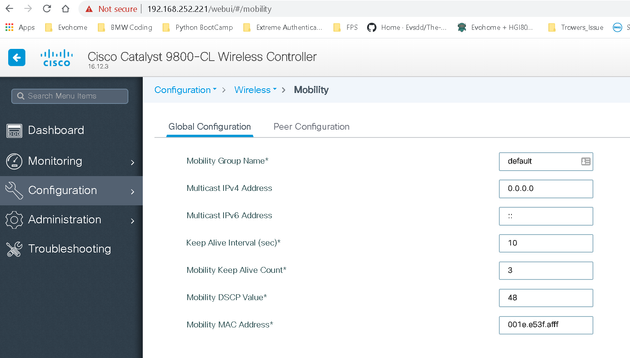 Have been following this guide:
https://www.cisco.com/c/en/us/support/docs/wireless/catalyst-9800-series-wireless-controllers/213913-building-mobility-tunnels-on-catalyst-98.html
That last screenshot in comparison to the other controller is missing the first line. This was there and still didn't work, think it disappeared after a reboot - so thinking it has nothing to do with issue.
Have additionally tried creating a new mobility group (as per URL) and put different MAC on each controller and pointed the peer to that MAC and WLC IP.
I couldn't find any specific debug command that I could use on these controllers, or any detail in the log as to what the problem might be.
Could be a config issue, hence throwing it out their.
Appreciate any assistance in advance.
Thanks