Introducing the Wireless 3D Analyzer on Cisco DNA Center 2.2.3.x
Options
Mark as New

Bookmark

Subscribe

Mute
‎01-13-2022 09:23 AM - edited ‎02-01-2022 11:29 AM
Gain better Insight into your Wi-Fi Network
The release of Cisco DNA Center 2.2.3 includes an incredible addition to our network deployment and monitoring feature set, the Wireless 3D Analyzer. It is a never-before-seen solution that allows us to gain perspective on the typically invisible Wi-Fi RF (Radio Frequency). Refer to the use cases below.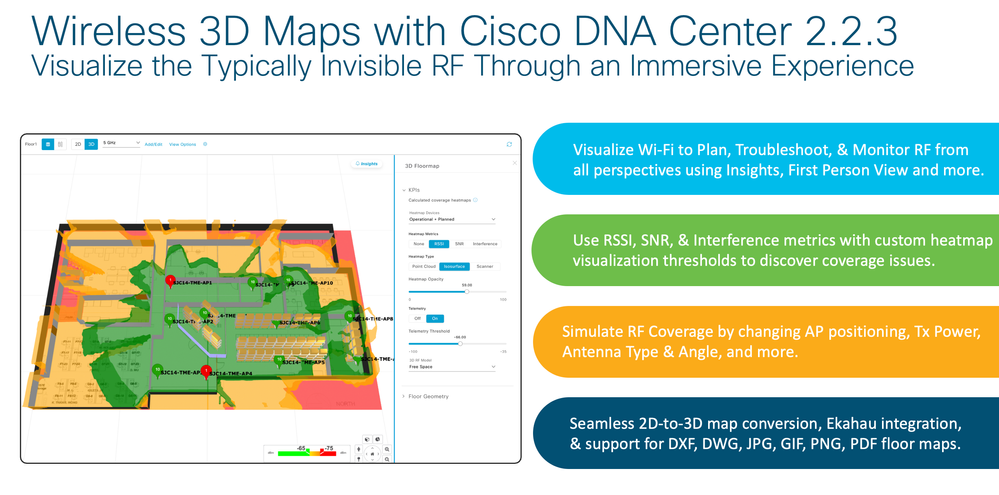 Before this, we, along with the rest of the market, have a 2D Map that shows us the placement of APs (Access Points) on a floor and how the RF is propagated from a top-down view. The problem with this approach is that we live in a 3D world. For network administrators to ensure there is proper wireless coverage in every building and floor, they need to view wireless RF at different angles and from the perspective of how a wireless network user would perceive Wi-Fi.
Luckily, reaping the Wireless 3D Analyzer's benefits is as simple as a click of a button.
Ready to get started?
In order to take advantage of Wireless 3D Maps, your Cisco DNA Center must be on version 2.2.3.x or later. Wireless 3D Analyzer supports any WLC, and AP is supported by Cisco DNA Center version 2.2.3.x. To learn more about Cisco DNA Center 2.2.3.x and how to upgrade, view our upgrade guide.
Already on 2.2.3.x? Dive into the the Wireless 3D Analyzer features through our YouTube series:
Resources:
Thoughts? Questions? Comment below!