Options
Mark as New

Mark as Read

Bookmark

Subscribe

Email to a Friend
‎04-30-2013 09:59 AM - edited ‎03-12-2019 10:00 AM
Introduction
This document covers the configuration procedure to implement secure conference bridge and Meet-Me conferences on Cisco Unified Communications Manager 8.x.
Configuring secure conference bridge
Secure conferencing allows a conference resource to be set up that uses encryption (SRTP).
To configure a conference resource for secure conferencing, perform the following:
1. Navigate to the conference bridge configuration page: Media Resources --> Conference Bridge
2. Click on Add New.
3. From the Conference Bridge Type drop-down, select Cisco IOS Enhanced Conference Bridge.
4. Specify the Conference Bridge Name.
5. Specify the Device Pool.
6. From the Device Security Mode drop-down, select Encrypted Conference Bridge.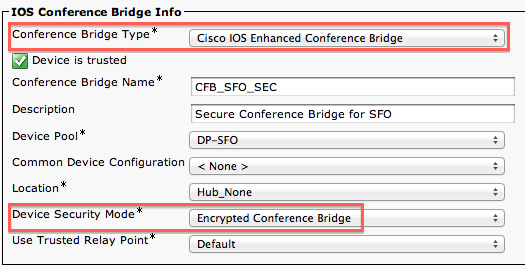 7. Click --> Save.
Secure conferencing requires configuration on both the Unified Communications Manager and the IOS device itself. However, once configured, the Unified Communications Manager will set up encrypted RTP traffic for all devices connected to the conference. It is important that the conference bridge type is IOS Enhanced with the security mode set to Encrypted.
Configuring Meet-Me conferences
Meet-Me conferences too can be secured by way of preventing non-secure devices from initiating a conference. Secure Meet-Me conferencing works by limiting access to Meet-Me conferences to devices that are secured. The security level configured will determine the types of devices, such as secured phones or non-secured phones, which can join a conference.
To configure a secure Meet-Me conference, perform the following:
1. Navigate to the Meet-Me number configuration page: Call Routing --> Meet-Me Number/Pattern
2. Click on Add New.
3. Specify the Directory Number or Pattern.
4. Specify a Partition if necessary.
5. From the Minimum Security Level drop-down, select Authenticated or Encrypted depending on business requirements:

6. Click --> Save.
Note: Meet-me conference is only supported on Cisco IP Phones. You can join meet-me conference from any external phones/numbers when you can establish a route to the meet me number. You can start a meet-me conference only from a Cisco IP Phone. External Phones are not supported.

CUCM and CUC Meet Me Conference with User Authentication Configuration Example
Related Information