Options
Mark as New

Mark as Read

Bookmark

Subscribe
‎03-24-2020 08:48 AM - edited ‎04-07-2020 11:54 AM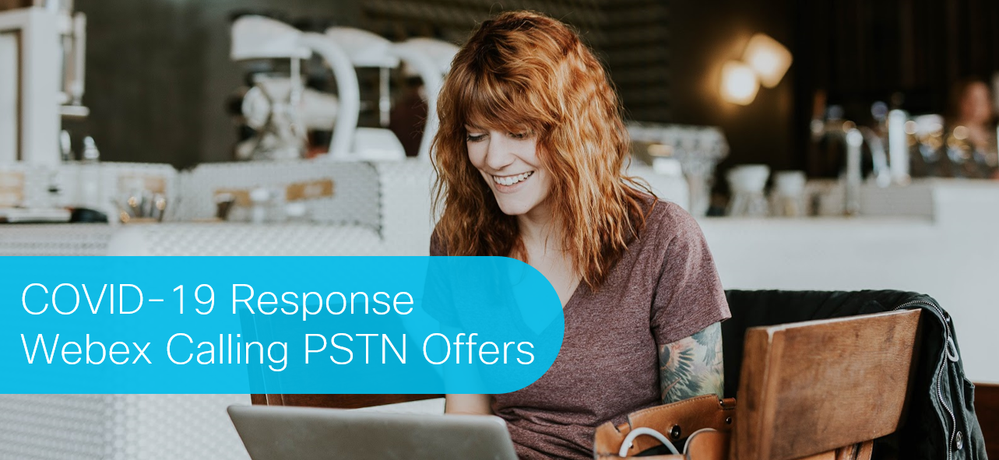 Updated 4/7/20 - Please continue to monitor this page, new offer information will be added as it is received.
In response to immediate COVID-19 customer needs, Cisco is reminding partners and customers of our free 90-day trial option on Webex Calling. While PSTN services are not included with the trial, certain service provider partners are now offering their own PSTN service trials in conjunction with Cisco's Webex Calling trial. The table below displays a list of service provider partners and their current PSTN offers for Webex Calling. Please contact the partner to learn more.
Explanation of PSTN Deployment Types - Some partners offer multiple deployment types therefore it is important to be clear about which deployment type and associated offer you are referring to when contacting them.
Bundled PSTN - Cisco Webex Calling Service Provider partners have the ability to combine (bundle) the Webex Calling solution with their PSTN capabilities and additional partner services
Local Gateway - Customer has a Local Gateway (CUBE) on-premises that connects the customer's Webex Calling service to their on-premises CUCM and to allow the re-use of the customer's existing PSTN services for their Webex Calling users
Cloud Connected PSTN - The PSTN Provider's service is connected directly to Webex Calling in the cloud allowing customers to quickly and easily enable their Webex Calling service with PSTN with no requirement for on-premises equipment or additional integrations
Hosted Local Gateway for PSTN - These partners host a local gateway solution in their data center that connects and provides PSTN services for Webex Calling customers, also without the requirement for on-premise customer equipment
Partner
Region(s)
Type
Details
Contact Link
NTT
Americas; Europe;
Australia; New Zealand
Bundled
25-50 users; Domestic only calls; Use for 90 days with no commitment to buy; free consultation, free number provisioning
US Contact
EU Contact
Asia-Pacific Contact
Century Link
Americas
Bundled
Contact for information.
Contact
Alphalink
France
Bundled
from 50 users to unlimited number for Webex Calling + temporary numbers in France - Domestic call ( Fixed/Mobile) - 24h activation - use for 90 days - no commitment - free number provisioning - discounted flat fee voice traffic - Cisco MPP & Headsets Home Express Shipment ( France only)
Contact
Intrado
Global
Bundled
3-months free homeworking voice solution, with no set-up fee. Includes all in-country calling - quick implementation. Supports various device options including softphones. Free voice assessment available if required.
Contact
Cloud Connected PSTN Offers
MNF
Australia; New Zealand
CCP
24 hour activation; 12 month commitment waived
Contact
Intelepeer
Americas
CCP
10 users free for 90 days
Contact
NTT
Americas; Europe
CCP
10 users free for 90 days
US Contact
EU Contact
Asia-Pacific Contact
Partner Hosted Local Gateway with PSTN Options
Sipsynergy
UK
Hosted LGW
VAR can be up and running in 30 mins with numbers - sold on a channel basis so circa £3.50 per channel for an all you can eat national plan with £0.10 charge per DiD
Contact
Additional Solution Offers with Webex Calling
DUBBER
Americas; UK; Europe; Australia
Call Recording
Always on call recording per user; All calls stored for 30 days; Upgrade options for compliant recording and AI are available
Contact
Additional questions, please email webexcalling-freetrials-covid19@cisco.com