Options
Mark as New

Mark as Read

Bookmark

Subscribe

Email to a Friend
‎07-20-2015 09:35 PM - edited ‎03-12-2019 10:17 AM
# Migration from Unrestricted to Restricted CUCM Version #
Migration from the Unrestricted version to the Restricted version is NOT SUPPORTED.
After you install or upgrade to an Unrestricted release, you can never upgrade to a Restricted version.
You are not even allowed to fresh install a Restricted version on a system that contains an Unrestricted version
A DRS backup/restore is also not possible as the DRS file will be tagged as coming from an unrestricted deployment, and can only be restored on the same version of an unrestricted image.
The only way to go from an unrestricted to a restricted version is to perform a fresh install of the restricted image from the same release you're running, and use the BAT export / import.
----- ----- ----- ----- ----- ----- ----- ----- -----
POSSIBLE SOLUTION: To change the Unrestricted to Restricted version, first check whether you have 'Restricted version in your inactive partition or not. (CLI: 'show version inactive')
If yes, then you need to switch the version to that inactive partition (Restricted) and upgrade again to the Restricted one with the correct media.
>
If you don't have any 'Restricted' version in 'Inactive partition' then the only option left is to rebuild the CUCM server's
----- ----- ----- ----- ----- ----- ----- ----- -----

!! Snapshot_1, if you attempt to Fresh Install Restricted on Unrestricted System !!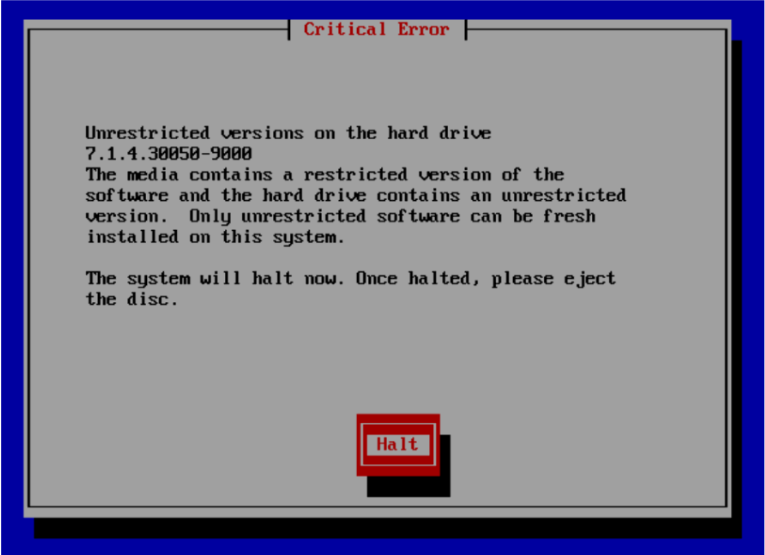 ----- ----- ----- ----- ----- ----- ----- ----- -----

!! Snapshot_2: Warning if upgrading from Restricted to Unrestricted !!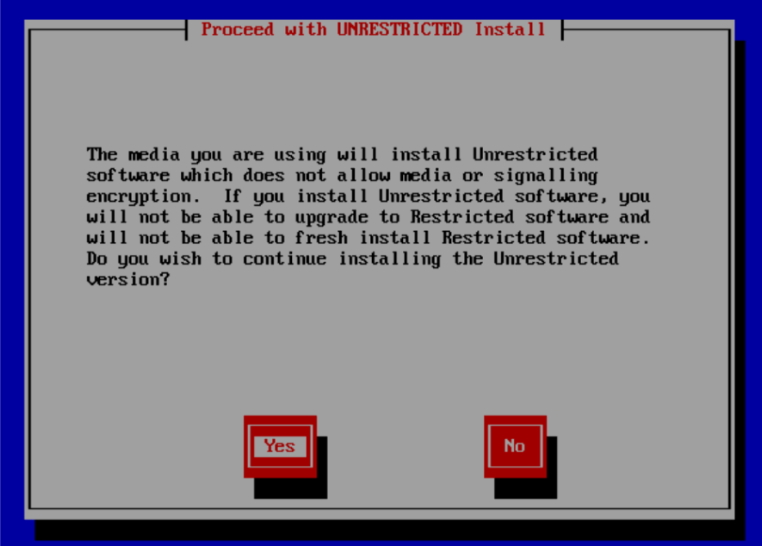 ----- ----- ----- ----- ----- ----- ----- ----- -----

Q: How to determine if the version you are running is Restricted or Unrestricted ?
The CLI/GUI will display the appropriate CUCM version with a suffix of "Unrestricted" or "UNRST"
GUI : Show Software page in OS Admin
CLI : 'show active version' | 'show inactive version' | 'show status'
It also displays right after when you login into the CUCM GUI (Only if it's UNRESTRICTED)
---------------------- !! Add-on Licensing Query

Q: What would be the process to move the licenses from the current unrestricted system to the freshly built restricted system ? would I just need to generate a license request from PLM ?
Yes, contact Cisco Licensing team, they will Re-host the licenses.

----------------------
FYI:

The main difference between Restricted & Unrestricted CUCM Version is that Signaling and media encryption is permanently disabled in the unrestricted version, but remains unchanged in the restricted version.

No impact exists to other security features such as HTTP(s), SSH, password encryption and authentication (for example, SIP digest authentication), mechanisms used by unrestricted Unified CM clients such as JTAPI, TSP, encryption of SNMP traffic, encryption of data related to database that is done by using IPSEC and IMS on the server side. The communication between CTL client and provider remains encrypted.
Recommended Read: http://docwiki.cisco.com/wiki/CUCM_Upgrades_and_Migrations_FAQ
----- ----- ----- ----- ----- ----- ----- ----- -----