Options
Mark as New

Mark as Read

Bookmark

Subscribe
‎10-17-2014 09:12 AM - edited ‎03-12-2019 10:11 AM

Ayodeji Okanlawon is a lead consultant engineer with Verizon in London. According to Deji, "If you want to advance your career, if you're serious about your skill sets, you've got to be in the forums."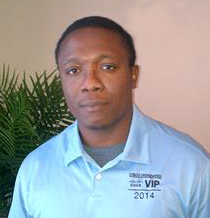 Tell us about your career.
I'm originally from Nigeria. In Nigerian universities, engineering students complete a 5-year degree program that includes an internship. During my internship I learned about router configuration and installation. After the internship I earned my CCNA, and then went back to school for my BScEE.
One of my first jobs was deploying satellite networks for Schlumberger. Satellite is popular in Africa because there is little fiber. Later I returned to routing and switching, and then moved into IP telephony.
What do you do now?
In 2007 I moved to the UK under the Highly Skilled Migrant Program, which has since been phased out. I currently work for Verizon in London. I'm a lead consultant engineer for our customers' collaboration projects, responsible for design, implementation, and support.
How did you discover Cisco Support Community?
Funny you should ask, because I just found my first post, from 2006. I was still in Nigeria and working on my first IP telephony project. I posted, "Please, can anyone help?" I was a desperate man! When someone responded, I was very grateful.
When did you start contributing?
About 2-3 years after I started working with IP telephony, my skills had increased to the point where I could help other people. I started answering posts on unified communications, TelePresence, and Jabber. I soon became addicted to the forums. You stay up late. You get a thrill when people thank you. And you want to do it again.
I also write documents and blogs for the community. One of my documents, Understanding SIP Traces, has been viewed more than 47,000 times and has the highest possible rating.
Has contributing to the community increased your own skills?
Absolutely. The field of IP telephony is very dynamic. If you do not find a way to engage with other people, your skills quickly become outdated. When I answer people, I have to read up on topics I don't work with every day. I also do a lot of research when I blog. The great thing about the community is that it broadens your scope.
What else do you get from contributing?
It's rewarding to read people's comments. When they thank me, that's the best feeling. Someone at my company called me recently to say that he found my blog on CUBE SIP Media and Signalling Binding to an Interface when he did a Google search. It solved his problem, and I had the joy of knowing I had helped someone.
By contributing, I'm doing something meaningful. Sometimes technical people are just stuck looking at CLIs [command-line interfaces]. But when you give back, you become more complete. You're not working just to make an income, but to make someone else's work a little easier. I feel like I'm a better person because I share my knowledge.
Any suggestions to make the community even better?
Visit more often! The idea behind the community is to use the knowledge of the crowd. I have a folder where I've saved great answers over the years.
Any words of encouragement for others to participate?
When you share your knowledge, you also increase your knowledge. For example, a couple of weeks ago someone posted about a problem setting up SIP calls with a provider. To answer, I had to read the RFC. Researching the answer helped me become better versed on that subject. If you want to advance your career, if you're serious about your skill sets, you've got to be in the forums.