Options
Mark as New

Mark as Read

Bookmark

Subscribe

Email to a Friend
‎04-24-2022 12:26 PM - edited ‎06-22-2022 05:35 PM
Today we are going to talk about how to configure backups in the Cisco ACI APIC Dashboard. As you might know APIC is a UCS based CIMC controller and we can check the configuration backups on the Cisco ACI APIC Dashboard. Remember that the HA solution must have at least a cluster of three Apic appliances to work properly.
What is Cisco ACI APIC?
One of the important pillars of Cisco ACI is APIC which is known as Cisco Application Policy Infrastructure Controller. It is a single dashboard for automation and management of Cisco ACI Fabric, policy enforcement and integrity monitoring of Cisco ACI. The controller optimizes performance and management, and operates a scalable Cisco ACI multiuser framework.
Finally, the backups can be configured as single backup tasks or can be scheduled in a daily or weekly scheduler to export the entire Fabric configuration to a remote location (i.e. external server) using SCP, FTP or SFTP. For our case we will use an FTP server.
Here are the configuration steps for performing one-time and recurring backups:
Step 1
To perform remote backup we will create a remote location (where you want the configuration to be stored), for this enter a name for your remote location, host or the IP address of your remote server, select your protocol (FTP) and finally enter the remote path. Enter the username and specify the password, as shown in the image.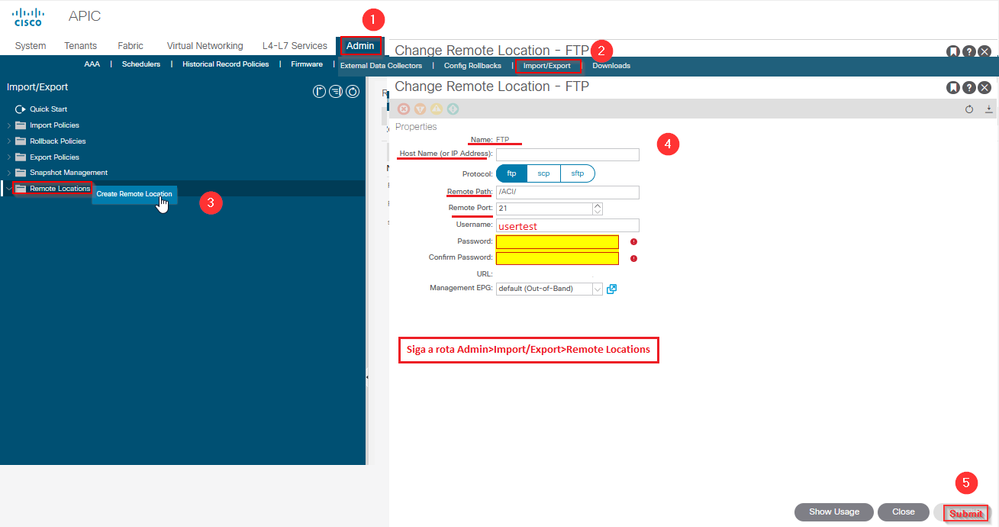 Step 2
Creating a configuration export policy, select your export format (XML/JASON) and click on Star Now: this will force an export immediately. In the next step we will create a recurring backup as shown in the image.
Optionally you have to enable the global AES encryption setting. If you do not enable Global AES Encryption and export a configuration, when trying to re-import the configuration, the passwords for items like VMM Integration (i.e. your vcenter username/password) will not be re-imported and will have to be re-entered before VMM Integration is functional. It is recommended to enable Global AES Encryption. Our case is in enable mode. The password has to be 16 digits or longer, remember the password. (if you forget it, you will have to re-import it)

Step 3
You will need a Scheduler policy for recurring (daily) backups, for this example we create the Trigger Sheduler with the name scheduleDailyTest and create the name DailyTest for recurring backups, according to the indications in the image. This step should be done for scheduled activities because it is unlikely that someone will do a configuration with a single backup.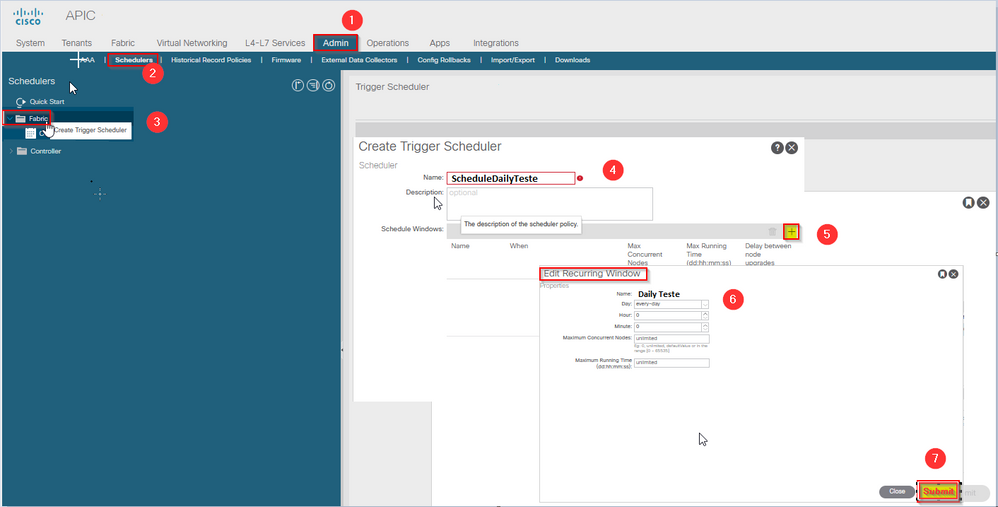 Step 4
To check the status of your backup, from your Export Configuration, follow the indications in the image.

Image Real APIC

To create more articles about ACI, don't forget to leave your like.
Regards