Options
Mark as New

Mark as Read

Bookmark

Subscribe
‎04-28-2011 01:50 AM - edited ‎03-01-2019 05:53 AM
When replacing MegaRAID, RAID configuration in MegaRAID is lost.
By the following steps, RAID configuration can be restored and disks can be detected as before.
1. Insert HDDs into chassis
If HDDs are removed from a chasiss (because of not only MegaRAID but also chassis replacement), please insert them as before.
2. Disable Quiet Boot
If Quiet Boot is enabled, please disable it by the following document.
[How to Disable Quiet Boot For CIMC Firmware Earlier Than Release 1.2(1)]
http://www.cisco.com/en/US/partner/docs/unified_computing/ucs/c/hw/C250M1/install/RAID.html#wp1014368
3. Import RAID configuration from HDD
3-1:
After starting the server, you will see the following messages if Quiet Boot is disabled.
At that time, please press "F".

3-2:
If you press "F" after displaying the following messages, RAID configuration won't be imported.
But even if you press "F" at the correct time, you will see the same messages.
That is, we cannot decide at this step if RAID configuration has been imported correctly or not.
Anyway, please press any key except "C" for the next step.

3-3:
If RAID configuration is imported correctly, a virtual drive will be detected.
The server will boot up correctly.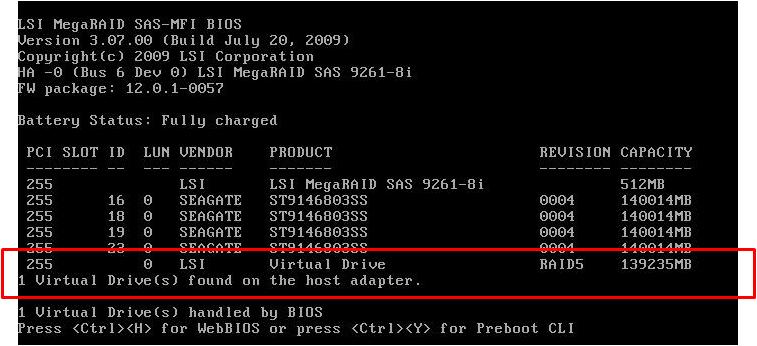 If RAID configuration is not imported because of timing of pressing "F", a virtual drive won't be found.
Please press "Ctrl+Alt+Del" to reboot the server and try to import RAID configuration again.