Options
Mark as New

Mark as Read

Bookmark

Subscribe
‎01-09-2013 12:38 AM - edited ‎03-01-2019 05:57 AM
Introduction
A maintenance policy determines a pre-defined action to take when there is a disruptive change made to the service profile associated with a server. The maintenance policy specifies how Cisco UCS Manager deploys the service profile changes. When creating a maintenance policy you have to select a reboot policy which defines when the server can reboot once the changes are applied. The Immediate option will make the server to reboot right then. User acknowledge option will wait for manual acknowledgement from user before rebooting the server. Timer automatic option will trigger the reboot at a specific time mentioned in a schedule.
Create Maintenance Policy
To create a maintenance policy login to UCS manager and navigate to Servers tab and right click on Maintenance Policies and select Create Maintenance Policy.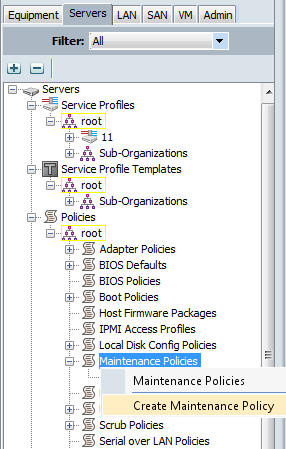 Give a name and description to this policy and select the required Reboot-Policy. "Immediate" option means that when a disruptive change is made, the affected service profiles are immediately rebooted without confirmation. A more preferred option is to have the system wait for user input before rebooting. To do this select "user-ack" option. Click OK.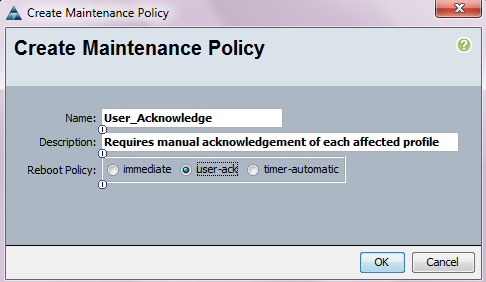 Alternately you can use the third option of "timer-automatic". This setting makes the maintenance policy to wait for the pre-configured time, or a schedule, before applying the changes.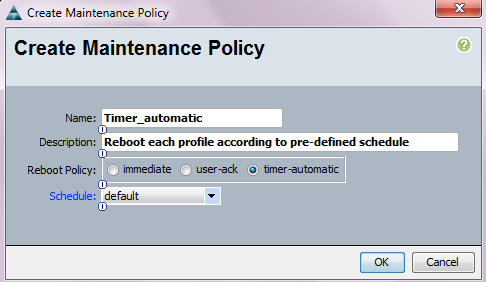 Schedules allow you to define one-time or reoccurring time periods where one or more of the affected nodes may be rebooted without administrator intervention. To configre a schedule navigate to Servers tab and right click on Schedules and select "Create a new Schedule".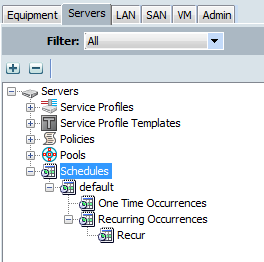 The only schedule created automatically by UCSM is the "default" schedule, which has one recurring entry to reboot all service profiles each day at midnight that reference a "timer-automatic" maintenance policy associated with the "default" schedule. This "default" schedule can be modified as needed.
Deleting a Maintenance Policy
1. In the Navigation pane, click the Servers tab.
2. On the Servers tab, expand Servers > Policies > Organization_Name.
3. Expand Maintenance Policies.
4. Right-click the maintenance policy you want to delete and choose Delete.
5. If the Cisco UCS Manager GUI displays a confirmation dialog box, click Yes.
Video
Watch the following video to learn more about Maintenance policies on UCS.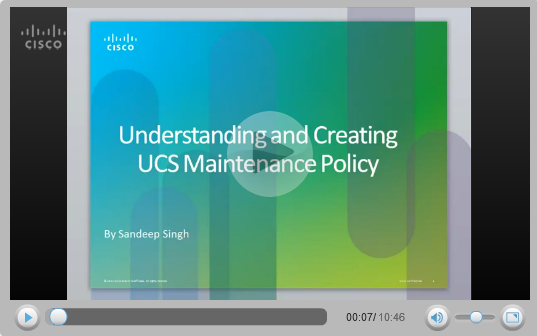 Related Information
Procedure to Gracefully Shutdown and Powerup UCS system
Configuring VLANs on UCS and VMware
Frequently Asked Questions for UCS