Options
Mark as New

Mark as Read

Bookmark

Subscribe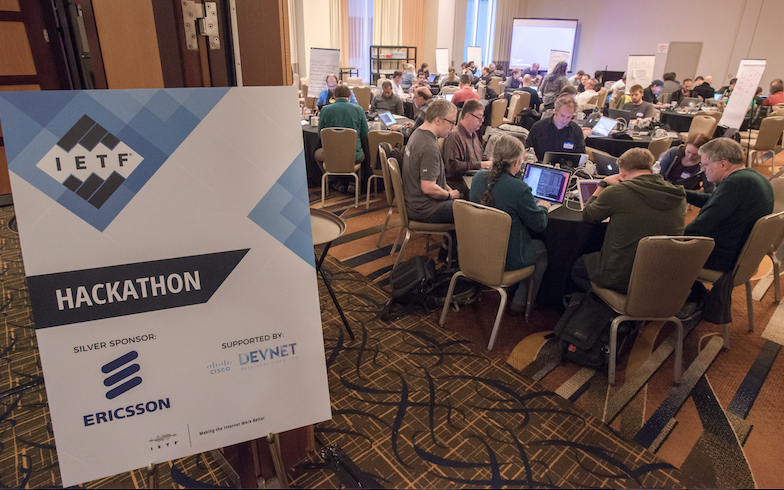 The Internet Engineering Task Force (IETF) blew into Chicago for
IETF 98
, March 25-31. As has become customary, a full week of improving the internet kicked off with the
IETF Hackathon
, March 25-26. The hackathon one of the key elements of the IETF's approach to combine running code and open source software with the specification of new and evolving internet standards.
IETF hackathons are free and open to everyone. The stated goals are to:
Advance the pace and relevance of IETF standards activities by bringing the speed and collaborative spirit of open source development into the IETF
Bring developers and young people into IETF and get them exposed to and interested in IETF
Attending the IETF meeting the following is encouraged but optional. One of the ways the hackathon meets it first goal is by participants sharing what they achieved and learned during the hackathon with the larger IETF community, both by presenting their result during working group sessions throughout the week and by demonstrating their work at the Bits-n-Bites reception on Thursday evening.
This hackathon saw 115 or more people sacrifice a weekend of admiring Chicago's brilliant architecture to instead collaborate on code with colleagues from various companies, standards organizations, open source communities, and universities. For about a third of the participants, this was their first IETF hackathon. For about a dozen, this was their first experience with the IETF period.
We had roughly 15 different projects, each of which was led by volunteers known as champions. Projects were shared in advance via the hackathon wiki, and when the doors opened at 8am Saturday, champions posted signs by their tables to help potential contributors locate teams they wished to join.

Despite jet lag from travel and the early start, teams worked late into the night Saturday, even after the last remnants of dinner had been cleared and the last beer had been consumed. Sunday folks started early again, ironing out bugs and coding up additional functionality right up until the time project presentations started at 2pm. Each team had 4 minutes to share what they had done, what they had learned, and how they moved IETF work forward.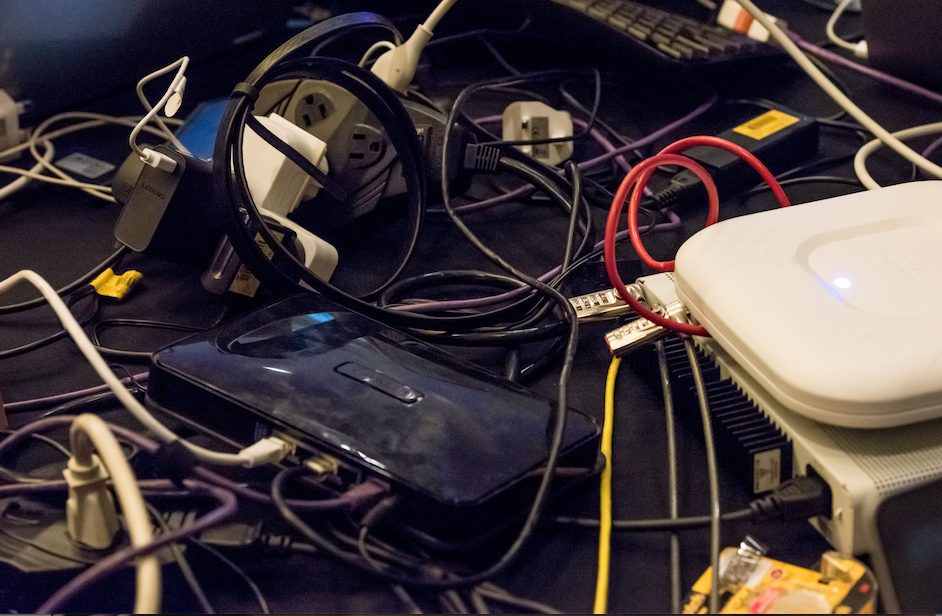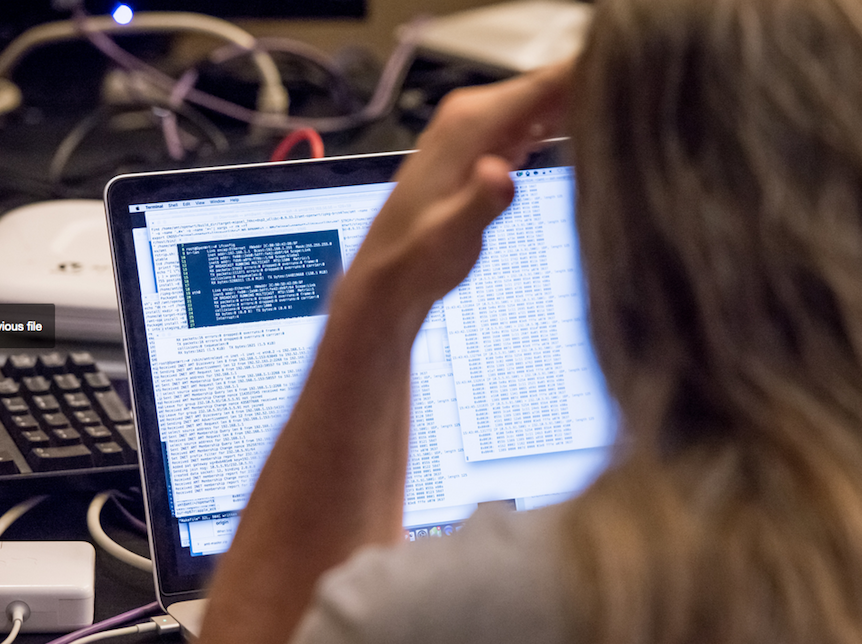 An esteemed set of judges from the IETF community listened and asked clarifying questions after each presentation. Winners were then announced in the spirit of friendly competition. The winning teams were as follows:
(D)TLS - Best Overall, for their work on TLS 1.3 and the corresponding version of DTLS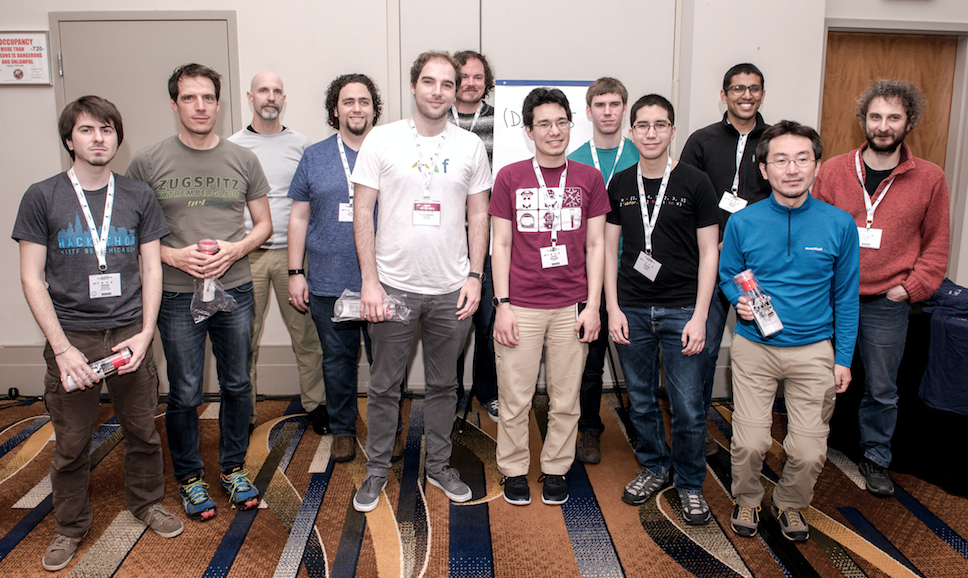 NETVC - Measure Twice Cut Once, for a proof of concept that will guide future specifications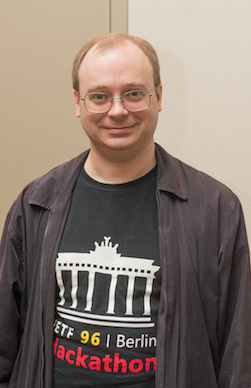 CAPPORT - Best Kickstart, for a project that kicked new energy into a working group that had stalled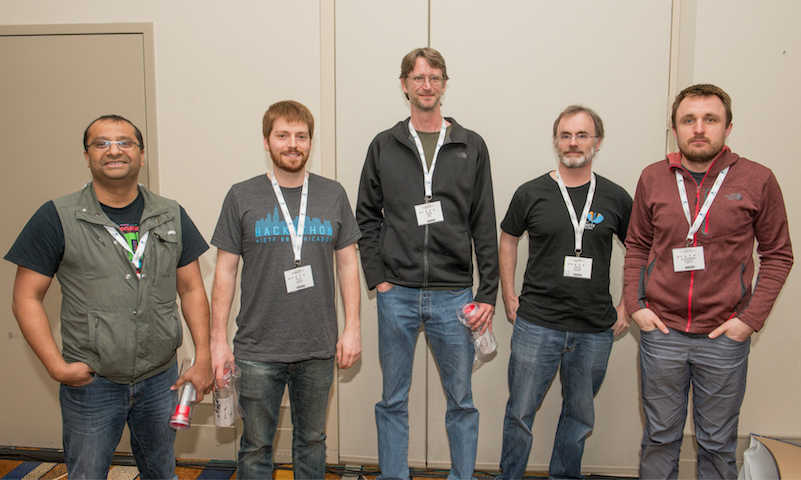 WebRTC PSAP - Best Students, for a new project from professors and students at the Illinois Institute of Technology (IIT)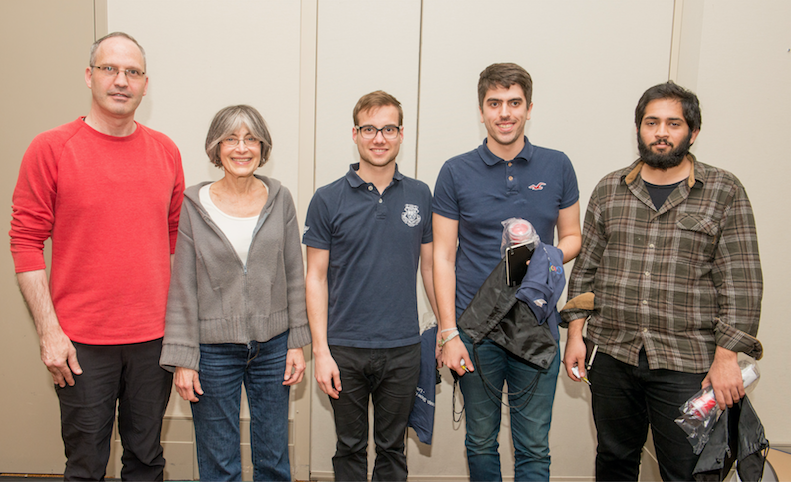 LoRaWAN - Best Newcomers, for a project that benefited from significant contribution from first time IETFers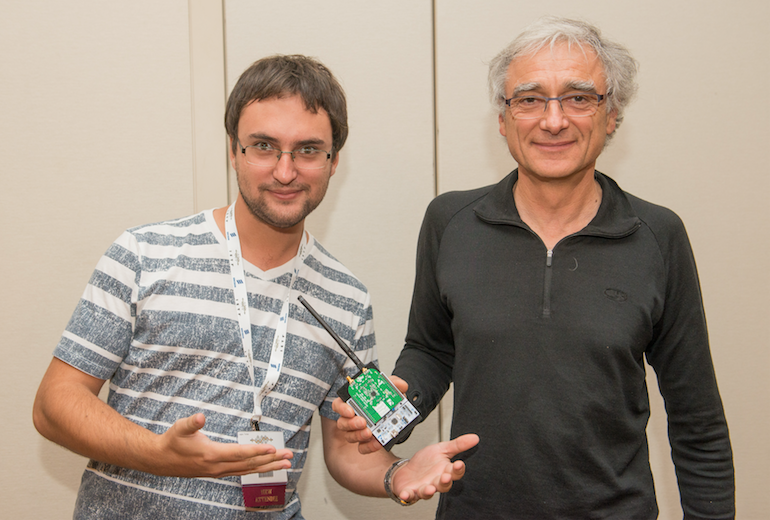 AMT-Multicast - Most Remote Participant, with a team member participating remotely from Mauritius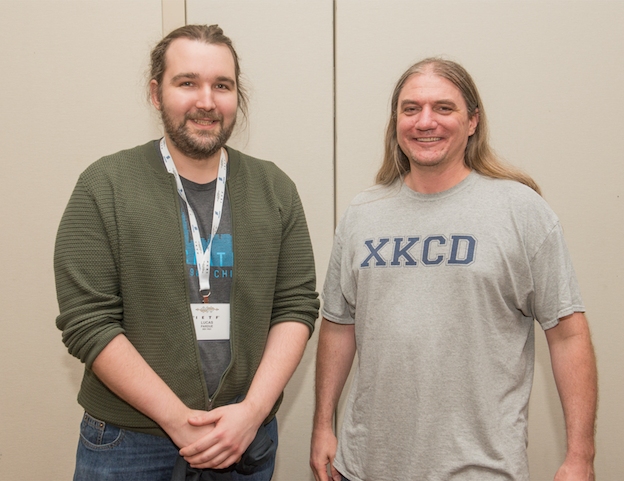 For additional details on these and other projects, see the project presentations. Also noteworthy, and close to be selected as a winner for several of these categories, was the I2NSF project team, with participants from Sungkyunkwan University in South Korea, who traveled to Chicago to continue their award winning project from the IETF 97 Hackathon last year in Seoul.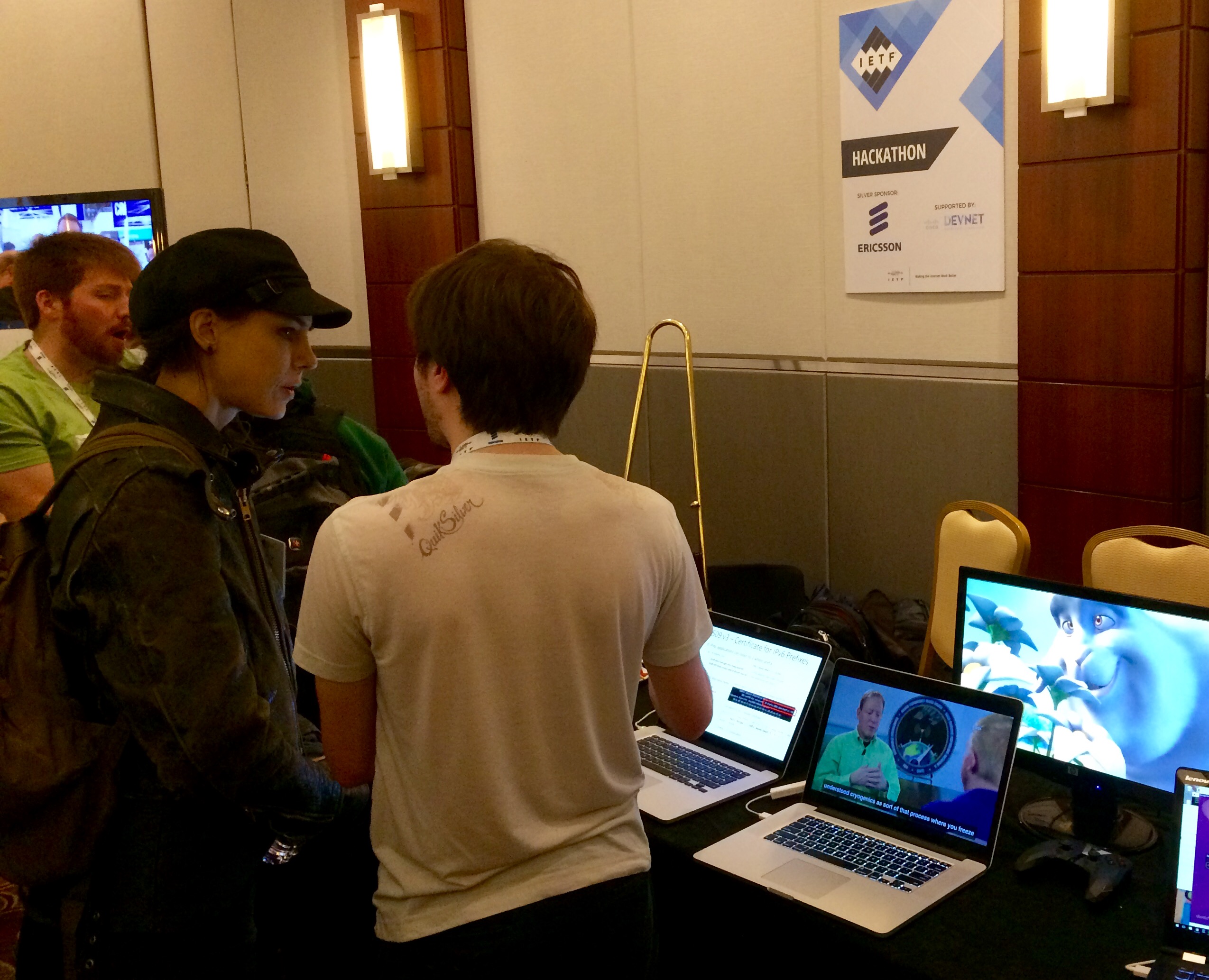 Winners were given first shot at a variety of swag contributed by the IETF secretariat and Google. Winning teams also received priority when it came to hackathon projects to feature at Bit-n-Bites Thursday evening.
The following teams took advance of this opportunity to share their work with the larger IETF community in a fun atmosphere.
AMT/Multicast

CAPPORT

WebRTC PSAP

(D)TLS
Special thanks to our sponsors, Ericsson and Mozilla, who answered the call in the final weeks before the hackathon to help the expenses involved with holding the hackathon. And thanks as well to my employer, Cisco DevNet, who supports my efforts organizing the hackathons and provided t-shirts for all participants, including for the first time ever, women's specific sizes!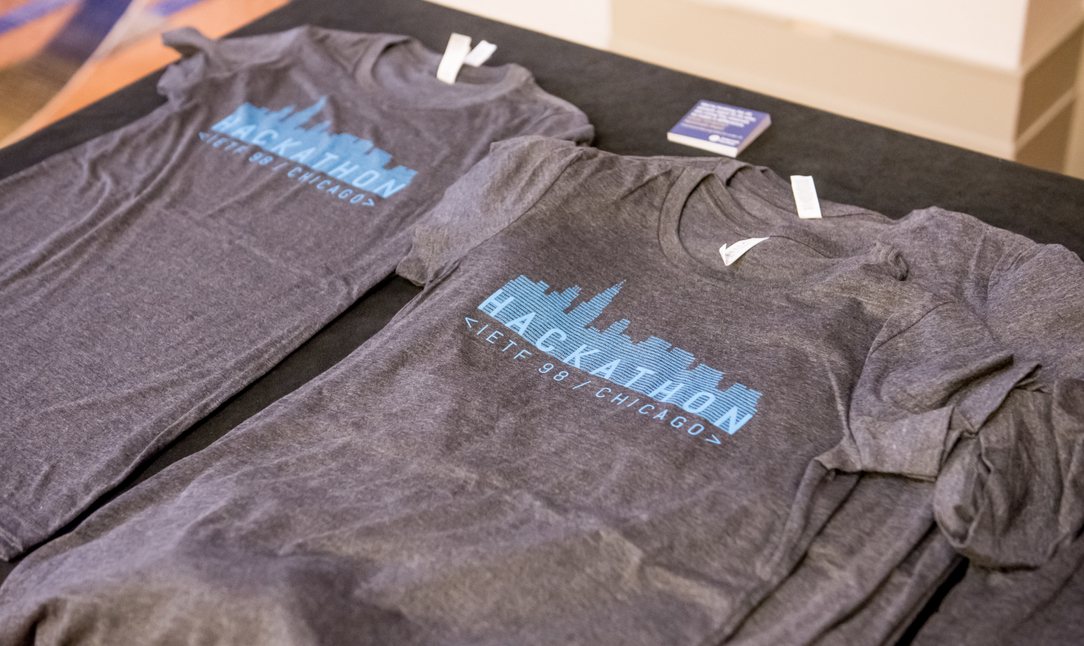 Last but certainly not least, thanks to Alissa Cooper and Jari Arkko, the incoming and outgoing IETF chairs, who are both big supporters of the hackathon and have been instrumental in bringing it to the IETF. Be sure to check out their summary of IETF 98.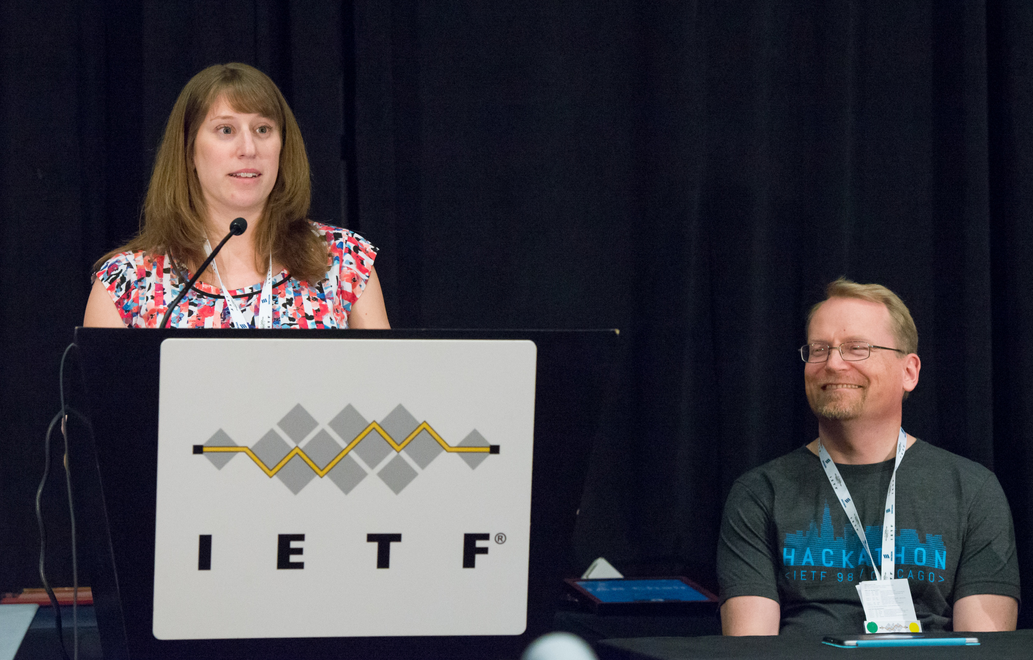 If you missed you in Chicago, no worries, another chance to save the internet is just around the corner. We hope to see you at the IETF 99 Hackathon in Prague, July 15-16.
You must be a registered user to add a comment. If you've already registered, sign in. Otherwise, register and sign in.