Options
Mark as New

Mark as Read

Bookmark

Subscribe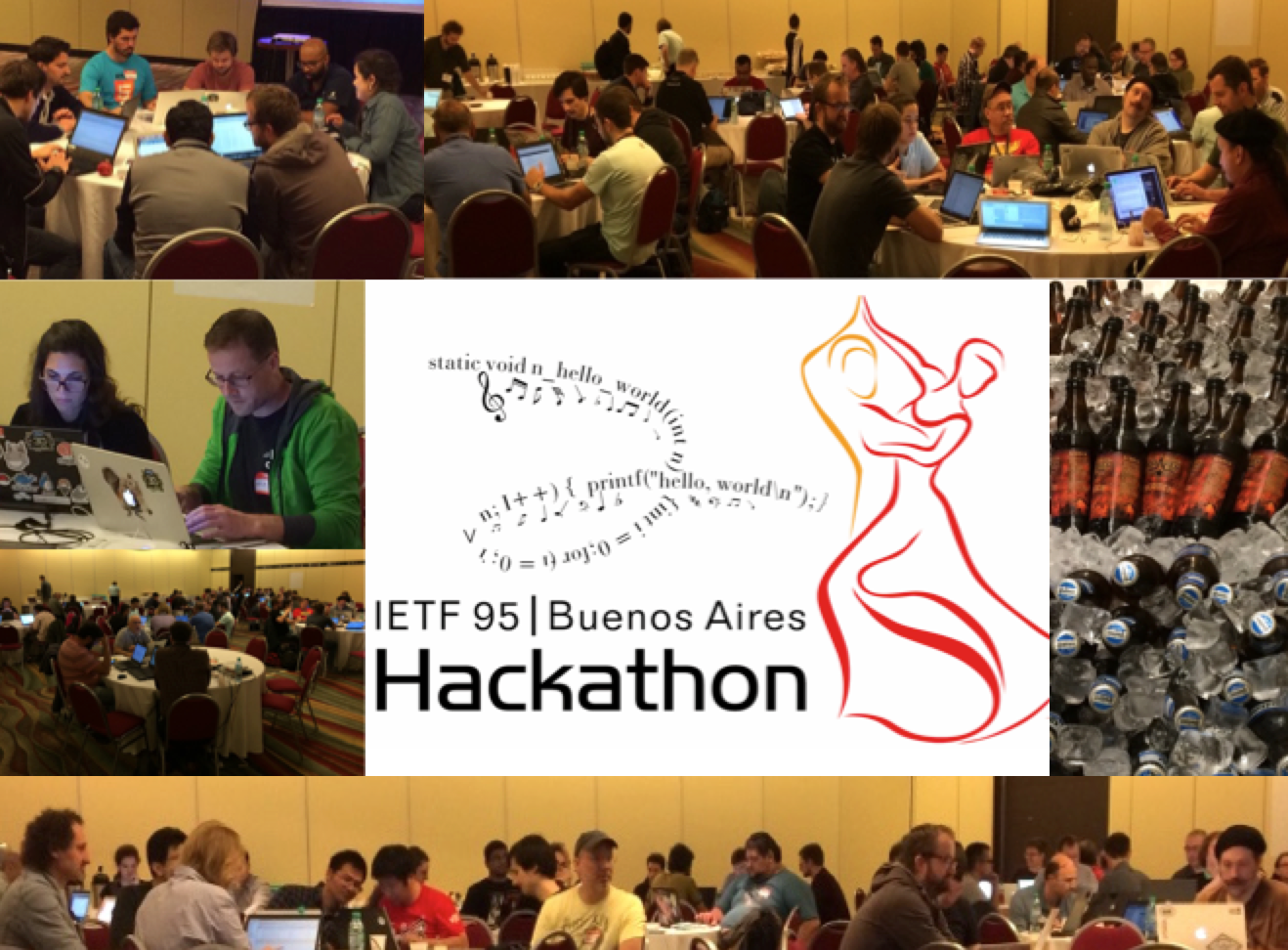 The IETF 95 Hackathon in Buenos Aires kicked off what was both the first and an extremely rewarding trip by the IETF community to South America. Roughy 100 participants, a record 10% of the total IETF meeting attendees, arrived early in Buenos Aires to put their talents to use tackling a diverse set of projects aimed at improving the internet we rely on every day.
The list of projects and teams included many familiar faces as well as a refreshing set of new participants and challenges. This was the first hackathon for about of the third or the participants, with over a dozen attending their first IETF meeting ever. Many first timers were from the host country, including from Buenos Aires and Mendoza, but there were two from Africa and others some Europe and the U.S. as well. Check out this story shared by one IETF and IETF hackathon first timer (https://communities.cisco.com/community/developer/opensource/blog/2016/04/25/first-timer-at-ietf-and-ietf-hackathon-shares-his-story).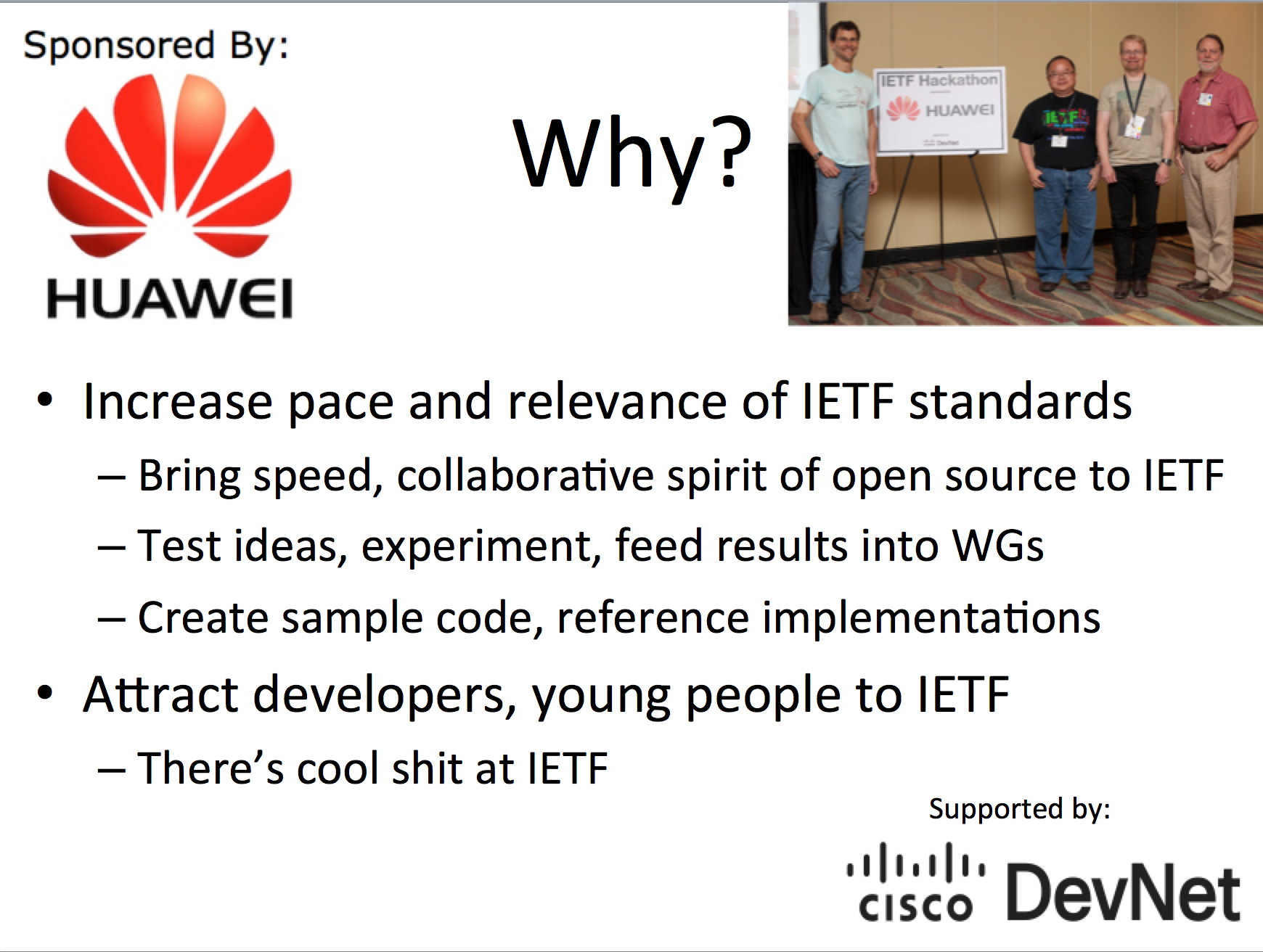 Other notable firsts for this hackathon were:
Charles Eckel, from Cisco DevNet, continues to run the hackathon in his role as hackathon chair and welcomes Barry Leiba, from Huawei as a appreciated and valued hackathon co-chair.
As with previous hackathons, participants worked cooperatively and tirelessly, producing fantastic results. Each team summarized their achievements in a brief presentation to judges and their peers. Tops honors and prizes were awarded for especially brilliant accomplishments, includes those of the FD.io/VPP team, the TLS 1.3 team (see story at https://www.ietf.org/blog/2016/04/ietf-hackathon-getting-tls-1-3-working-in-the-browser/), and the network-based network analytics team. Some teams demoed their work at Bits-n-Bites, including the NETCONF/YANG, I2RS, OpenDaylight teams, DNS/DNSSEC/DANE/DNS-over-(D)TLS teams, and the IBNEMO team. All the presentations and results are available via the proceedings page (https://www.ietf.org/proceedings/95/hackathon.html).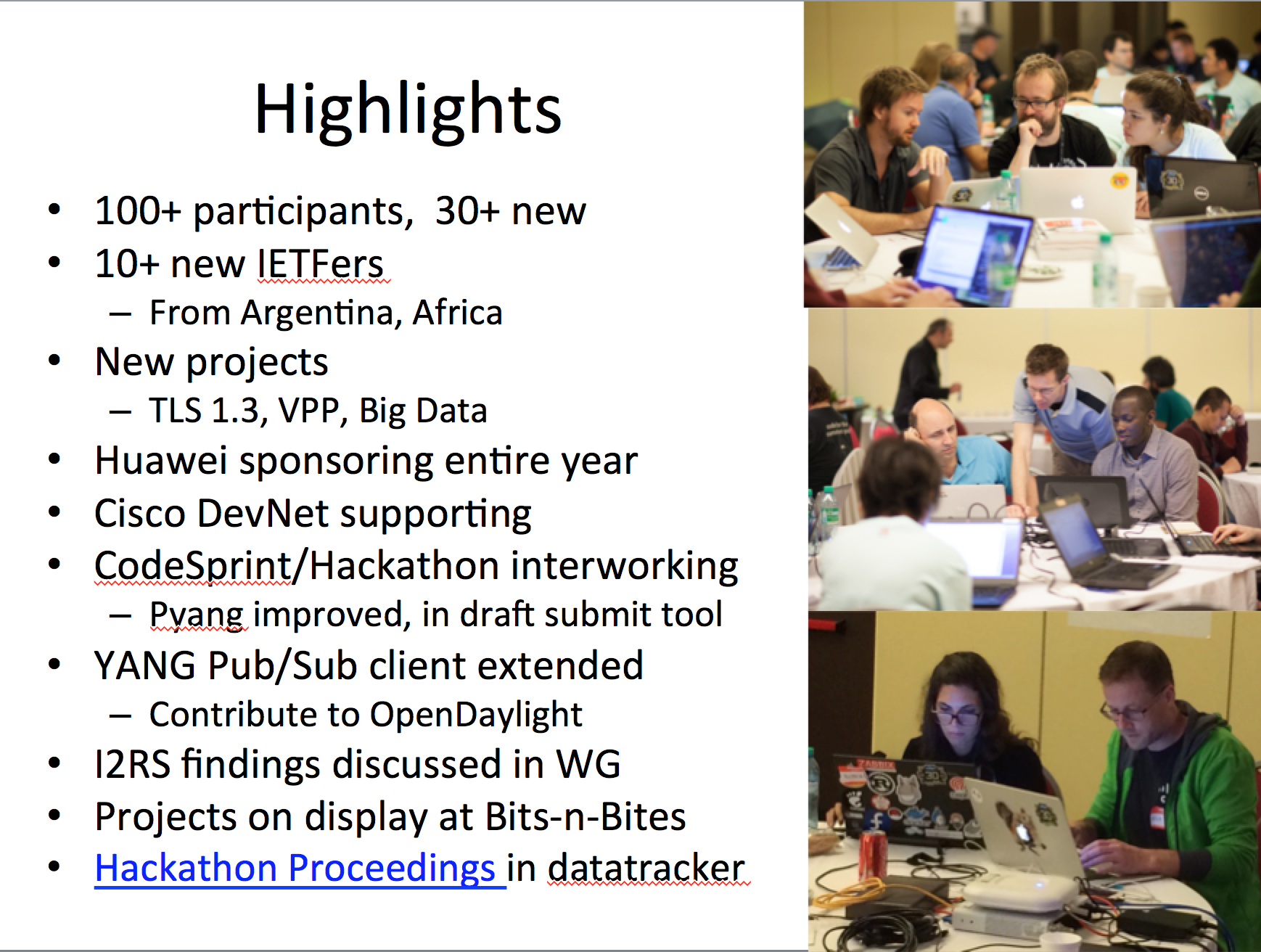 Following the success in Buenos Aires, the IETF 96 Hackathon this summer in Berlin, July 16-17, is sure to be the biggest IETF hackathon ever.
http://www.ietf.org/hackathon/96-hackathon.html
Mark your calendars now and subscribe to the hackathon list (https://www.ietf.org/mailman/listinfo/hackathon) to remain abreast of the latest information, including announcements of new projects and the ability to reserve your place in this history making event.
You must be a registered user to add a comment. If you've already registered, sign in. Otherwise, register and sign in.