Options
Mark as New

Mark as Read

Bookmark

Subscribe
‎10-20-2011 09:56 PM - edited ‎08-23-2017 11:38 PM
Introduction
This document provide information about DOM (Digiatal Optical monitoring)
Information
Digital Optical Monitoring or DOM is an industry wide standard, intended to define a digital interface to access real-time operating parameters such as:
Optical Tx power
Optcal Rx power
Laser bias current
Temparature
Transceiver supply voltage
Which means, we are now by using DOM capable of performing transceiver monitoring and troubleshooting operations.
DOM Support on Cisco Transeivers
Not all transceivers support DOM, a list of capable transceivers is available at:
How to use DOM
Following command can be used to turn on/off DOM for all transceivers type in the system
Router(config)#transceiver type all
Router(config-xcvr-type)#monitoring
Router(config-xcvr-type)#end
Once enabled, DOM can be accessed via CLI using "show interface transceiver command"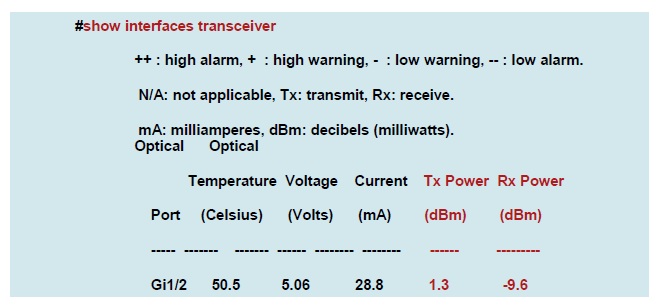 Off all the five values two mostly used and rellevant values are TX and RX power, temperature is also used sometimes. The operating range of these three values is unique across all modules and is available in the data sheet.
There is an extension available for this command, which is also very helpful and is used to check threshold values of the above paramaeters like temperature , Tx, Rx. The command is , show interface gig x/y transceiver detail
sh int gi 1/3 transceiver detail
Transceiver monitoring is disabled for all interfaces.
ITU Channel not available (Wavelength not available),
Transceiver is externally calibrated.
mA: milliamperes, dBm: decibels (milliwatts), NA or N/A: not applicable.
++ : high alarm, + : high warning, - : low warning, -- : low alarm.
A2D readouts (if they differ), are reported in parentheses.
The threshold values are calibrated.
High Alarm High Warn Low Warn Low Alarm
Temperature Threshold Threshold Threshold Threshold
Port (Celsius) (Celsius) (Celsius) (Celsius) (Celsius)
------- ------------------ ---------- --------- --------- ---------
Gi1/3 34.2 110.0 93.0 -30.0 -40.0
High Alarm High Warn Low Warn Low Alarm
Voltage Threshold Threshold Threshold Threshold
Port (Volts) (Volts) (Volts) (Volts) (Volts)
------- --------------- ---------- --------- --------- ---------
Gi1/3 3.31 3.90 3.70 2.90 2.70
High Alarm High Warn Low Warn Low Alarm
Current Threshold Threshold Threshold Threshold
Port (milliamperes) (mA) (mA) (mA) (mA)
------- ----------------- ---------- --------- --------- ---------
Gi1/3 0.1 -- 80.0 70.0 4.0 2.0
Optical High Alarm High Warn Low Warn Low Alarm
Transmit Power Threshold Threshold Threshold Threshold
Port (dBm) (dBm) (dBm) (dBm) (dBm)
------- ----------------- ---------- --------- --------- ---------
Gi1/3 -27.7 -- 0.9 -1.0 -11.5 -13.5
Optical High Alarm High Warn Low Warn Low Alarm
Receive Power Threshold Threshold Threshold Threshold
Port (dBm) (dBm) (dBm) (dBm) (dBm)
------- ----------------- ---------- --------- --------- ---------
Gi1/3 -7.2 0.7 -1.0 -20.0 -24.0
Related Information