Online Device Emulators - Small Business
For EOL'ed models, please click Archive
Wireless Access Point Online Device Emulators
RV Router Series Online Device Emulators
Smart or Managed Switches Online Device Emulators
* Please note that there is a known bug with the switch emulators when running on IE 11. (Click here for more info)
220 Series Smart Switches
SG220-50P Smart Switch

A higher level of security and intelligence
Simple and flexible management
Power over Ethernet Plus (PoE+)

Note: All specific switch models may have small differences in the functionality from other models within a series or the emulator. Please click the link below to access the Data Sheet for more information.

Learn more about
220 Series Smart Switches
250 Series Smart Switches
SF250-48HP Smart Switch

Online Device Emulator (ver. 2.3.5.56)

Reliable Easy-To-Use Basic Business at an Affordable Price
30W PoE+ support is now in our Smart Switch Portfolio
USB Port for easy configuration and image management

Note: All specific switch models may have small differences in the functionality from other models within a series or the emulator. Please click the link below to access the Data Sheet for more information.

Learn more about
250 Series Smart Switches
300 Series Managed Switches
SG300-28P Managed Switch
Online Device Emulator (ver. 1.1)

SG300-52 Managed Switch

Easy Setup and Management: Intuitive browser-based tools simplify setup and configuration
Eco-Friendly Solution: Optimize power usage for efficiency, without compromising performance
Limited Lifetime Hardware Warranty with next business day advance replacement, where available

Note: All specific switch models may have small differences in the functionality from other models within a series or the emulator. Please click the link below to access the Data Sheet for more information.

Learn more about
300 Series Managed Switches
350 Series Managed Switches
SG350-10P Managed Switch

Easy-To-Use Managed Switches with ideal Combination of Features and Affordability
60W PoE and PoE for flexible PoE deployment
Simple mode menu, dashboard, and wizards save time in day to day operations

Note: All specific switch models may have small differences in the functionality from other models within a series or the emulator. Please click the link below to access the Data Sheet for more information.

Learn more about
350 Series Managed Switches
350X Series Stackable Switches
SG350X-24P Stackable Switches

Affordable 10G Ethernet for a fast and reliable network
Strong security, Advanced QoS, and Static Routing
True Stacking up to 4 units

Note: All specific switch models may have small differences in the functionality from other models within a series or the emulator. Please click the link below to access the Data Sheet for more information.

Learn more about
350X Series Managed Switches
500 Series Stackable Switches
SG500-52P Stackable Managed Switch
Online Device Emulator (ver. 1.2.9)

10/100 and Gigabit platforms with 5 Gig Stackable interfaces
Support for VRRP redundancy and RIP Dynamic Routing
Advanced Security such as IPv6 FHS, CoPP, and rich 802.1x support

_____________________________________


SG500X-48P Stackable Managed Switch
Online Device Emulator (ver. 1.2.9)

Gigabit and 10-Gigabit Stackable models with 10-Gig Stackable interfaces
Support for VRRP redundancy and RIP Dynamic Routing
Advanced Security such as IPv6 FHS, CoPP, and rich 802.1x support

________________________________

Note: All specific switch models may have small differences in the functionality from other models within a series or the emulator. Please click the link below to access the Data Sheet for more information.

Learn more about
500 Series Stackable Switches
550X Series Stackable Switches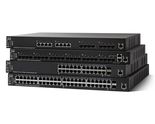 SG550XG-48T Stackable Switch
Online Device Emulator (ver. 2.3.5.63)
10G Ethernet and advanced features to accelerate growing businesses
Hardware redundancy and dynamic routing ensures higher availability
True stacking- up to 8 units
Note: All specific switch models may have small differences in the functionality from other models within a series or the emulator. Please click the link below to access the Data Sheet for more information.
Learn more about
500 Series Stackable Switches
Smart Network Application
Cisco Smart Network Application (SNA)

An innovative network-level monitoring and management tool embedded in Cisco 250 to 550X Series switches. It can discover network topology, display link status, monitor events, apply configurations, and upgrade software images across multiple switches in the network. a business-class network with such features as quality of service, security, Power over Ethernet, and IPv6 support

Learn more about

Cisco Smart Network Application
Hosting Switch Emulators Locally
Other than the online emulators available on this page, there is a huge collection of 200, 300, and 500 series emulators available for download which can be hosted in your local PC.
After download, unzip the file.
In the root directory, scroll down to the bottom and double click the .htm file which corresponds to the SKU and version you are interested in.

Username: cisco
Password: cisco

Recommended browsers: IE or Firefox.
_____________________________________
Command Line Interface (CLI) Emulator for 300 Series Switches
**Note: Incompatibility issue with Windows 10 is currently being investigated.**
Get familiar with the CLI interface without actually being connected to a switch in real-time.
Download and unzip the file to your computer and select the 'run_SG300_28_AlleyCat_SA.bat' file.
Username: cisco
Password: cisco