Options
Mark as New

Mark as Read

Bookmark

Subscribe

Email to a Friend
on ‎10-08-2010 08:04 AM
1) What is the AnyConnect Essentials License?
The Anyconnect Essentials is a license that allows you to connect up to your 'Total VPN Peers" platform limit with AnyConnect. Without an AnyConnect Essentials license, you are limited to the 'SSLVPN Peers' limit on your device. With the Anyconnect Essentials License, you can only use Anyconnect for SSL - other features such as CSD (Cisco Secure Desktop) and using the SSLVPN portal page for anything other than launching AnyConnect are restricted.
You can see your limits for the various licensing by issuing the 'show version' command on your ASA.
2) Is there a separate AnyConnect Essentials client needed on the ASA if I already have Anyconnect installed?
A: No. Anyconnect Essentials is just a license - there is no separate client needed.
3) How do I enable the AnyConnect Essentials license?
Instructions for installing the license key will be included when you get the license. Once you've installed the key and rebooted, running the 'show version' command should indicate that the license is enabled. You should see output similar ot the following:
AnyConnect Essentials : Enabled perpetual
In ASDM: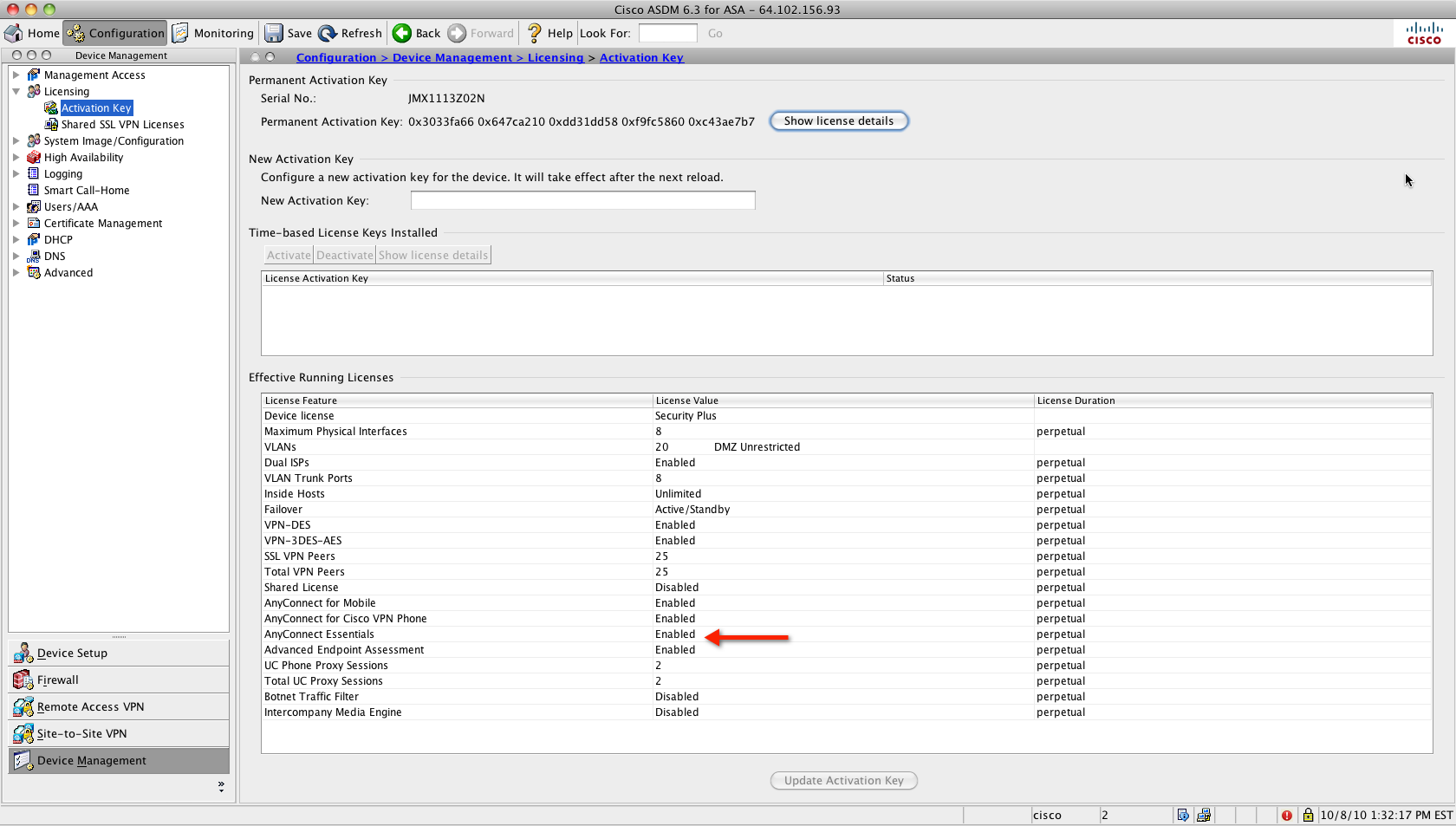 Once that is there, you turn on the license by doing the following:
conf t
webvpn
anyconnect-essentials
In ASDM:

4) So I can't use the portal page at all with AnyConnect essentials?
A: The portal page exists, but once logging in you will immediately launch AnyConnect. Other features (bookmarks, java plug-ins, etc) will not be available.
5) What version of ASA code do I need for AnyConnect Essentials?
A: ASA 8.2 and above support AnyConnect Essentials.
6) Exactly which features are supported by AnyConnect Essentials vs Anyconnect Premium Licensing?
Please see:
http://www.cisco.com/en/US/docs/security/vpn_client/anyconnect/anyconnect25/feature/guide/anyconnect25features.html