Options
Mark as New

Mark as Read

Bookmark

Subscribe
‎03-14-2016 04:33 PM - edited ‎08-27-2018 11:12 AM
Caution - Please Read First
This library contains a large number of endpoint profile policies. Before importing to a production ISE deployment, be sure you have read and understand the following conditions and caveats:
Before importing the profile library to a production ISE deployment, it is highly recommended that you first complete the following tasks:

Backup the ISE configuration database under Administration > System > Backup& Restore, or via CLI.
Optionally, export all current ISE profiles under Policy > Profiling > Profiling Policies > Export > Select All.
Restore current ISE configuration to a lab system and test the import of new profile library. Note resulting profile policy changes to current endpoints which may impact policy assignment in the production deployment.

The maximum number of profiles that has been QA tested and officially supported for ISE 2.1 and above is 2000. Before importing the new library, check the current number of profiles under Policy > Profiling > Profiling Policies.

This library contains approximately 315 new profiles. Increasing the profiler policy total beyond 2000 profiles (whether via Profiler Feed Service, manual import or custom profile creation) may result in resource capacity issues and service disruption.
This library is based on Profiler Version 3 compatible updates which ensures that only ISE deployments running ISE 2.1 and above can import the library. This also ensures that each ISE appliance is minimally running 16GB RAM.
To ensure sufficient memory is allocated to ISE services running on a virtual appliance, verify that your appliance platform is properly detected. There are a couple ways to verify proper the platform detected by ISE.
ise-node/admin# show tech | begin PlatformProperties

From Admin UI (ISE 2.2 +)...
Operations > Reports > Diagnostics > ISE Counters > [node] (Under ISE Profile column)

Valid platform sizes include:
UCS_SMALL
UCS_LARGE
SNS_3515
SNS_3595
SNS_3595 <super> (ISE 2.4 only)
Any other platform (for example, EVAL, IBM_SMALL_MEDIUM, or IBM_LARGE) will result in insufficient (or less than expected) memory resource allocation for ISE services. Also, make sure that platform detected the platform for which you expect. For example, if deployed 35x5-equivalent VM appliance, make sure it is not displaying as a UCS appliance.
Related defects (Note that many are duplicate or resolved via same patch version):


ISE VM platform properties defects:

CSCvd24296 ISE: Revise platform selection rules for ISE installed on VMs
CSCvh71644 VMware OVA templates for SNS-35xx are not detected correctly in platform.properties-active

Fix: Updated OVAs will be posted to Cisco Software Center for 2.1, 2.2, 2.3, 2.4
Context Visibility Resource Issues

CSCvf22318 Exception: All Shards Failed due to "java.lang.OutOfMemoryError"

Fixed In: 2.1P6, 2.2P4, 2.3P1, 2.4P0

CSCvf42061 Unable to load Context Visibility all shards failed due to CircuitBreakingException

Fixed In: 2.1P6, 2.2P4, 2.3P1, 2.4P0

CSCvh48558 ISE 2.2p5 Unable to load Context Visibility

Fixed In: 2.2P8, 2.3 P3, 2.4P0

CSCvg54641 ISE 2.3p1/2.2p4 Unable to load context visibility - java heap size not modified for ibmSmallMedium
Profiler Feed Service / High Profile Count Issues (Fixed In 2.4 P0)

CSCvh13873 ISE PSN/PAN App server crashes after profiler feed update
CSCvh14378 ISE nodes APP Initializing after Feed Service update - out of mem
CSCvh17860 Profiler Feed Server Proactively taken offline for maintenance
CSCvh20783 Feed Server undo on PAN does not roll back rules and checks
Upgrade / Restore issues related to Mem Allocation

CSCvh57345 Restore of 1.4/2.0/2.0.1 backup fails which taken after Feed update
CSCvi38845 Upgrade fails after Feed update due to less heapspace

Requires new Upgrade Bundles to be posted to Cisco Software Center
After installing a large Profile library, be sure to take the following precautions prior to a major ISE version upgrade…

Backup ISE Configuration database
Test restore of the ISE configuration to a separate ISE server in a lab environment to verify upgrade process, or else restore to newer version.
Review the related defects above related to upgrade/restore.

If you plan to restore existing configuration to a newer version of ISE, be sure you have applied the current patch with the fix for CSCvh57345 on the new ISE PAN node before restore.
If you plan to use the standard upgrade process, ensure you are using one of the newer upgrade bundles (dated April 2018 or later) which contains the fix for CSCvi38845.

The above steps will ensure that you are not hitting a 2GB Heap memory limitation in upgrade/restore process.



Logical Profile creation: ISE does not currently support import or API update of logical profiles. Therefore, it is necessary to manually assign the new profiles to a new or existing logical profile. Each of the profiles do have descriptions which can aid in deciding how to logically group the profiles. Each profile can be a member of more than one logical profile. Logical profiles allow groups of devices to be distinguished in Context Visibility and facilitate the creation of policy rules based on logical groupings versus individual profiles.
When the number of top-level profiles exceeds 500, you will need to switch from Tree-View to List-View to navigate entries beyond the first 500.
Installation
To install, the Medical NAC endpoint profile library:
Download the Medical NAC library ZIP file
Unzip the ZIP file on your local computer to get the XML file.
In ISE, navigate to Work Centers > Profiler > Profiling Policies
Wait 1-2 minutes for the Medical NAC endpoint profiles to be imported!
Once the endpoint profiles are imported, you may view the list of medical devices by choosing Quick Filter and enter "health" under the Description header: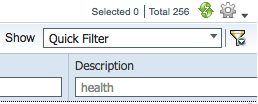 Included Profiles
| | |
| --- | --- |
| 1. | 3M-Device |
| 2. | 3M-Company-Device |
| 3. | 3M-Deutschland-Device |
| 4. | 3M-Germany-Device |
| 5. | Abbott-Device |
| 6. | Abbott-Diagnostics-Device |
| 7. | Abbott-Medical-Optics-Device |
| 8. | Abbott-Point-of-Care-Device |
| 9. | Baxter-International-Device |
| 10. | Gambro-Lundia-Device |
| 11. | Baxter-Healthcare-Device |
| 12. | Beckman-Coulter-Device |
| 13. | Beckman-Lab-Automation-Device |
| 14. | Bosch-Device |
| 15. | Robert-Bosch-Healthcare-Device |
| 16. | Robert-Bosch-Healthcare-Germany-Device |
| 17. | Robert-Bosch-Healthcare-Systems-Device |
| 18. | Danaher-Device |
| 19. | Danaher-Motion-Kollmorgen-Device |
| 20. | Kollmorgen-Corp-Device |
| 21. | Kollmorgen-Servotronix-Device |
| 22. | Leica-Biosystems-Device |
| 23. | Leica-Microsystems-Device |
| 24. | Cepheid-Device |
| 25. | Draeger-Device |
| 26. | Draeger-Medical-Device |
| 27. | Draeger-Medical-Systems-Device |
| 28. | Fluke-Device |
| 29. | Fluke-Biomedical-Device |
| 30. | General-Electric-Device |
| 31. | GE-Healthcare-Device |
| 32. | Datex-Ohmeda-Device |
| 33. | GE-Medical-System-Device |
| 34. | Imatron-Device |
| 35. | Getinge-Device |
| 36. | Jostra-Device |
| 37. | Getinge-IT-Solutions-Device |
| 38. | Getinge-Sterilization-Device |
| 39. | Honeywell-Device |
| 40. | Honeywell-HomMed-Device |
| 41. | ICU-Medical-Device |
| 42. | Hospira-Device |
| 43. | Physiometrix-Device |
| 44. | Kontron-Device |
| 45. | Kontron-Medical-Device |
| 46. | Maquet-Device |
| 47. | Maquet-Cardiopulmonary-Device |
| 48. | Maquet-CardioVascular-Device |
| 49. | Maquet-Critical-Care-Device |
| 50. | Maquet-Germany-Device |
| 51. | Masimo-Device |
| 52. | Masimo-SET-Pulse-Oximeter |
| 53. | MedAvant-Device |
| 54. | MedAvant-Healthcare-Device |
| 55. | MedAvant-Healthcare-Solutions-Device |
| 56. | Mindray-Device |
| 57. | Mindray-Co-Device |
| 58. | Mindray-DS-USA-Device |
| 59. | Nicolet-Device |
| 60. | Nicolet-Instruments-Device |
| 61. | Nicolet-Neuro-Device |
| 62. | Olympus-Device |
| 63. | Olympus-Image-Systems-Device |
| 64. | Olympus-Soft-Imaging-Device |
| 65. | Omron-Device |
| 66. | Omron-Healthcare-Device |
| 67. | Omron-Tateisi-Device |
| 68. | Panasonic-Device |
| 69. | Panasonic-Healthcare-Device |
| 70. | Philips-Device |
| 71. | Philips-Analytical-X-Ray-Device |
| 72. | Philips-CareServant-Device |
| 73. | Philips-Electronics-Netherlands-Device |
| 74. | Philips-Healthcare-PCCI-Device |
| 75. | Philips-Medical-Systems-Device |
| 76. | Marconi-Medical-Systems-Device |
| 77. | Philips-Medical-Systems-Cardiac-Monitoring-Device |
| 78. | Philips-Oral-Healthcare-Device |
| 79. | Philips-Patient-Monitoring-Device |
| 80. | Philips-SureSigns-Patient-Monitor |
| 81. | Philips-SureSigns-VS3-Patient-Monitor |
| 82. | Philips-SureSigns-VS4-Patient-Monitor |
| 83. | Philips-Personal-Health-Device |
| 84. | Philips-Respironics-Device |
| 85. | Siemens-Device |
| 86. | Acuson-Ultrasound-Device |
| 87. | Siemens-AG-Healthcare-Sector-Device |
| 88. | Siemens-Healthcare-Diagnostics-Device |
| 89. | Siemens-Healthcare-Diagnostics-Manufacturing-Device |
| 90. | SonoSite-Device |
| 91. | Sonosite-MicroMaxx-Ultrasound |
| 92. | St-Jude-Medical-Device |
| 93. | Thoratec-Device |
| 94. | Zimmer-Device |
| 95. | ORTHOsoft-Zimmer-CAS-Device |
| 96. | Zimmer-Elektromedizin-Device |
| 97. | AB-Sciex-Device |
| 98. | ACIST-Medical-Systems-Device |
| 99. | Acteon-Group-Device |
| 100. | ADInstruments-Device |
| 101. | Advance-Sterilization-Products-Device |
| 102. | Advanced-Medical-Information-Device |
| 103. | Advantage-Pharmacy-Device |
| 104. | Aeroscout-Device |
| 105. | Alaris-Inc-Device |
| 106. | Alaris-Medical-Systems-Device |
| 107. | Alcon-Laboratories-Device |
| 108. | Alpinion-Medical-Systems-Device |
| 109. | AmbiCom-Device |
| 110. | American-Telecare-Device |
| 111. | Amgen-USA-Device |
| 112. | Andon-Health-Device |
| 113. | Applied-Biosystems-Device |
| 114. | Applied-Medical-Technologies-Device |
| 115. | ARKRAY-Device |
| 116. | Avizia-Device |
| 117. | Axis-Shield-PoC-Device |
| 118. | B-Braun-Melsungen-Device |
| 119. | Bang-Olufsen-Medicom-Device |
| 120. | Ascensia-Diabetes-Care-Device |
| 121. | Bausch-Lomb-Device |
| 122. | Beacon-Medical-Device |
| 123. | Becton-Dickinson-Device |
| 124. | Bestcare-Cloucal-Device |
| 125. | Bio-logic-Systems-Device |
| 126. | Bio-Rad-Lab-Device |
| 127. | Biodevices-Device |
| 128. | bioMerieux-Italia-Device |
| 129. | Bionet-Device |
| 130. | BIOPAC-Systems-Device |
| 131. | Biosoundlab-Device |
| 132. | Biospace-Device |
| 133. | Biotage-Device |
| 134. | Biotronik-Device |
| 135. | BL-Healthcare-Device |
| 136. | BMT-Medical-Technology-Device |
| 137. | Boston-Scientific-Device |
| 138. | Breathometer-Device |
| 139. | C8-MediSensors-Device |
| 140. | Calypso-Medical-Device |
| 141. | Cambridge-Medical-Robotics-Device |
| 142. | Camtronics-Medical-Systems-Device |
| 143. | CardioMEMS-Device |
| 144. | CardioNet-Device |
| 145. | Cardiopulmonary-Corp-Device |
| 146. | CardioTek-Device |
| 147. | Care-Everywhere-Device |
| 148. | CareCom-Device |
| 149. | CareFusion-Device |
| 150. | CarePredict-Device |
| 151. | Carestream-Health-Device |
| 152. | CareTech-Device |
| 153. | CareView-Communications-Device |
| 154. | Celectronic-eHealth-Device |
| 155. | Centrak-Device |
| 156. | Cerner-Device |
| 157. | CHG-Hospital-Beds-Device |
| 158. | Chile-School-of-Medicine-Device |
| 159. | CIRTEC-Medical-Systems-Device |
| 160. | CliniComp-Device |
| 161. | Cogent-Healthcare-Systems-Device |
| 162. | Colorado-Med-Tech-Device |
| 163. | Compumedics-Device |
| 164. | Conmed-Linvatec-Device |
| 165. | Convergent-Bioscience-Device |
| 166. | Corometrics-Medical-Systems-Device |
| 167. | Criticare-Systems-Device |
| 168. | Cutera-Device |
| 169. | Cytyc-Device |
| 170. | Dainippon-Pharma-Device |
| 171. | DENTSPLY-Gendex-Device |
| 172. | Diatek-Patient-Management-Device |
| 173. | Dictum-Health-Device |
| 174. | Disetronic-Medical-Systems-Device |
| 175. | Dixtal-Biomedica-Device |
| 176. | Dragerwerk-Device |
| 177. | Durr-Dental-Device |
| 178. | Edwards-Lifesciences-Device |
| 179. | Ellex-Medical-Device |
| 180. | Eppendorf-Device |
| 181. | Etymonic-Design-Device |
| 182. | Essilor-Device |
| 183. | Fisher-Paykel-Device |
| 184. | Fresenius-Medical-Care-Device |
| 185. | Fukuda-Denshi-Device |
| 186. | Gem-Med-Device |
| 187. | GN-ReSound-Device |
| 188. | Haag-Streit-Device |
| 189. | Health-Hero-Device |
| 190. | Health-Life-Device |
| 191. | Heart-Force-Medical-Device |
| 192. | HemoCue-Device |
| 193. | Heraeus-Noblelight-Device |
| 194. | Hidea-Solutions-Device |
| 195. | Hill-Rom-Device |
| 196. | Hitachi-Aloka-Medical-Device |
| 197. | Hoana-Medical-Device |
| 198. | Home-Skinovations-Device |
| 199. | HORIBA-Medical-Device |
| 200. | Huntleigh-Healthcare-Device |
| 201. | ICU-Scandinavia-Device |
| 202. | Imricor-Medical-Systems-Device |
| 203. | Indiana-Life-Sciences-Device |
| 204. | InnerSpace-Device |
| 205. | Innomed-Medical-Device |
| 206. | INSIDE-Technology-Device |
| 207. | INTEGRA-Biosciences-Device |
| 208. | Integra-LifeSciences-Device |
| 209. | Integrated-Medical-Systems-Device |
| 210. | Intel-GE-Care-Innovations-Device |
| 211. | Interacoustics-Device |
| 212. | Intuitive-Surgical-Device |
| 213. | Invivo-Device |
| 214. | Ivoclar-Vivadent-Device |
| 215. | Ivy-Biomedical-Device |
| 216. | JASCO-Device |
| 217. | JCT-Healthcare-Device |
| 218. | Johnson-Johnson-Medical-Device |
| 219. | JEOL-Device |
| 220. | Karl-Storz-Imaging-Device |
| 221. | KaVo-Dental-Device |
| 222. | KeyMed-Device |
| 223. | LABiTec-Device |
| 224. | Laerdal-Medical-Device |
| 225. | LI-COR-Biosciences-Device |
| 226. | LifeSync-Device |
| 227. | LRE-Medical-Device |
| 228. | MDS-SCIEX-Device |
| 229. | MEDAV-Device |
| 230. | Mediana-Device |
| 231. | Medicis-Device |
| 232. | Medicore-Device |
| 233. | Medison-X-Ray-Device |
| 234. | Medrad-Device |
| 235. | Medtronic-Diabetes-Device |
| 236. | Mennen-Medical-Device |
| 237. | Micropoint-Biotechnologies-Device |
| 238. | MIR-Medical-International-Research-Device |
| 239. | MOCACARE-Device |
| 240. | Molecular-Devices-Corp-Device |
| 241. | Mortara-Instrument-Device |
| 242. | MX-Imaging-Device |
| 243. | NDS-Surgical-Imaging-Device |
| 244. | Networked-Robotics-Device |
| 245. | Neural-Image-Device |
| 246. | NIDEK-Device |
| 247. | Nihon-Kohden-Device |
| 248. | Nipro-Diagnostics-Device |
| 249. | Nonin-Medical-Device |
| 250. | Novartis-Pharma-Device |
| 251. | Novo-Nordisk-Device |
| 252. | Onyx-Healthcare-Device |
| 253. | Optimedical-Systems-Device |
| 254. | Ortivus-Medical-Device |
| 255. | Oticon-Device |
| 256. | Otsuka-Electronics-Device |
| 257. | Pacific-Biosciences-Device |
| 258. | PaloDEx-Device |
| 259. | Palomar-Medical-Device |
| 260. | Peerbridge-Health-Device |
| 261. | Perkin-Elmer-Device |
| 262. | Pharma-Smart-Device |
| 263. | Phonak-Communications-Device |
| 264. | Physio-Control-Device |
| 265. | Planmeca-Oy-Device |
| 266. | Pointe-Conception-Medical-Device |
| 267. | Power-Medical-Interventions-Device |
| 268. | Midmark-Progeny-Device |
| 269. | Proteus-Digital-Health-Device |
| 270. | Quantum-Medical-Imaging-Device |
| 271. | Radisys-Device |
| 272. | Radiometer-Medical-Device |
| 273. | Rauland-Borg-Device |
| 274. | ResMed-Device |
| 275. | Resurgent-Health-Medical-Device |
| 276. | RF-Surgical-System-Device |
| 277. | Roche-Diagnostics-Device |
| 278. | ScottCare-Device |
| 279. | Secure-Care-Device |
| 280. | SenTec-Device |
| 281. | Senticare-Device |
| 282. | Shenzhen-Homecare-Device |
| 283. | Shenzhen-Lifesense-Medical-Device |
| 284. | Shimadzu-Device |
| 285. | SHL-Telemedicine-Device |
| 286. | Sigma-International-Medical-Device |
| 287. | Sirona-Dental-Systems-Device |
| 288. | Smiths-Medical-Device |
| 289. | Soredex-Device |
| 290. | Spacelabs-Healthcare-Device |
| 291. | Spectrum-Medical-Limited-Device |
| 292. | Sphere-Medical-Device |
| 293. | Starkey-Labs-Device |
| 294. | Stratec-Biomedical-Device |
| 295. | Stryker-Device |
| 296. | Sysmex-Device |
| 297. | Tecan-Systems-Device |
| 298. | Terumo-Device |
| 299. | Thermo-Fisher-Scientific-Device |
| 300. | Tiba-Medical-Device |
| 301. | Tokyo-Boeki-Medisys-Device |
| 302. | Toyo-Medic-Device |
| 303. | tPlus-Medical-Device |
| 304. | Translogic-Device |
| 305. | Trendsetter-Medical-Device |
| 306. | Triton-Electronic-Systems-Device |
| 307. | Tunstall-Healthcare-Device |
| 308. | Valtronic-Device |
| 309. | Varian-Medical-Systems-Device |
| 310. | Versamed-Device |
| 311. | Verto-Medical-Solutions-Device |
| 312. | VIASYS-Healthcare-Device |
| 313. | Vigil-Health-Solutions-Device |
| 314. | VitalCARE-Device |
| 315. | Vivonic-Device |
| 316. | Vocera-Communications-Device |
| 317. | Welch-Allyn-Device |
| 318. | West-Com-Nurse-Call-Device |
| 319. | Widex-Device |
| 320. | WL-Gore-Device |
| 321. | Zoe-Medical-Device |
| 322. | ZOLL-Lifecor-Device |
| 323. | DICOM-Client |
| 324. | DICOM-Server |
| 325. | HL7-Client |
| 326. | HL7-Server |