Options
Mark as New

Mark as Read

Bookmark

Subscribe

Email to a Friend
on ‎04-10-2019 01:50 PM - edited on ‎06-11-2019 10:17 AM by
Jason Kunst

Contents
The Community is Not TAC
If you have an emergency network problem - Open a Case with the Cisco TAC!
While Cisco employees - including members of its Technical Services teams may participate - the Cisco Community is not a replacement for TAC or other technical services. We will not :
read and comment on your TAC case
file a bug or enhancement request for you
tell you when an identified bug will be fixed (see How to Get Cisco Bug Status & Notifications instead)
read your show running-config and show tech attachments and spend hours going back and forth with you to troubleshoot your problem
No Comment on Roadmaps or Fixes
Sorry, but Cisco employees will not comment or respond to questions about roadmapped features or future capabilities. We also will not tell you when a fix for a bug that is bothering you might be available in a Release or Patch (see How to Get Cisco Bug Status & Notifications instead). Besides being considered Cisco Confidential information, anything can change at anytime for so many reasons that we do not want to set an expectation then have you be disappointed when it doesn't happen. So we just won't comment on futures.

Those of you interested in getting early access to Cisco's products and roadmaps should consider joining the Customer Connection Program (CCP). The CCP is a subset of the Cisco Community that requires you to sign a digital Non-Disclosure Agreement (NDA) in order to gain access because you will have opportunities to join webinars or Beta trials where unreleased software and features are available and discussed. The posting or discussion of things learned in the CCP in public areas of the Cisco Communities is prohibited until after it is officially released.
New Features and Feedback
You are welcome to discuss any idea or a bug within the Cisco Community but until you submit them through the official channels, they will not be in the Product Management queue. See Identity Services Engine (ISE) Feedback for submitting your enhancements and feedback.
Search First!
Chances are that you are not the first person with that question. Please put 4-5 keywords into your browser's URL bar and let your favorite Internet search engine help you find what you are looking for! You can even try putting your exact question that you would have asked into the URL bar and probably get some close matches!
Provide Details
Please try to give your fellow community members some context to understand your goal, environment and what you have already tried to make it work. Consider providing the following details:
Question(s):

Please state it simply and clearly in the Title
Do not bury it in a long paragraph.
Do not ask an exhaustive list of questions that would discourage someone from responding unless they can answer everything completely. Because they probably won't.

Goal: What is your Expected Behavior or Goal? What specific scenario are you trying to complete?
Diagram: Consider visually showing what you're doing - a picture is worth a 1000 words!
References: Have your read our prescriptive deployment guides or CVDs? Are you using a known or published configuration or design? Which one(s)? Include URLs or pictures.
Errors: You probably wouldn't be asking a question unless there was a problem... So what is the exact error message you are getting. "It fails" is not good enough. Copy and paste it verbatim or take a screenshot!
What: Which combination of products are you using in your scenario or flow? Please specify all that apply:


hardware models
software versions
operating systems
integrations
applications
browsers
The more detail you provide, the less confusion there will be to give you the answer you want without a lot of unnecessary back-and-forth questions to gather any needed information.
Reproducibility
For simple requests or questions you may not need to provide steps to replicate the problem. However, in many cases there may be multiple configuration options or hardware & software combinations that do not work as expected. Again, the more information you can provide from the start, the faster your experience will be!
Expected Behavior
Actual Behavior
Steps to Reproduce
Pictures and Video
A picture is worth a thousand words. A video can be worth a million! If the issue you're experiencing is intermittent or rather involved, capture it on a quick video and attach it to your Discussion question using the Photos or Video tool in the Rich Text editor.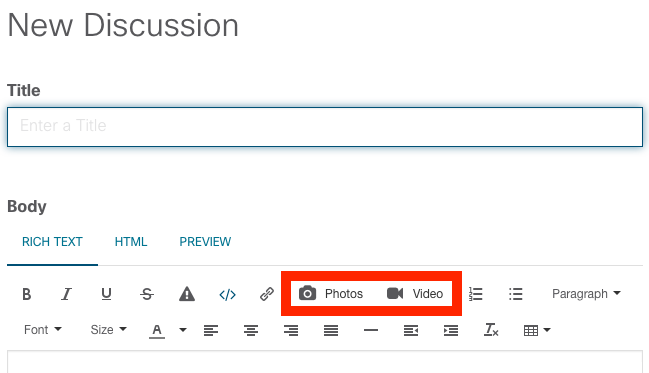 You may also attach files but it is easier when we can see the image or video inline with your description. Also note that there is a limit of 5 attachments with a total size limit of 100MB per post.