Options
Mark as New

Mark as Read

Bookmark

Subscribe
on ‎02-12-2014 09:34 PM
Important: This document is intended as a quick start guide and is NOT an official document for what is officially supported. The demo version of IOS XRv is offered without support and can be run on top of any hypervisor. For information regarding supported hypervisor for simulation/production deployment, please refer to the official Release Notes.
Running Cisco IOS

XRv

on VMware Fusion/Workstation

The following steps shows how to get IOS XRv running on VMware Fusion or Workstation. Screenshots are based on VMware Fusion running on Mac OS X.
Download IOS XRv
You may download IOS XRv from the following location
IOS XRv (5.1.1) Demo Image Download
https://upload.cisco.com/cgi-bin/swc/fileexg/main.cgi?CONTYPES=Cisco-IOS-XRv
Running XRv in VMware Fusion
1. Fire up VMware Fusion, select File > New > More Options.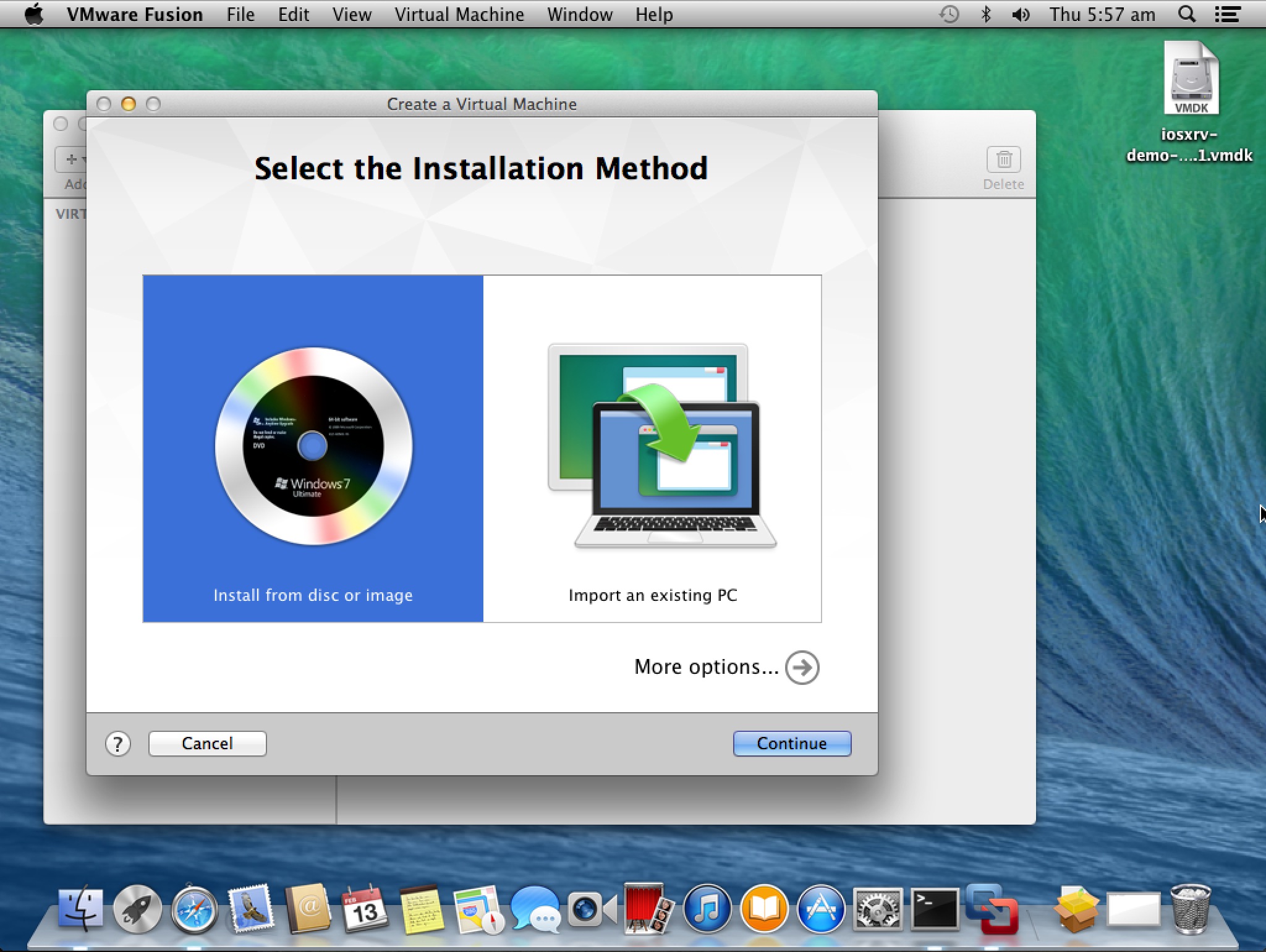 2. Select Create a custom virtual machine.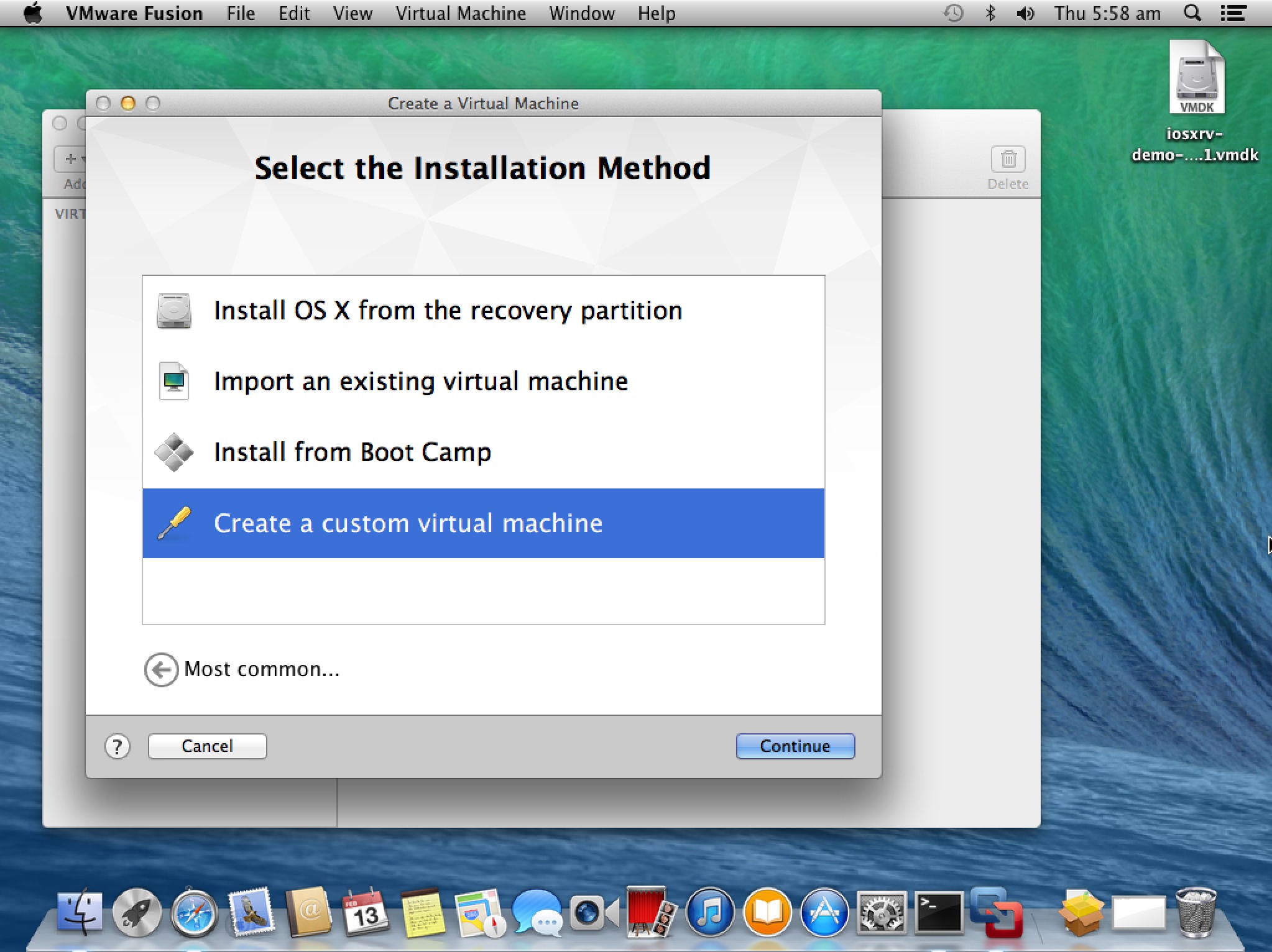 3. Choose Other > Other option for Operating System.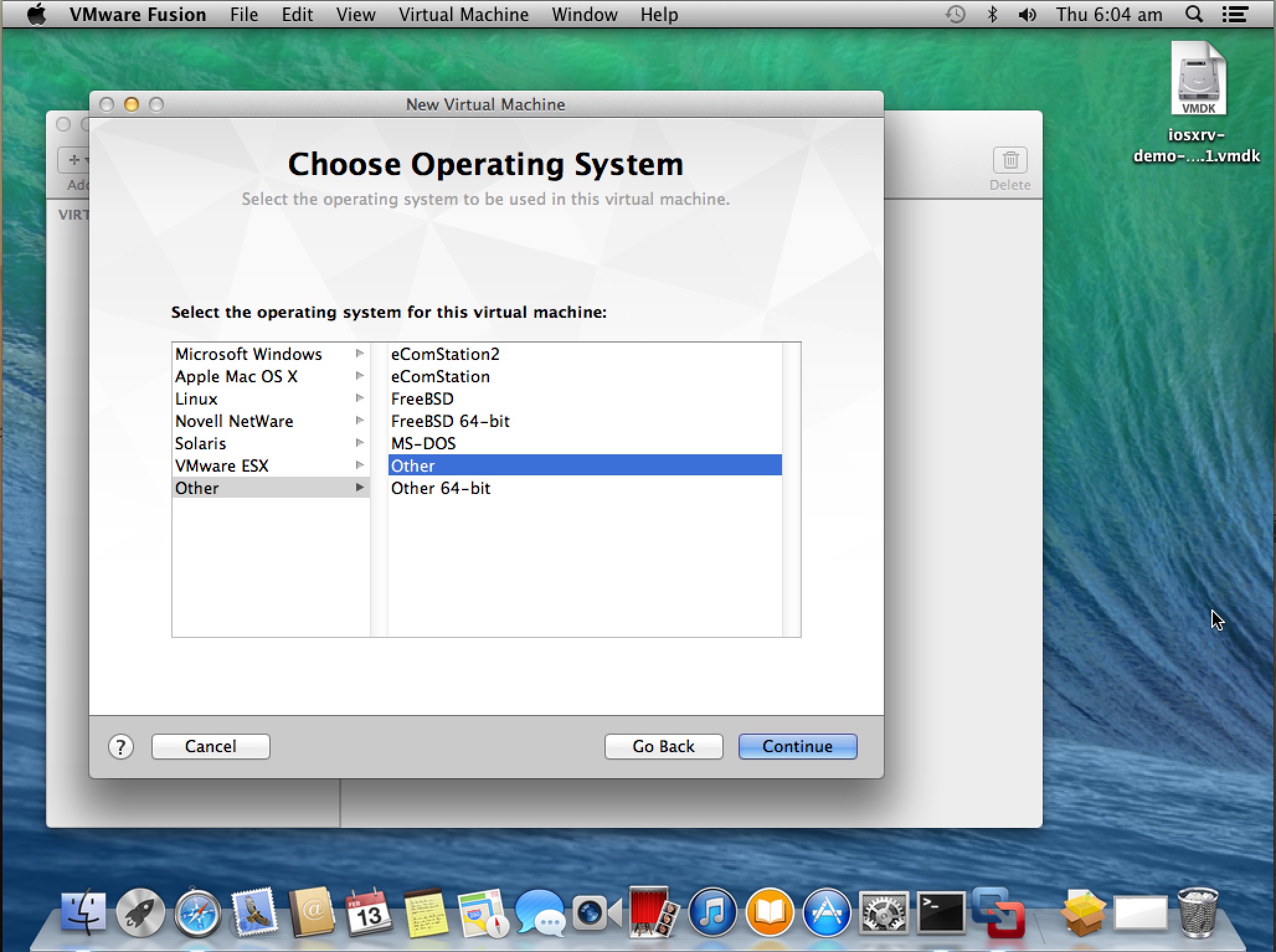 4. Select Choose an existing virtual disk, pointing to the XRv image filename you have downloaded earlier.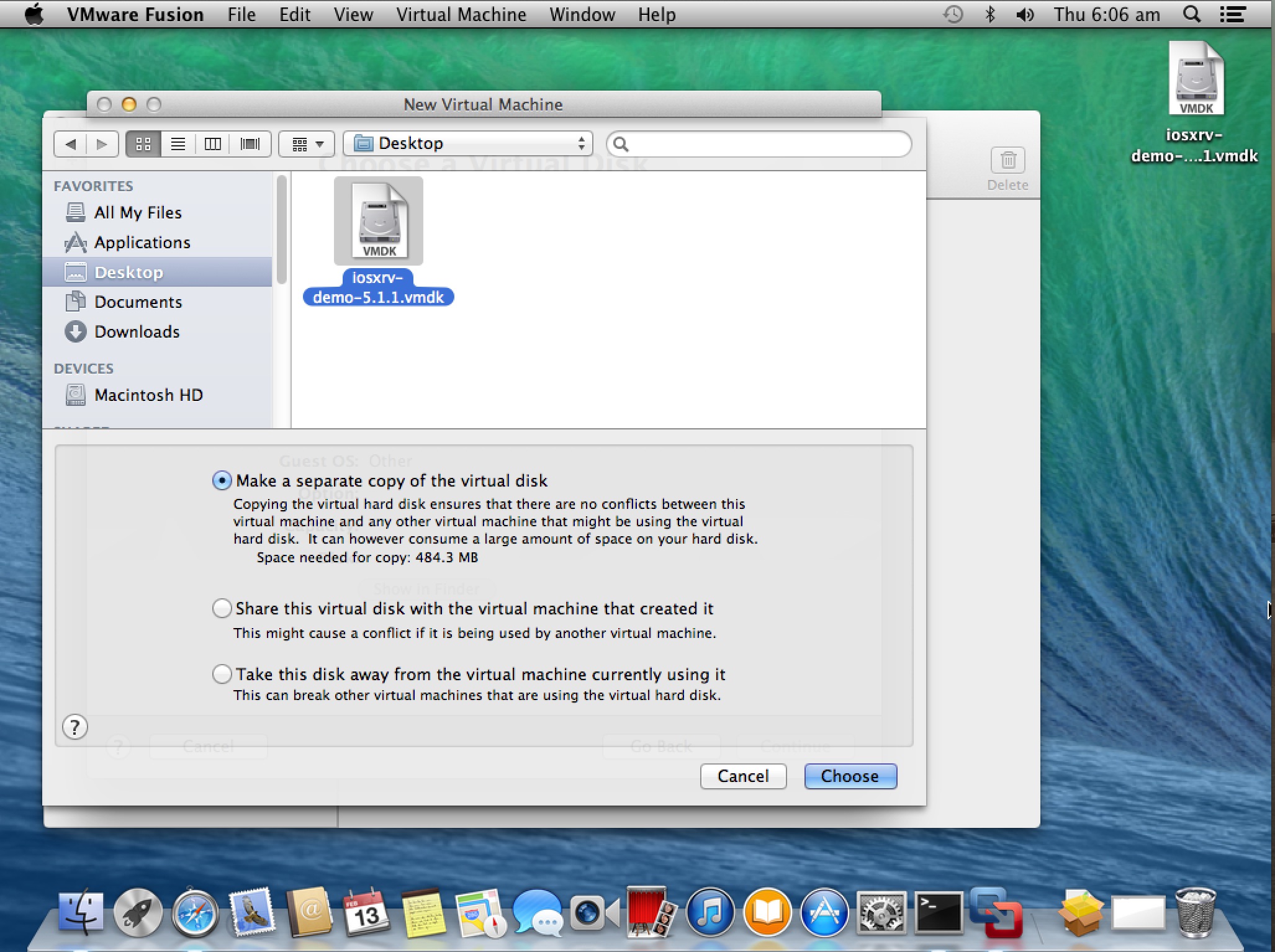 5. Select Customize Settings. Allocation at least 3GB of memory to XRv Virtual Machine.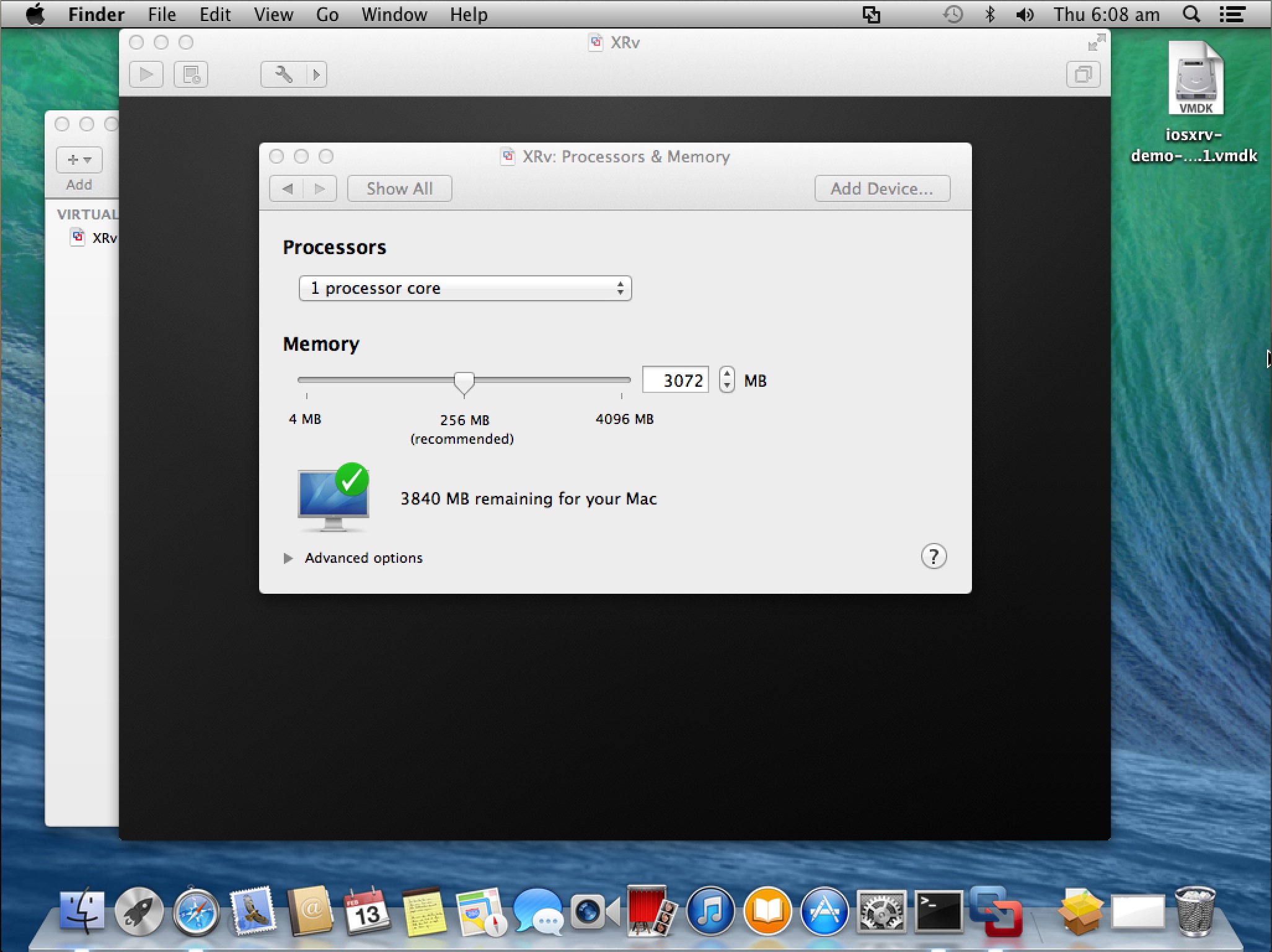 6. If you require IOS XRv Virtual Machine to be bridged to physical interface. Select the appropriate options below.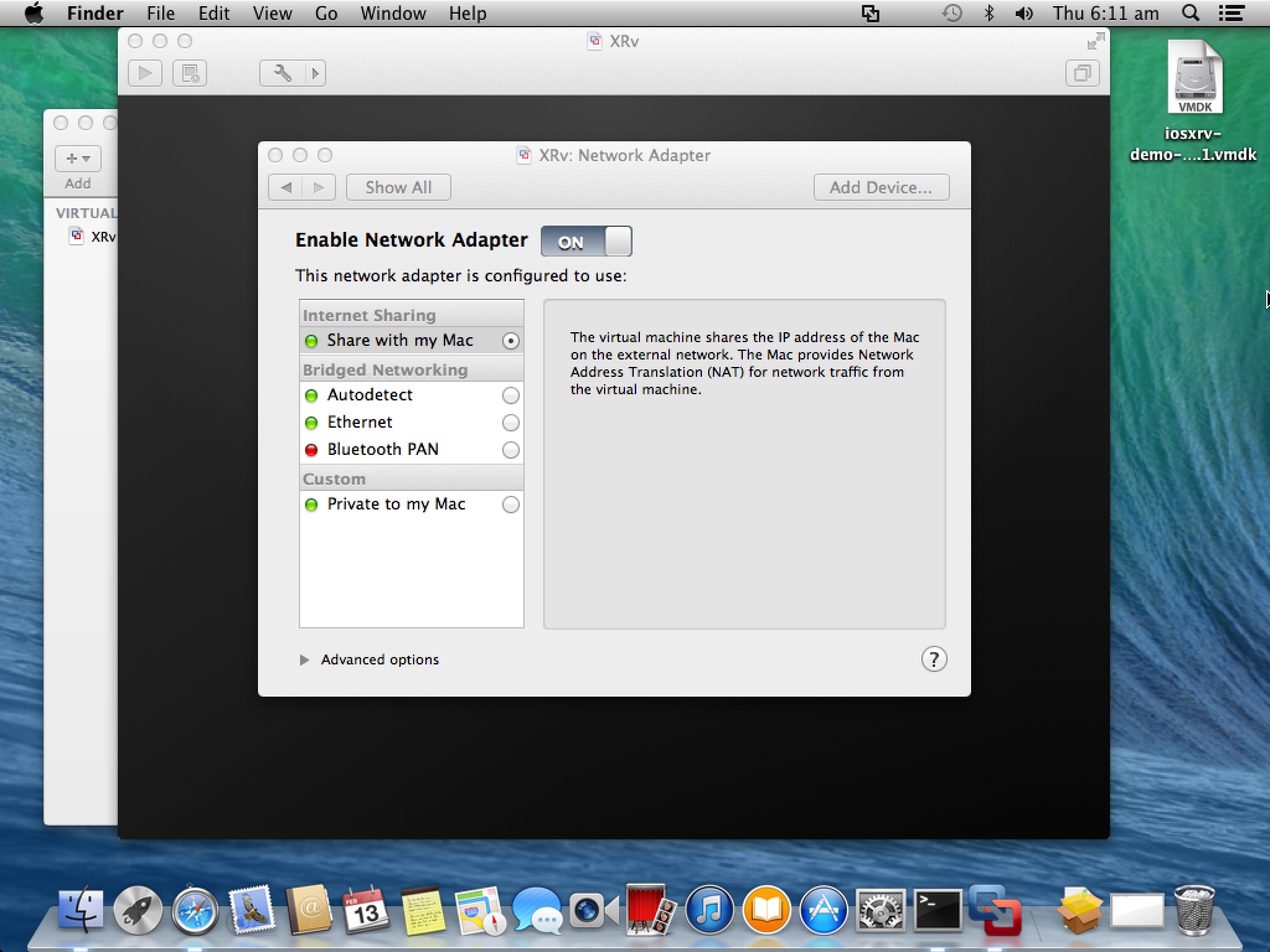 7. In VMware Fusion to add the serial ports for XRv you must manually edit the .vmx file before starting it. You must create at least one serial port, and up to four are supported. (The first acts as IOS XR console port, and the others provide ksh consoles.).
Click on Option+right-mouse click on VM > Open Config file in editor.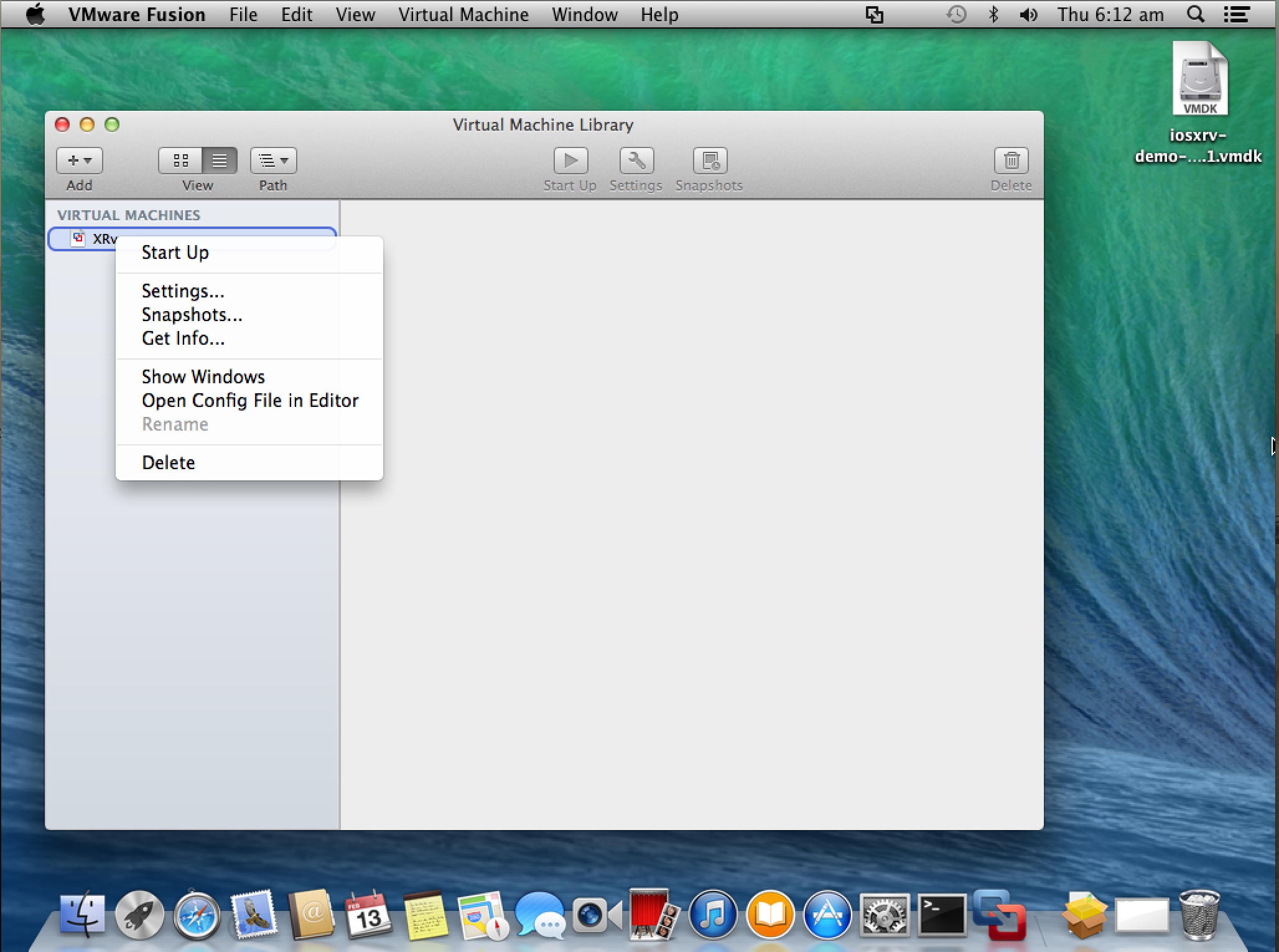 Then, add the following lines
ethernet0.virtualDEV = "e1000"
The XRv image requires the use of e1000 NIC, without the above you will not see any interfaces present on the XRv router.
The following lines are also required for the serial console,
serial0.present = "TRUE"
serial0.fileType = "network"
serial0.fileName = "telnet://127.0.0.1:9001"
serial0.startConnected = "TRUE"
serial0.yieldOnMsrRead = "TRUE"
8. Start the IOS XRv Virtual Machine. Fire up Terminal Application and connect.
You can then just telnet localhost 9001 to get access to the console (Thanks Harold for the tip!)
9. Sit back, Take a selfie and Enjoy!
Quick Start Lab Guide: Introduction to Cisco IOS XR Technical Workbook
New to Cisco IOS XR? Follow the link below to get started!
https://supportforums.cisco.com/docs/DOC-39962
See also:
Running IOS XRv on ESXi and QEMU/KVM