Options
Mark as New

Mark as Read

Bookmark

Subscribe
on ‎10-15-2012 01:07 PM
A new Stackable switch lab test report from Miercom confirms superiority of Cisco 500 Series Stackable switches over comparable products from HP, Netgear, and D-Link.
What's new in this report?
Focus on Stackable Switches – Cisco 500 series, HP 2910al, Netgear GSM7x, D-Link DGS-3120

For Stacking, comparison of:

Cross-stack configuration and operation

Resiliency and failover/recovery of Stack

Ease of Stack configuration

Cost Effectiveness of Stack

Stack Throughput

Switch operation in the presence of a Denial-of-Service attack and Protocol Mutations

EEE (Energy Efficient Ethernet)

Report Results highlights:
Cisco 500 series Switches were proven to have the:
Highest Scalability (MAC, VLANs, ACLs)

Best Stack Resiliency

Lowest Energy Consumption

The only switches supporting EEE – Energy savings of up to 41%

The only products performing flawlessly when under Attack

The easiest to setup and operate

Lowest normalized cost of ownership

While the report proves that the 500 Series is superior against all the products from all vendors in the test, the position against HP's top-selling 2910al portfolio is particularly stark: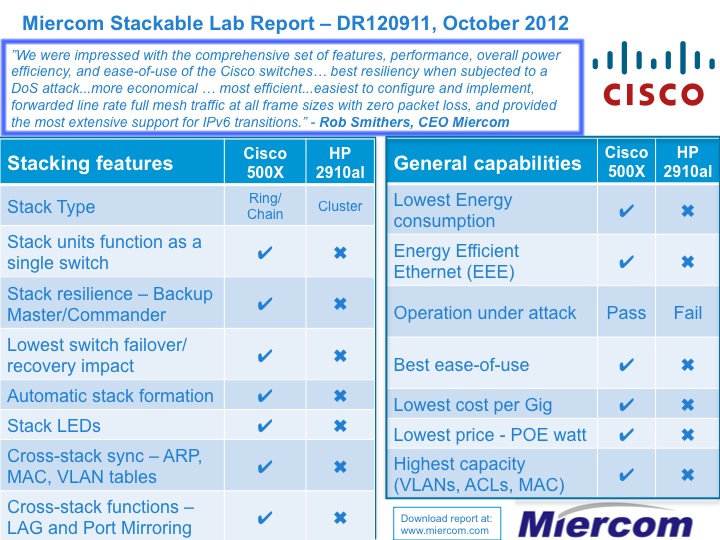 What this translates to from a Business perspective is:
It allows Cisco solutions to be used in more business critical applications given the superior resiliency proven by this report

Gives customers direct lifecyle savings over HP given that it consumes lower power (operational savings)

Products also offer lower capex with lower cost per Gig and POE watt

Products are easiest to operate given the best ease-of-use

Gives customers the confidence that they will operate flawlessly even in the presence of a malicious denial-of-service attack

Download the report and see for yourself.