Funday Friday: International Day for Achievers
Options
Mark as New

Bookmark

Subscribe

Mute
‎03-24-2023 08:40 AM
According to nationaltoday.com, today is International Day for Achievers! How do we celebrate International Day for Achievers? Here are three things you can do:
Acknowledge an achiever. Do you know someone who goes out of their way to help others or has performed in an outstanding way? Let them know how much you admire them!
Encourage others. Everyone is trying to be an achiever. Do you know someone who is doing something outstanding? Give them some help to get to their goals!
Reflect on your achievements. Not only is everyone else trying to be an achiever, but you are too! Don't be shy with your accomplishments, let people know what you are doing!
When it comes to our community, I think all of you who participate are achieving a great deal. Whether you are reaching out to everyone here trying to get a problem resolved, you are sharing your expertise and knowledge, or you're here to connect with others with similar interests, you are doing great things here! Thanks for your participation!
I'd like to recognize some of the achievers in our community!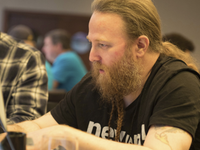 One of the biggest achievers that I've had the pleasure to know is Stuart Clark, better known here as bigevilbeard. From his road from a hairdresser to a Cisco developer advocate, to his current role at AWS, to his unending service to our community, to being the first certified DevNet Expert, Stuart deserves a big hats off!
Another aspect of achievement is learning. Verlaine Muhungu has been inspirational to me in this respect. He has a great drive to learn about automation and networking and has been working towards building his technical knowledge and skills. It's been great watching his learning journey on both Twitter and LinkedIn. Keep up the good work, Verlaine!
Some of the biggest contributors to our developer part of the Cisco community are also recognized for their work across the entire community! 2023 Community VIPs that heavily contribute to the developer forums are David Macias and Sergiu Daniluk! This is deserved recognition for some of our top contributors. If you're interested in building up your community recognition, you can work towards VIP by starting with the monthly Developer Spotlight!
Who would you like to recognize for International Day for Achievers?