Options
Mark as New

Mark as Read

Bookmark

Subscribe
‎08-28-2015 07:37 AM - edited ‎03-01-2019 06:37 AM
| | |
| --- | --- |
| Prerequisites | Built on UCSD 5.3 |
| | Instructions for Regular Workflow Use: |
Download the attached .ZIP file below to your computer. *Remember the location of the saved file on your computer.
Unzip the file on your computer. Should end up with a .WFD file.
Log in to UCS Director as a user that has "system-admin" privileges.
Navigate to "Policies-->Orchestration" and click on "Import".
Click "Browse" and navigate to the location on your computer where the .WFD file resides. Choose the .WFD file and click "Open".
Click "Upload" and then "OK" once the file upload is completed. Then click "Next".
Click the "Select" button next to "Import Workflows". Click the "Check All" button to check all checkboxes and then the "Select" button.
Click "Submit".
A new folder should appear in "Policies-->Orchestration" that contains the imported workflow. You will now need to update the included tasks with information about the specific environment.
With network automation, an area that is critical is the ability to dynamically manage networks/subnets for new projects and applications. UCS Director already provides the ability to manage much of this, but there are a couple of gaps with the OOB features. A common set of steps needed when automating the network are:
1) Get the new Subnet
2) Identify the Range of IPs to be used for hosts/guests
3) Build a new Static IP Policy to use for assigning IPs to VMs/hosts
Steps 2 and 3 are difficult with the OOB tasks from UCSD. Here you'll find 2 new tasks that add these capabilities.
Included in this attachment
1) Sample Workflow to build a new IP Policy Based on a Subnet
2) Custom Task to Calculate the IP Range and First/Last available IPs
3) Custom Task to Create a Static IP Pool Policy with rollback
4) Custom Task to Return the Prefix for a subnet
A Sample Workflow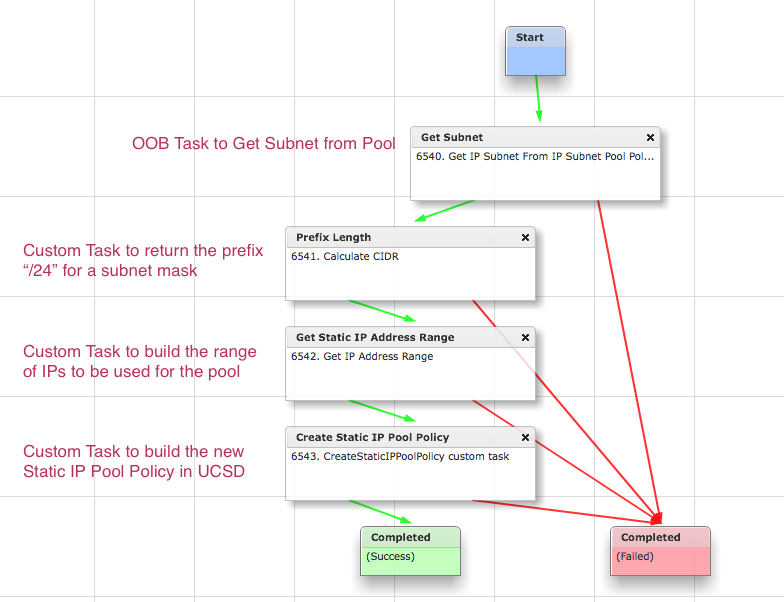 Service Request Status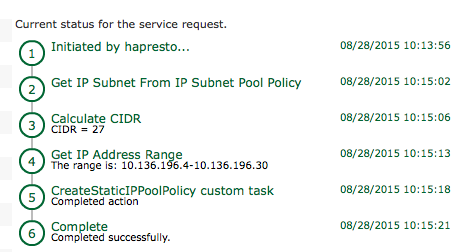 Task Outputs