Options
Mark as New

Mark as Read

Bookmark

Subscribe
‎08-06-2015 02:32 PM - edited ‎03-01-2019 06:36 AM
| | |
| --- | --- |
| Task Name | XtremIO Example |
| Description | Change the user of a running workflow |
| Prerequisites | Tested on 5.3.1 |
| Category | Workflow |
| Components | vSphere 5.x |
| User Inputs | userid to change to |
| Output | Instructions for Regular Workflow Use: |
Download the attached .ZIP file below to your computer. *Remember the location of the saved file on your computer.
Unzip the file on your computer. Should end up with a .WFD file.
Log in to UCS Director as a user that has "system-admin" privileges.
Navigate to "Policies-->Orchestration" and click on "Import".
Click "Browse" and navigate to the location on your computer where the .WFD file resides. Choose the .WFD file and click "Open".
Click "Upload" and then "OK" once the file upload is completed. Then click "Next".
Click the "Select" button next to "Import Workflows". Click the "Check All" button to check all checkboxes and then the "Select" button.
Click "Submit".
A new folder should appear in "Policies-->Orchestration" that contains the imported workflow. You will now need to update the included tasks with information about the specific environment.
Thank you Mark Smith
Color:
Custom Tasks to do XtremIO storage provisioning using the XtremIO Rest API for the versions listed in the described document. Developed all Tasks needed for a bare metal provisioning workflow using boot from SAN. Attached is the workflow.
Create new tasks by cloning one of the existing tasks, adding any new input/output parameters and changing the JSON structure to match the new API call.
This document was the basis of the work:
docu56460_XtremIO-3.0.1,-3.0.2-and-3.0.3-Storage-Array-RESTful-API-Guide.pdf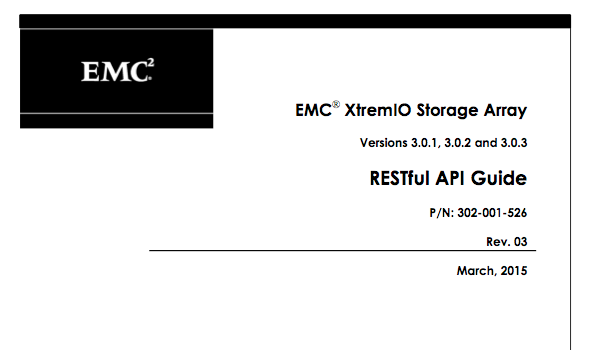 This can be obtained on the EMC site for download.
The workflows included: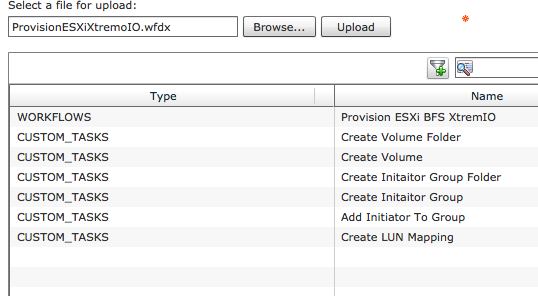 The workflow to Create a Volume: