Highlighted
Beginner
Mark as New

Bookmark

Subscribe

Mute

Email to a Friend
Get stuck when using flask and YDK-PY, please help.
Hello experts,
I have an issue when operating cisco XR with flask and YDK-PY, my goal is to set up a http server with flask, in the http server, call the YDK-PY api to operate the router.
Note: the below code was running in the docker env where the image was download from the YDK offical site.
below is my code:
import logging
from datetime import timedelta

# import providers, services and models
from flask import Flask
from ydk.services import CRUDService
from ydk.providers import NetconfServiceProvider
from ydk.models.cisco_ios_xr import Cisco_IOS_XR_shellutil_oper as xr_shellutil_oper

def enable_logging(level):
    log = logging.getLogger('ydk')
    log.setLevel(level)
    handler = logging.StreamHandler()
    formatter = logging.Formatter(("%(asctime)s - %(name)s - %(levelname)s - %(message)s"))
    handler.setFormatter(formatter)
    log.addHandler(handler)

app = Flask(__name__)

@app.route('/time')
def time():
    enable_logging(logging.INFO)
    
    # create NETCONF session
    provider = NetconfServiceProvider(address="192.168.122.169",
                                      port=830,
                                      username="admin",
                                      password="admin",
                                      protocol="ssh")
    # create CRUD service
    crud = CRUDService()

    # create system time object
    system_time = xr_shellutil_oper.SystemTime()

    # read system time from device
    system_time = crud.read(provider, system_time)

    # print system uptime
    print("System '%s' uptime is "%system_time.uptime.host_name +
          str(timedelta(seconds=system_time.uptime.uptime)))

if __name__ == "__main__":
    """Main execution path"""
    # time()
    app.run(host="0.0.0.0", debug=True)
with above code, when I call the http request http://localhost:5000/time with postman, then the code is stuck as below log shows: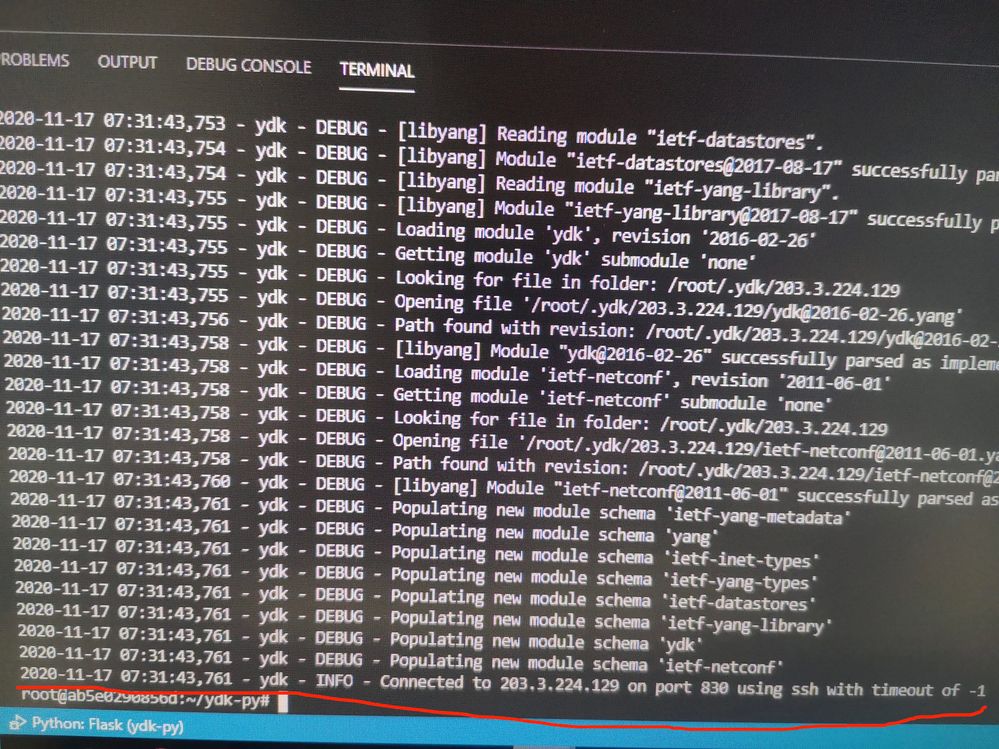 *********************************************************
but when I uncomment the time() in the code, which means call time() in main, it could run successfully, not stuck. see the logs below:
Do you have any idea about this ? thanks very much.