Highlighted
Beginner
Mark as New

Bookmark

Subscribe

Mute

Email to a Friend
one EPG, multiple IP subnets
Hi gang,
the learning curve continues!
In our environment, we have a collection of tenants, and each tenant has a collection of subnets. The subnets are defined at the EPG level.
Some of the teams using this environment need to be able to have multiple subnets on an EPG. For example, if Tenant1 has an EPG called EPG1, and that EPG1 has a defined subnet of 10.10.10.1/24, any end points in that EPG have a 10.10.10.x/24 IP address. However, in addition, in the same EPG1, they sometimes need to use a 192.168.1.x/24 IP address. This is because one of the products we use comes with a default IP address of 192.168.1.1 and it needs to be reachable for initial configuration - including setting an IP address on the 10.10.10.0/24 network.
This is where it gets confusing (for me).
the 10.10.10.0/24 subnet works fine. The gateway (at .1) works fine, and all is good. Now, when someone adds a secondary IP on their system of 192.168.1.2 so they can reach a device on 192.168.1.1, this works most of the time, but sometimes, the device with the 192.168.1.1 address is not reachable. It appears as if ARP is not working. This is literally 1 out of 20 times or less. In this state, the "controller" system at 192.168.1.2 is unable to ping (or otherwise reach) the device with the 192.168.1.1 address. the MAC address for the 192.168.1.1 system never appears in the ARP cache on the 192.168.1.2 system.
There are some things that make it work though.
1.) if you initiate comms FROM the 192.168.1.1 device, then it begins to work.
2.) if you add a second subnet of 192.168.1.0/24 (say, 192.168.1.254/24) to the EPG, it begins to work.
I expected that tenants could assign any IP to any system within any EPG that they wanted to. Obviously, only IPs on the same subnet as the fabric's gateway address would be routable out of the EPG, but I still expected that they could use the 192.168.1.0/24 network within the EPG even though it's not configured through the fabric.
So, what am I misunderstanding here? Should a tenant be able to use any IP space (notably IP space that is not assigned to the fabric) and have IP connectivity to other systems on the same subnet within the EPG? Do I have to add the 192.168.1.0 subnet to every EPG that is going to need to work on these devices?
Any insights you guy have would be very much appreciated. I'm pounding my head against the desk right now trying to figure out why this doesn't work.
Thanks!
Joel
1 ACCEPTED SOLUTION
Highlighted

Cisco Employee
Mark as New

Bookmark

Subscribe

Mute

Email to a Friend
Ok, did some further research and had to confirm a few things.

When you 192.168.1.x/24 host sends his ARP, the Leaf receives it as unknown unicast - so we proxy it up to the Spine. The Spine does a looked up and sends it back to all Leaf switches with the corresponding BD. When the Leaf receives this packet it does a subnet lookup - If the Leaf & BD does not have the subnet defined we drop it. This is a security mechanism to stop ARP DDoS attacks in a way.

If the Leaf & BD have the subnet configured, it will forward (flood) the packet to all ports under within the BD.
So contrary do my initial advice - your secondary subnet does indeed need to be defined within the BD.

Here's the two scenarios to help you understand.


ARP to BD Endpoint without Subnet IP Defined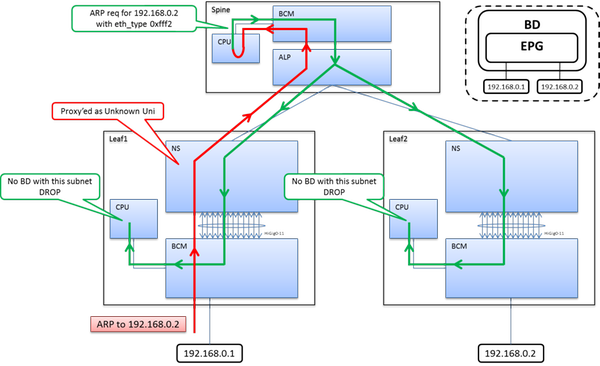 ARP to BD Endpoint with Subnet IP Defined
Robert