Beginner
Mark as New

Bookmark

Subscribe

Mute

Email to a Friend
Hits seen in Top 10 Access Rules but not in CLI
ASA Version: 8.2(2)
ASDM Version: 6.2(5)
Device Type ASA 5510
I see hits in the "Top 10 Access Rules" but see nothing in the "Access Rules" page and the CLI. Does this look like a bug or am I missing something? Thanks in advance!
Top 10 Access rules show hits. For e.g. Rule 177, 189, and 190.
The Access Rules page in ASDM does not show any hits but has "Top 10" marked.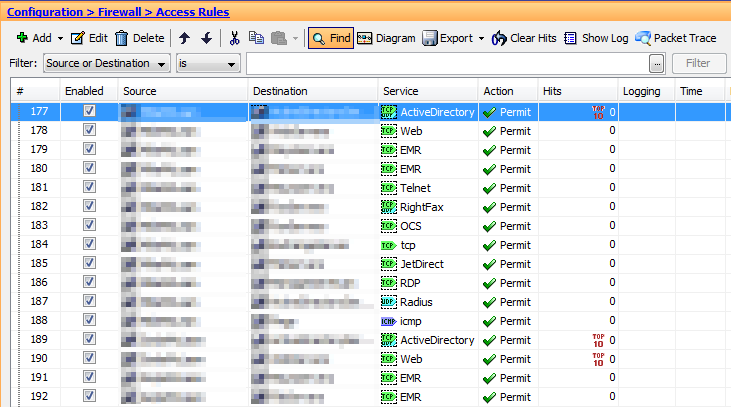 The CLI shows no hits for rule 177:
MyASA# show access-list | include 177
access-list outside_access_in line 177 extended permit object-group TCPUDP object-group MyName object-group ActiveDirectoryServers object-group ActiveDirectory 0x0a4449d8
access-list outside_access_in line 177 extended permit udp 10.14.7.0 255.255.255.0 10.100.100.0 255.255.255.0 eq 389 (hitcnt=0) 0xa44bd570
access-list outside_access_in line 177 extended permit udp 10.14.7.0 255.255.255.0 10.100.100.0 255.255.255.0 eq 445 (hitcnt=0) 0x4c0d225b
access-list outside_access_in line 177 extended permit udp 10.14.7.0 255.255.255.0 10.100.100.0 255.255.255.0 eq 88 (hitcnt=0) 0xda11f206
access-list outside_access_in line 177 extended permit udp 10.14.7.0 255.255.255.0 10.100.100.0 255.255.255.0 eq domain (hitcnt=0) 0xadb35eeb
access-list outside_access_in line 177 extended permit udp 10.14.7.0 255.255.255.0 10.100.100.0 255.255.255.0 eq ntp (hitcnt=0) 0x54e1942c
access-list outside_access_in line 177 extended permit udp 10.14.7.0 255.255.255.0 10.100.100.0 255.255.255.0 eq 3268 (hitcnt=0) 0x4815484d
access-list outside_access_in line 177 extended permit udp 10.14.7.0 255.255.255.0 10.100.100.0 255.255.255.0 eq 135 (hitcnt=0) 0x4ee5e504
access-list outside_access_in line 177 extended permit udp 10.14.7.0 255.255.255.0 10.100.100.0 255.255.255.0 range 1025 1026 (hitcnt=0) 0x78c1a00a
access-list outside_access_in line 177 extended permit udp 10.14.7.0 255.255.255.0 10.100.100.0 255.255.255.0 eq www (hitcnt=0) 0x547c7f3f
access-list outside_access_in line 177 extended permit udp 10.14.7.0 255.255.255.0 10.100.100.0 255.255.255.0 eq 139 (hitcnt=0) 0x675a8434
access-list outside_access_in line 177 extended permit udp 10.14.7.0 255.255.255.0 10.100.100.0 255.255.255.0 range 49152 49200 (hitcnt=0) 0x041ee127
access-list outside_access_in line 177 extended permit tcp 10.14.7.0 255.255.255.0 10.100.100.0 255.255.255.0 eq ldap (hitcnt=0) 0xefd4becb
access-list outside_access_in line 177 extended permit tcp 10.14.7.0 255.255.255.0 10.100.100.0 255.255.255.0 eq 445 (hitcnt=0) 0x22c6df99
access-list outside_access_in line 177 extended permit tcp 10.14.7.0 255.255.255.0 10.100.100.0 255.255.255.0 eq 88 (hitcnt=0) 0x6c69d270
access-list outside_access_in line 177 extended permit tcp 10.14.7.0 255.255.255.0 10.100.100.0 255.255.255.0 eq domain (hitcnt=0) 0x958ad172
access-list outside_access_in line 177 extended permit tcp 10.14.7.0 255.255.255.0 10.100.100.0 255.255.255.0 eq 123 (hitcnt=0) 0x004630da
access-list outside_access_in line 177 extended permit tcp 10.14.7.0 255.255.255.0 10.100.100.0 255.255.255.0 eq 3268 (hitcnt=0) 0x3b13d00e
access-list outside_access_in line 177 extended permit tcp 10.14.7.0 255.255.255.0 10.100.100.0 255.255.255.0 eq 135 (hitcnt=0) 0x98307d89
access-list outside_access_in line 177 extended permit tcp 10.14.7.0 255.255.255.0 10.100.100.0 255.255.255.0 range 1025 1026 (hitcnt=0) 0xd1d12d12
access-list outside_access_in line 177 extended permit tcp 10.14.7.0 255.255.255.0 10.100.100.0 255.255.255.0 eq www (hitcnt=0) 0x46d6d2ed
access-list outside_access_in line 177 extended permit tcp 10.14.7.0 255.255.255.0 10.100.100.0 255.255.255.0 eq netbios-ssn (hitcnt=0) 0x20a6e7bf
access-list outside_access_in line 177 extended permit tcp 10.14.7.0 255.255.255.0 10.100.100.0 255.255.255.0 range 49152 49200 (hitcnt=0) 0x15dbf9ad