edited on:

‎03-01-2019

‎04:45 PM
Introduction
This document describes what single-sided and double-sided vPCs are and also discuss their pros and cons.
Description
There are two main topologies available for deploying Nexus 5000 in access layer and Nexus 7000 in aggregation-layer. These are:
Single-sided vPC: In single-sided vPCs, each Nexus 5000 switch connects to a pair of Nexus 7000 aggregation switches using a unique vPC, but the Nexus 5000 switches do not run vPC themselves. Each access switch sees its uplink as a simple port-channel, and has no knowledge of vPC.
Double-sided vPC: In double-sided vPC both the Nexus 7000 and Nexus 5000 switches run vPC. Each vPC pair of Nexus 5000 switches is connected to the aggregation vPC pair using a unique vPC.
Network Diagram
Single-sided vPC:
Double-sided vPC: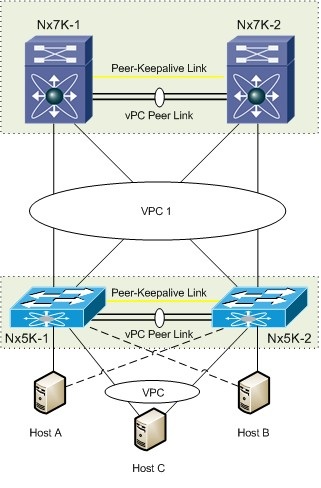 Pros and Cons
Single-Sided vPC

Double-Sided vPC

Pros

Simple topology with consistent, predictable traffic flows to and from servers.

Supports vPC connection to servers, enabling resiience and load-sharing over multiple NICs.

Supports active/active.

vPC peer-link provides extra resilience.

Cons

No capability for vPC to server. Resilient server connection options are limited to active/standby NIC teaming or transmit load-balancing.

Sub-optimal path for 50% of traffic to non-vPC-attached servers.

All multicast traffic is copied across vPC peer-link, which can become a bottleneck in high-volume multicast cases.
Related Information