Options
Mark as New

Mark as Read

Bookmark

Subscribe

Email to a Friend
on ‎08-04-2022 09:09 AM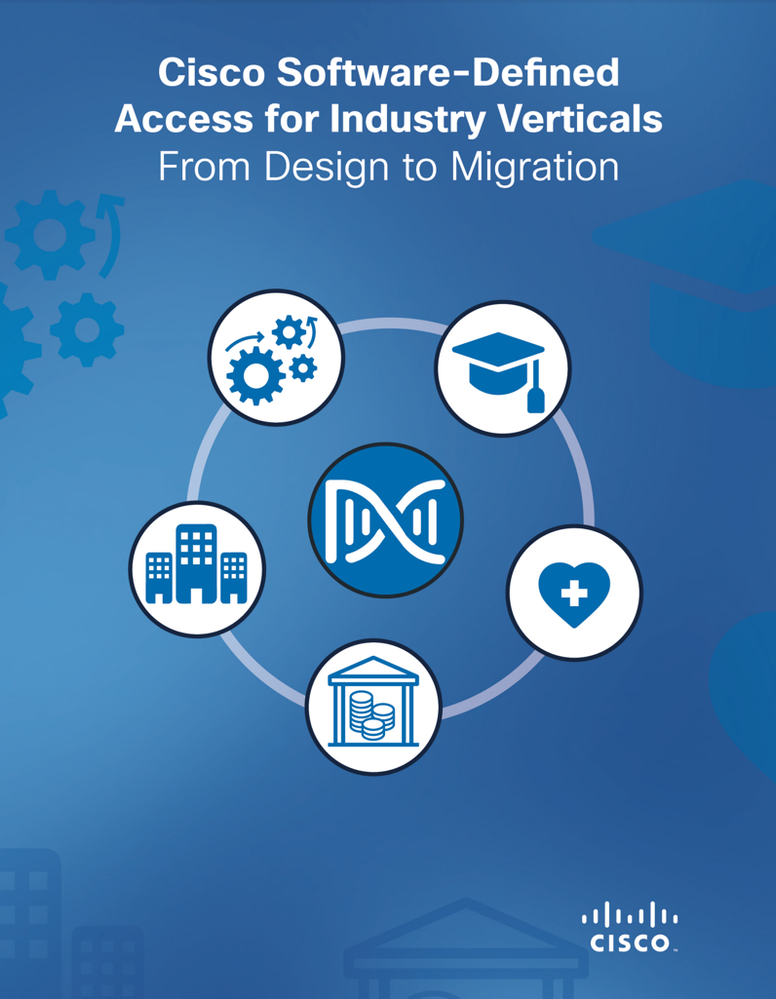 This book was created in collaboration with Book Sprints:
https://www.booksprints.net/book/cisco-software-defined-access-for-industry-verticals/
Download the Book (PDF)
https://cs.co/sda-verticals-book
SD-Access for Industry Verticals - From Design to Migration
The book provides a brief review of the components of the SD-Access architecture and demonstrates how SD-Access solves business and technical challenges of customers across several industry verticals: Operational Technology (OT), Healthcare, Universities, Large Enterprise, and Finance. The book concludes with a final section on evolving an existing network to SD-Access through migration. The following provides a summary of the book chapters.
Cisco SD-Access Solution Architecture and Features Overview
This chapter provides an overview of the necessary Fabric components and feature information that is needed to understand the designs and topics discussed in later chapters. Included are details on common Cisco and third-party application integrations used in SD-Access.
OT Integration with Cisco SD-Access
This chapter focuses on deployments of Cisco SD-Access in Operation Technology (OT) environment with is a dedicated and physically separate network from an enterprise network deployed by manufacturing, industrial, and utility organizations.
Cisco SD-Access in Healthcare
The purpose of this chapter is to provide design guidance for a typical healthcare deployment profile using Cisco DNA Center and SD-Access looking at the significant changes caused by the exponential growth in telehealth, remote workforces, and fast-evolving primary care models.
Cisco SD-Access for Large Enterprises and Government
This chapter explains how Cisco SD-Access addresses the unique scale and connectivity requirements faced by organizations with large-scale networks owned by multinational corporations and governments.
Cisco SD-Access in Universities
This chapter explores typical design caveats that university networks must overcome when adopting new technology and methods in which SD-Access design inherently overcomes these challenges.
Cisco SD-Access in Financial Verticals
This chapter focuses common SD-Access use cases in the financial vertical looking at the unique challenges in the areas of regulatory compliance, service quality, site scale, and resiliency among others.
Migration to Cisco SD-Access
This chapter focuses on migration options for your existing network, and steps to evolve a traditional network into an SD-Access network.