Highlighted
Beginner
Mark as New

Bookmark

Subscribe

Mute

Email to a Friend
tracert has different first IP path to same destination
my question is why is different the first IP in the path to the same destination. sometimes is one IP and sometimes is the other one.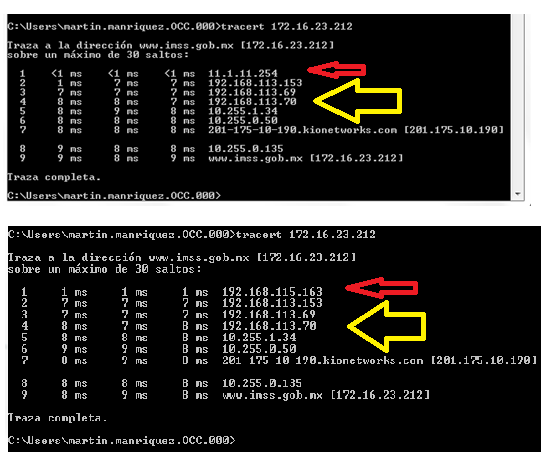 Highlighted
Beginner
Mark as New

Bookmark

Subscribe

Mute

Email to a Friend
Hello Benjamin
Seeing different first hops in a traceroute output made on the same machine can be caused by multiple issues in your network configuration. It's possible that you have multiple default routes on your client PC and the PC is configured for equal-cost multipath (load-sharing). This can be enabled on some network interfaces since Windows 7, have a look at the output of route print. How many interfaces with IPs do you have on the client?
Secondly, it's possible that you have actually two physical routers (mis)configured for first-hop redundancy and during failover you are seeing two different IPs in traceroute, although they shouldn't be from different IP subnets. Is one of the 1st hop IPs configured as a secondary IP on the LAN interface of your default gateway?
Finally have a look at your IP configuration on the client. Is it possible that your PC is migrating between VLANs and receiving new IP / default gateway information from DHCP whenever that happens? VLAN (or WLAN) membership can change automatically and sometimes without user knowledge.
Best regards,
Martin