EIGRP Convergence when link fail its not happening
Options
Mark as New

Bookmark

Subscribe

Mute

Email to a Friend
‎05-19-2019 10:36 AM
Hi everyone! Im doing some labs about EIGRP and convergence when a link fails. This is my topology and in router 4 f0/0 interface i have the 8.8.8.8 IP address
.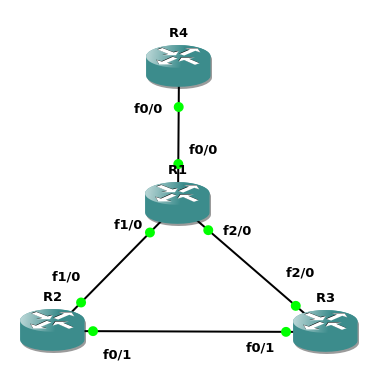 In this topology the metric calculation is based on delay only, so all links by default would have the same metric value´s (delay 200 its in every interface)
I modify the R2 f1/0 delay to 199 in order to be a FS to 8.8.8.8 from R3´s perspective, and here is the result of the ip eigrp topology from R3
P 8.8.8.0/24, 1 successors, FD is 102400
via 172.16.1.1 (102400/51200), FastEthernet2/0
via 10.1.1.1 (153344/102144), FastEthernet0/1
so based on this, when a link fails EIGRP will not QUERY its neighbors to look for an alternative route to 8.8.8.8 because the router already knows about how to reach that route and the exact calculation, so i will think it will fail over the f0/1link almost instantly, but this doesnt happen... I tried an extended ping and the result show me that the route its not taking in efect until the HOLD TIME from F2/0 realizes his neighbor is down, and when that happens i instantly get to the backup link through f0/1 and the ping goes on...
Why is this happening??? ( I figure this out by modifying the hold time value between both R1 and R3 f2/0 link to 180

Sending 500, 100-byte ICMP Echos to 8.8.8.8, timeout is 2 seconds:
!!!!!!!!!!!!!!!!!!!!!!!!!!!!!!!!!!!!!!!!!!!!!!!!!!!!!!!!!!!!!!!!!!!!!!
!!!!!!!!!!............................................................
..........!
*Mar 1 00:19:57.595: %DUAL-5-NBRCHANGE: IP-EIGRP(0) 100: Neighbor 172.16.1.1 (FastEthernet2/0) is down: holding time expired!!!!!!!!!!!!!!!!!!!!!!!!!!!!!!!!!!!!!!!!!!!!!!!!!!!!!!!!!!!
!!!!!!!!!!!!!!!!!!!!!!!!!!!!!!!!!!!!!!!!!!!!!!!!!!!!!!!!!!!!!!!!!!!!!!
!!!!!!!!!!!!!!!!!!!!!!!!!!!!!!!!!!!!!!!!!!!!!!!!!!!!!!!!!!!!!!!!!!!!!!
!!!!!!!!!!!!!!!!!!!!!!!!!!!!!!!!!!!!!!!!!!!!!!!!!!!!!!!!!!!!!!!!!!!!!!
!!!!!!!!!!!!!!!!!!!!!!!!!!!!!!!!!!!!!!!!!!!!!!!!!!!!!!!!!!!!!!!!!!!!!!
!!!!!!!!!!
Success rate is 86 percent (430/500), round-trip min/avg/max = 16/44/148 ms
CCENT