edited on:

‎08-28-2017

‎02:31 AM
Introduction
What is RSA AA?
•PCI compliance requires a high level of assurance for authenticating users.
•Adaptive Authentication offers multi-factor authentication method without the need for user certificates or fobs.
How does it work: Overview
1) User browses to the ASA login page
2)
Enters username and password
3)
Is redirected the RSA AA server to answer some addition security questions.
4)
RSA redirects user back to the ASA and log-in continues.
How does it work: details
RSA wrote some
javascript
files are to be loaded into the ASA as web-content.

Then the ASA portal customization is altered to call/reference those javascript functions. The functions

act as the glue to help relay messages between the ASA and the RSA server. The functions work in steps 7, 8, 9 and 10 below.
1) Client visits ASA webpage and puts in username/password.
2) ASA sends the user/pass via RADIUS to RSA AA server on it's inside interface.
3) RSA AA server forwards the user/pass to MS AD for authentication (either via ldap or radius)
4) If the user/pass is correct then the MS AD authorizes the user and sends back an 'Ok' message to the RSA AA server. So at this point the RSA AA server has completed 1 factor authentication.
5) RSA AA server then sends a 'Radius-Challenge' message with a message that contains a string value X
6) ASA displays the message X and prompts for a response.
7) The Javascript running in the client browser reads the page the ASA returned and extracts value X.
8) The Javascript takes the value X and sends it towards the public facing RSA AA interface.
9)
The RSA AA server sends some additional security questions to the end user.

The end user replies and then the RSA AA server fully authenticates the user. The RSA AA then sends back a value Y to the client.
10)
The
Javascript
on the client takes that value Y and sends it back to the ASA as the response to the challenge in step 6.
11)
The ASA sends Y back to the RSA AA server on the inside as a "Challenge-Response" message in RADIUS
12)
The RSA AA server then returns back to the ASA "Access-accept" RADIUS
message
13)
The ASA now allows the user access to resources
.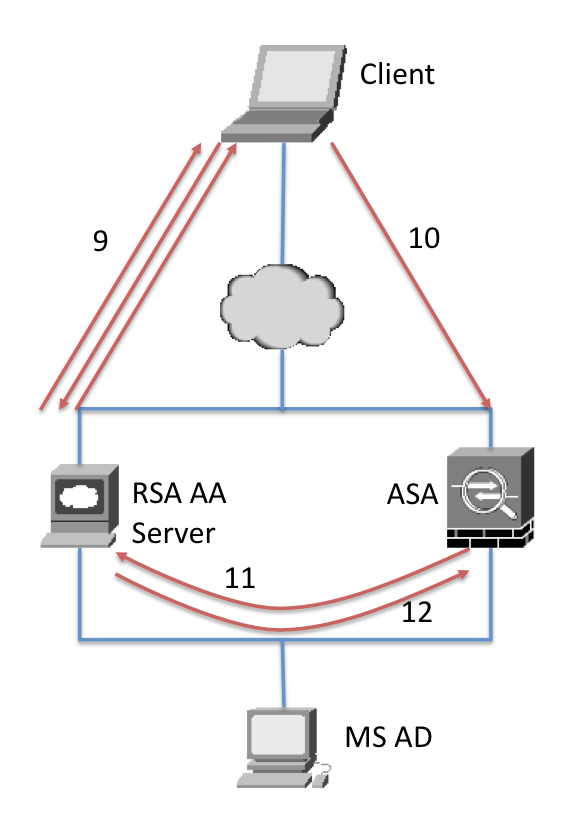 This document is complementary for "Adpative Authentication Integration
Guide for Cisco SSL-VPN.pdf" available from RSA Security, Inc. Please contact RSA Security, Inc. for detailed installation guides.
Basic installation steps:
1) Extract the "adapters-sslvpn-products-cisco-asa.zip" file to your computer
2) Edit the aa_config.js file to point to your RSA AA server url
3) Configure the ASA to use Radius for authentication under the tunnel-group. Configure the ASA to use the RSA AA server as the Radius server.
4) Import the contents of the zip file to the ASA as 'web-content'. Make sure to select "No" for 'Require authentication to access its content?'
5) Create a customization and add the following into the "copyright panel"
<script src="/+CSCOU+/aa_config.js"></script><script src="/+CSCOU+/challenge.js"></script>
6) Assign the customization to the tunnel-group that you are connecting to.