Highlighted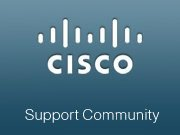 Community Manager
Mark as New

Bookmark

Subscribe

Mute

Email to a Friend
Ask the Expert: FSPF Concepts and Troubleshooting in Cisco SAN Environments
With Upinder Sujlana
Welcome to the Cisco Support Community Ask the Expert conversation. This is an opportunity to learn and ask questions about FSPF, VSAN interaction, load balancing, and troubleshooting with Upinder Sujlana.
According to the FC-SW-2 standard, Fabric Shortest Path First (FSPF) is a link state path selection protocol. FSPF keeps track of the links on all switches in the fabric and associates a cost with each link. FSPF tracks the state of links on all switches in the fabric, associates a cost with each link in its database, and then chooses the path with a minimal cost. The cost associated with an interface can be administratively changed to implement the FSPF route selection. Upinder will discuss Cisco's implementation of FSPF.
Upinder Sujlana is a customer support engineer for Cisco's SAN TAC team based in San Jose, CA. He has worked in the TAC for the past five years with a focus on WAN technologies (L2TP, T1, T3, SCE 2K, 8K) and data center technologies such as MDS; Cisco Nexus 7000, 5000, and 2000; FCoE; and FC. Prior to joining the TAC, Upinder was a Java client-side programmer for an NMS startup company and then transitioned to network testing for a cloud company. He holds a master's degree in electrical engineering from Santa Clara University and has CCIE certification (no. 37318) in routing and switching. These days he is enthusiastic about Python programming.
Remember to use the rating system to let Upinder know if you have received an adequate response.
Upinder might not be able to answer each question due to the volume expected during this event. Remember that you can continue the conversation in Data Center community, sub-community, Storage Networking discussion forum shortly after the event. This event lasts through March 14, 2014. Visit this forum often to view responses to your questions and the questions of other community members.