Cisco Employee
Mark as New

Mark as Read

Bookmark

Subscribe

Email to a Friend
Migrating to the Cisco Application Centric Infrastructure (ACI) technology for business applications can reap significant benefits for your data center including savings in automation, provisioning, operations, security, CAPEX and power.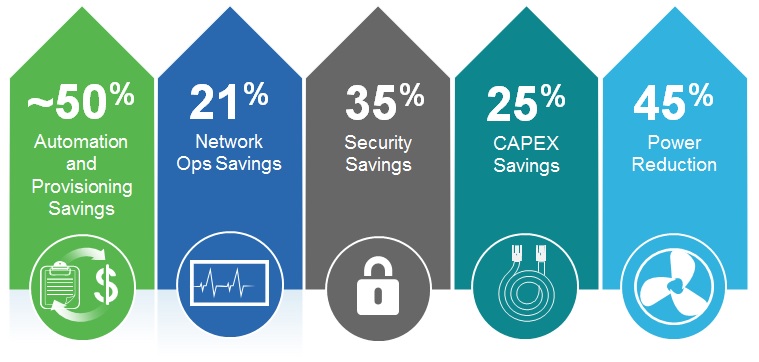 While the benefits can be huge, there are challenges inherent when moving to new technologies, and you may be asking yourself :
Will ACI yield the business outcomes as expected?
Will Cisco ACI and Cisco deliver on its promises of decreased costs, improved performance, security and agility for my business applications?
There is a lot at stake when companies make bold technology moves which break from tradition to upgrade their data center. To help with this transition, customers are looking for more than just product support to help them design, deploy and manage their new data center technology.
Successful Day 2 operation of the ACI ecosystem (after deployment and startup )depends on a number of moving parts including products from the ACI third party vendors as well as the Cisco ACI fabric products and other Cisco products.
To address this and to put you on the path to achieve the business outcomes you require, Cisco offers Solution Support for ACI, a new service for Day 2, which addresses not only Cisco ACI fabric product support but also interoperability troubleshooting, issue isolation and case management of the Cisco ACI ecosystem.
Solution Support for ACI offers an umbrella of support which is designed to help you identify and resolve issues quickly, efficiently and effectively without you having to expend your time and energy troubleshooting, engaging vendors, making calls, etc., because Cisco does this for you.
Cisco provides support for the Cisco products and solutions in the ACI solution partner ecosystem and will coordinate with the respective third party vendors to resolve issues. You will still need support contracts with the third-party technology vendors in your ACI ecosystem, and Cisco will broker the engagement with them so you don't have to.
In addition to the Cisco ACI fabric product support, interoperability troubleshooting, issue isolation and case management, Cisco also provides a unique Jumpstart deliverable to customers who purchase the Solution Support for ACI (L4-L7) or Solution Support Plus for ACI service contracts.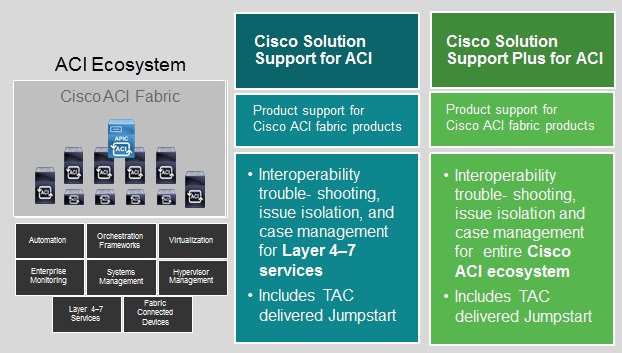 Because ACI is a powerful solution of product, open APIs, tools and scripting, a paradigm shift from traditional networking, new skills and thinking is required to operate and optimize the ACI ecosystem to meet the business application needs.
To help you to accelerate and get up to speed on Cisco ACI, Cisco includes, at no additional cost to you, new Jumpstart training sessions that are part of the two Solution Support for ACI service types. In the Jumpstart sessions with a dedicated Cisco ACI engineer, you work on your equipment live with an experienced Cisco TAC engineer to get familiar with the Cisco ACI technology.
The Jumpstart is a training engagement on general Cisco ACI concepts and features, and is not intended to cover design and configuration. It helps you increase your Cisco ACI knowledge quickly, enabling you to understand Cisco ACI concepts and operations.
I can elaborate further on the comprehensive support infrastructure we have for Cisco ACI, but I want to empower you to discover the details with some useful related links below.
http://www.cisco.com/go/aciecosystem
For more information on Solution Support for ACI and the Jumpstart deliverable which is part of the two solution support offers, contact your Cisco sales team.
You must be a registered user to add a comment. If you've already registered, sign in. Otherwise, register and sign in.