edited on:

‎03-01-2019

‎05:58 AM
Introduction
Cisco UCS Central manages multiple Cisco UCS instances (or domains) across globally distributed data centers. Every instance of Cisco UCS Manager and all of the components managed by it form a domain. Cisco UCS Central integrates with Cisco UCS Manager, and utilizes it to provide global configuration capabilities for pools, policies, and firmware.
The purpose of this document is to help you in collecting tech support log bundle for the UCS Central. Tech-support files are extremely useful in troubleshooting a wide array of issues in a UCS environment.
Collect Tech Support Bundle
Method 1 :- GUI
STEP 1 - Open a web browser and enter UCS central IP address or FQDN
STEP 2 - Login into UCS Central and navigate to "Create and Download Techsupport file " option

STEP 3 - Click on " Create and Download Techsupport file " button and select Option "All "
STEP 4 - Once it completes, click " Download Now" link to download the file to local system.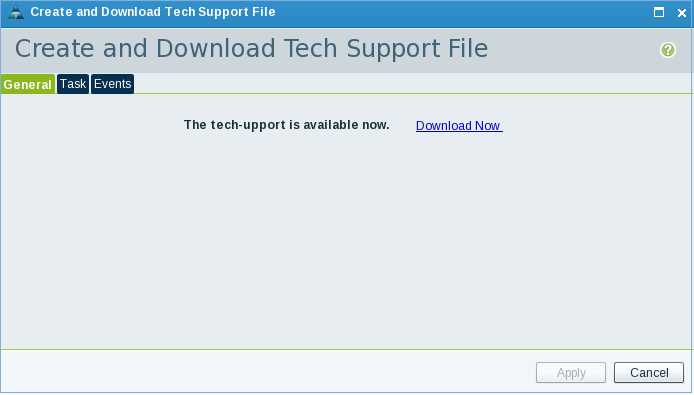 Method 2 :- CLI
Open a SSH to UCS central system and execute following commands to collect and export tech support bundle.
STEP 1 - Switch to local management context
ucs-central# connect local-mgmt
STEP 2 - Execute following to collect tech support bundle.

ucs-central(local-mgmt)# show tech-support detail
Initiating tech-support information on ucs-central.localdomain
All tech-support tasks are completed.
The detailed tech-support information is located at volatile:///20130420070352_ucs-central.localdomain_techsupport_UCSCENTRAL_ALL.tgz
STEP 3 - Copy tech support file out of UCS Central to another system.
ucs-central(local-mgmt)# copy volatile:/<file-name> <destination>
ftp: URI of destination file
scp: URI of destination file
sftp: URI of destination file
tftp: URI of destination file
The file collected via Method #1 or #2 can be uploaded to TAC Service Request
http://www.cisco.com/web/about/security/intelligence/01_12_TAC_Uploads.html
Related Information
How to Read UCS B-Series Tech-Support Files
What are System Event Logs in UCS manager
Procedure to Gracefully Shutdown and Powerup UCS system