Beginner
Mark as New

Bookmark

Subscribe

Mute

Email to a Friend
ISE 2.0 CSR with Multiple OU's
Greetings,
I recently setup a new ISE 2.0 server and am having trouble generating a CSR. The issue is that our CSR requires more than one OU. Within the ISE 2.0 Certificate Signing Request GUI, there is only one space to enter an OU so I am guessing you have to enter the entire OU string on that line.
Now when I generate the CSR I need to add multiple OU's - In ISE 1.3 There was one subject line to enter the entire string. In 2.0 - not so much.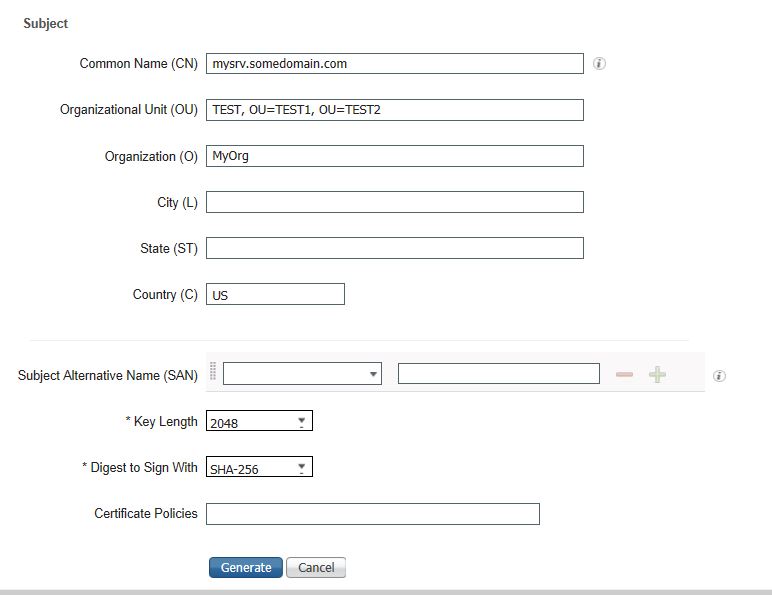 When I check the CSR via openssl for the correct Subject before submittal this is what I see which I think is wrong.
Below is what it looks like in the ISE
I have tried to escape the equals sign with a backslash, but the OU\= still shows up. Once again I am pretty sure this is wrong as the first OU does not have a \ in front of the equals sign.
I never had any problem on our ISE1.3 server or our ACS servers for CSR generation. Has anyone ran into this issue? Am I missing the proper syntax? Cisco has no documentation on multiple OU's in ISE 2.0. I do have a TAC open but I just wanted to see if anyone had come across or know how to fix this issue.
Thanks!
<!--break-->
2 ACCEPTED SOLUTIONS

Beginner
Mark as New

Bookmark

Subscribe

Mute

Email to a Friend
Netwerk - as a workaround, stand up a 1.3 server and generate your certs. Once signed, export your pub and pvk keys and import into 2.0. Obviously everything will need to match but it should work. If your using a wildcard it should be quick. If not you'll need to repeat the process for each node. GL
Rising star
Mark as New

Bookmark

Subscribe

Mute

Email to a Friend
Ryan, why not generate your CSR like you wan't it to look with a tool like openssl or XCA ? I almost never use ISE to generate the CSR for an ISE Server.