Switch sending Failure after Response Identity
Options
Mark as New

Bookmark

Subscribe

Mute
‎02-04-2019 05:41 AM - edited ‎02-04-2019 05:45 AM
Hi all,
we have 3000 Clients, most of them working without any Problems.
But we have some strange issues with some MacBooks, sometimes.... :(
Most of the Time all is working fine, but sometimes we got some Problems, so the Client can't connect anymore. It happen 1-3 times per day with different clients. The only solution to fix the Problem, is to swap the Ethernet-Adapter of the Client with a other one, or to wait 2-3 days. After that the Client could connect again.
If the Problem occurs, Wireshark shows the following szenario:
The Switch is sending a "Request, Identity" and the Client (MacBook) is answering with "Response, Identity", after that the Switch response with "Failure".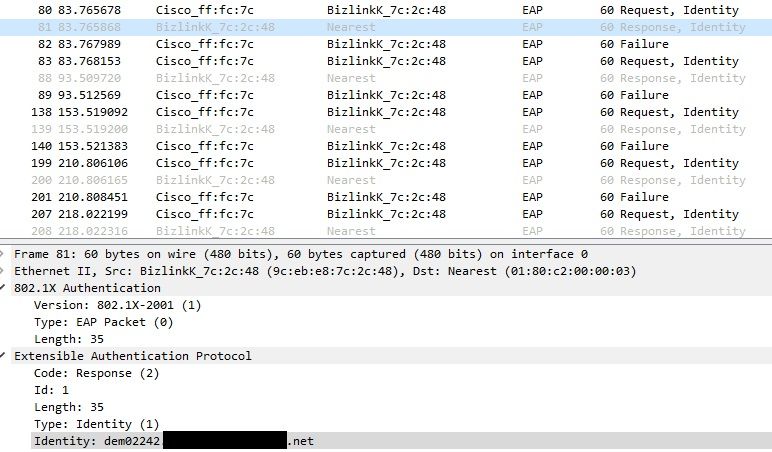 Alle Packets looks fine. They look exactly as from working clients. The Radius live Log on the ISE 2.1.0.474 shows "Authentication failed" The Auth Method is shown as MAB!
How could this be, because the client is answering to the 802.1x Request with a 802.1x Response...
Currently I have no idea, where the Problem should be. ISE? Switch? ...?
Could this be a Bug on ISE?
Any Ideas to look further are welcome!