Options
Mark as New

Bookmark

Subscribe

Mute
‎08-29-2022 02:20 PM - edited ‎08-29-2022 06:41 PM
Hi all.
FTD v7.2.0.1 configured from scratch as perimeter firewall, FMC managed. For testing purposes, only two zones, "inside" and "outside".
I created a NAT policy, set up a static "Auto NAT" rule with "inside" as source zone and "outside" as destination zone, and a translation for a server using RFC1918 IP address as original source and a public IP address of my assigned block configured as translated source. With the policy assigned to the FTD, the NAT works like a champ, both ways.
Then, I went to restrict what can go in towards this server. As such, I created an Access Policy, and under "default" section, I granted access from the outside zone into the inside zone, from an "any" source to my internal IP address as destination, to only a few services on the internal server: DNS and HTTPS. Added an implicit "deny all" at the bottom of this default section. Assigned this access policy to this FTD, and while I can see the FMC reporting blocked traffic, it is completely clueless on a large count of packets to ports not allowed still hit my internal server - and I can see them via tcpdump on my server while filtering for SYN and SYN+ACK packets.
Clearly not what I was expecting. And not sure about you but I'm deeply concerned with owning a firewall that doesn't act like one.
Any hints before I hit TAC?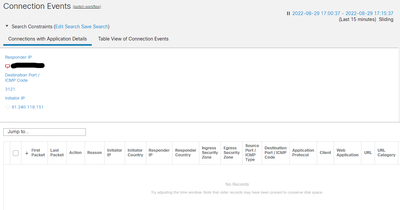 Edit: And this is exactly why I'm concerned: there is no way on Earth I would allow open SSH access to any internal systems of mine. It took FTD some good count of packets until it realized it was not supposed to allow this to go thru.