IPS 45xx/43xx/42xx appliance and Catalyst 6500 Inline Mode issues
Options
Mark as New

Bookmark

Subscribe

Mute
‎03-16-2013 09:23 AM - edited ‎03-10-2019 05:55 AM
Hello to everyone!
We have recently got our new IPS 4510 appliance and for now there is a task to develop a connection scheme to our backbone multilayer switch (Catalyst 6500).
There are several server's and user's VLANs connected to 6500.
6500 performs inter-vlan routing.
The main task is to "insert" IPS appliance between traffic path from any VLAN to server's VLANs.
The additional task is to provide failover in "fail-open" manner (We have only one 4510 appliance. So if 4510 fails then traffic should continue passing without inspections).
As I understood from this document https://supportforums.cisco.com/docs/DOC-12206 the only way to implement Inline Mode when using multilayer switch is to "take out" default gateway address for inspected subnet on the other VLAN's SVI.
If we replace IDSM-2 with IPS appliance I suppose we can use hardware bypass feature as a failover measure (in case if IPS fails then traffic between bridged VLANs will still be forwarded).
But what if there are several VLANs that should be monitored?
As I understand in such schema we will need to use addtional interface-inline-pair for each monitored VLAN.
But what if we have 20 VLANs for servers and 50 VLANs for users?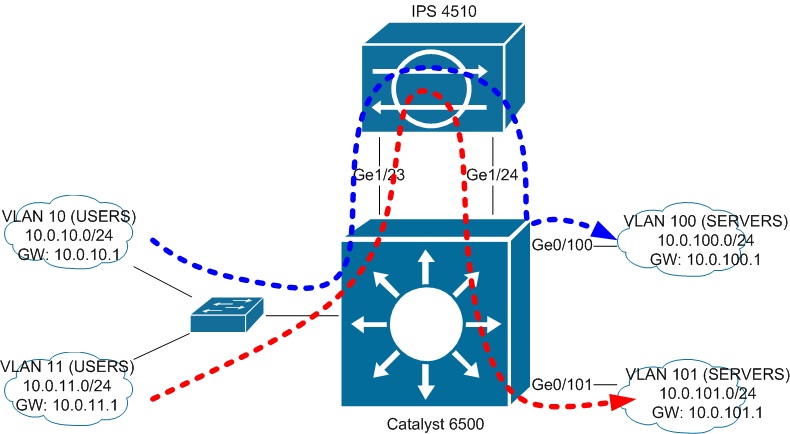 Can using of VLAN-group mode handle this problem?
I am not sure but using of VLAN-groups cannot provide bridging between two different VLANs. Am I right?
And will using of VLAN-group make hardware-bypass feature useless?
I tryed to simulate the first scenario in Cisco Packet Tracer (i used a bridge to simulate an IPS appliance in interface-pair inline mode):
May be this is a bug of Packet Tracer but traffic went through IPS only if it was sent from VLAN 10 to VLAN100.
The return traffic from VLAN 100 to VLAN 10 went through the Catalyst directly.
When Catalyst recieved the frame it said:
"The frame destination MAC address matches the MAC address of the active VLAN interface."
After that it decapsulates the PDU from the Ethernet frame and send IP packet directly to VLAN 10.
Does it mean that there is a need to change SVI's mac address?

Thanks for any advice in advance.