Options
Mark as New

Mark as Read

Bookmark

Subscribe

Email to a Friend
‎08-31-2019 09:11 AM - edited ‎09-27-2019 07:20 AM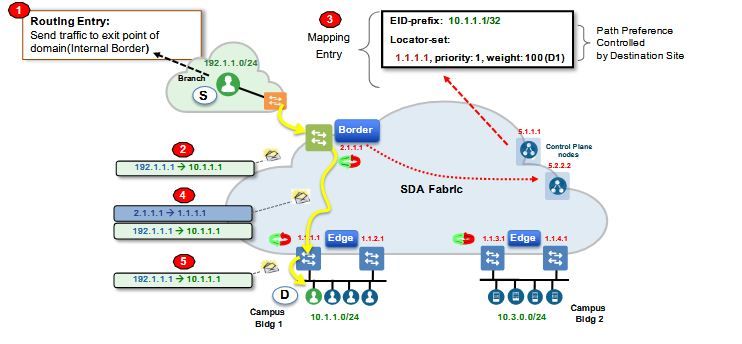 I write today about some of expression should be you know them during your journey studying with Cisco Digital Network Architecture.
As you know in the tradition network we have access switch and distribution switch and core switch and router, Wireless controller Etc. …
Today as we are seeing the network shift from traditional network to automation network I would like to draw your attention for new names of some devices
Access Switch or distribution Switch à is called Fabric Edge node this is used to connect the end point with SDA fabric.
NOTE: SD-access require specified Computing platform as we wrote before in previous article about the devices support for DNA.
Router or other gateway which connect External L3 network à is called fabric border node this is used to connect the External L3 network to SDA Fabric.
Wireless Controller à is called Fabric Wireless Controller this is used to connect the end points to SDA fabric also.
Also we have Identity service which is the Cisco hero device [ISE- Identity service engine] for dynamic Endpoint and Policy definition in your network.
Also we have flow endpoint and analyze them by this role [analytics engine] and also for monitoring the fabric.
We have Boarder node and Default boarder node
The Boarder node -- we can called on knowing destination for example Data center branch or wan branch etc...
The Default boarder node ---we can called on unknown destination for example like internet.
Meanwhile I hope that has been informative for you and thank you
Write by: Mohamed Alhenawy
[CCIE R&S] [CCNP] [CCNA R&S, SECURITY] [PCNSE]