Options
Mark as New

Mark as Read

Bookmark

Subscribe
on ‎05-11-2021 06:35 AM - edited on ‎01-30-2022 05:30 PM by
Vivien Chia

Contents
Here are some commonly asked questions and answers to help with your adoption of Cisco SD-Access. Subscribe to this post to stay up-to-date with the latest Q&A and recommended Ask the Experts (ATXs) sessions to attend.
I have implemented SDA Wired already, what do I need to do to get started with SDA in wireless?
As you might have done before while planning for DNA Center and then wired SDA, you again need to look at the compatibility matrix to ensure that the Wireless infrastructure is ready for this move.
I don't feel comfortable moving to SDA Wireless directly, or I don't have all the hardware needed to make the move today, what are my options?
In this case you can utilize OTT (Over the top) mode. This option is provided to cover scenario that you mentioned and more:
For the customers who want or need to first migrate the wired infrastructure to the SD-Access fabric and keep the wireless network "as is," meaning not touching the way their wireless works today. This could be the result of different IT operations teams managing the wired and wireless infrastructure, a different buying cycle that determines an upgrade to the wired network first, or simply that the IT team wants to first get familiar with fabric on the wired side before they integrate the wireless par
Another reason for deploying wireless OTT could be that you don't want or cannot migrate to fabric for wireless. This might be because you have a majority of older APs (802.11n or older) that are not supported with SD-Access, or you might require a certification of the new WLC software required to run SD-Access Wireless(8.5 and above), or simply you want to leave the wireless "as is" and not touch it (not a good idea though)
Why not use OTT mode forever?
Although tempting, leaving your wireless infrastructure in this mode and not migrating to SDA Wireless means you are missing on all the good reasons that made you move to SDA in first place. SDA wireless offer below benefits: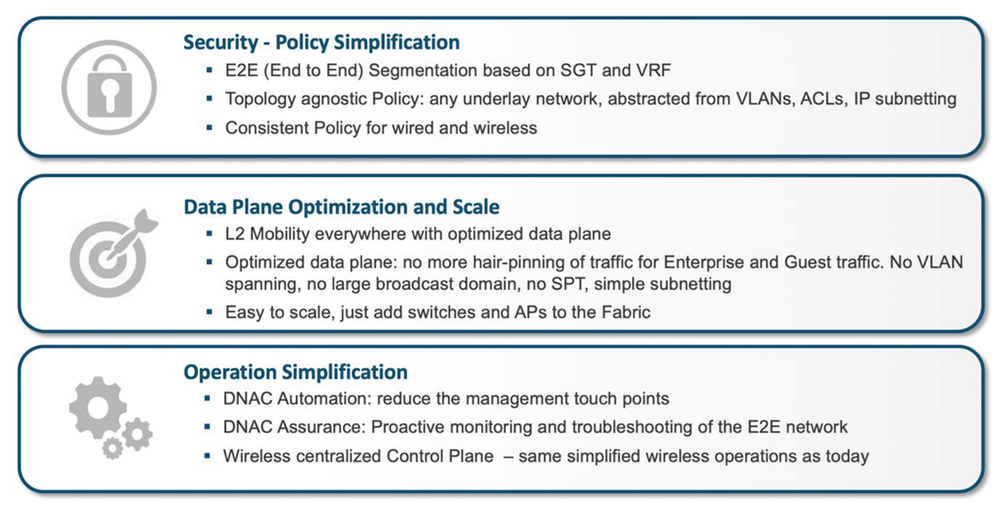 When it comes to technical details, what exactly is changing with SDA Wireless and how does it help?
In Fabric enabled wireless similar to CuWN, the control and provisioning tunnel is maintained between AP and WLC. The main difference is that in SD Access Wireless, the data plane is distributed using a Virtual Extensible LAN (VXLAN) directly from the fabric-enabled APs.
The benefit is that now with fabric enabled wireless, data traffic between clients does not need to go to WLC. Also this setup reduces your management overhead since you can now manage both wired and wireless infra using DNA Center.
Similar to out of box automation capabilities for wired, does DNA Center offer additional capabilities for wireless?
Yes, DNA Center offer out of box capabilities in form of Model configurations. The Model Configs feature simplifies network provision by extracting complex device configurations and facilitating customizable network configurations using an intuitive GUI instead of device-specific CLIs. A common design is deployed to various device hardware platforms and software types in a uniform way. During deployments, the Cisco DNA Center infrastructure automatically validates and translates extracted designs to device-specific CLI commands. Two options available today are:
Create a design for Cisco Clean Air
Create a model config for advanced SSID
Please refer the user guide for more details.
Additional link: SDA Wireless deployment guide
Need more resources? Go to Cisco SD-Access ATXs Resources for the latest guides, recordings and more.
For more FAQ, see Cisco SD-Access ATXs FAQ.