Highlighted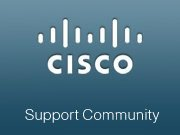 Community Manager
Mark as New

Bookmark

Subscribe

Mute

Email to a Friend
Ask the Expert: Understanding, Configuring and Troubleshooting IP Multicast and MVPN
Welcome to the Cisco Support Community Ask the Expert conversation. This is an opportunity to learn and ask questions about IP Multicast and Multicast VPN with Cisco expert Pulikkal Sekharan Raju. With Multicast VPN Cisco provides a practical solution to solve the challenge of manual configuration. MVPN architecture introduces an additional set of protocols and procedures that help enable a service provider to support multicast traffic in a VPN.
Pulikkal Sekharan Raju is a customer support engineer in the High Touch Technical Support group for Cisco. He has over 13 years of experience in electronics and communications. His technical expertise is Border Gateway Protocol, Open Shortest Path First protocol, MPLS, Multicast, Multicast Virtual Private Network Layer 3 Virtual Private Network (MVPN L3VPN), and Layer 2 Virtual Private Network (L2VPN). He has also served as a network engineer for CMC Ltd and a team lead for Remote Management Services. He holds a bachelor of technology degree in electronics and communications from M G University and holds CCIE certification (#25000).
Remember to use the rating system to let Pulikkal know if you have received an adequate response. Pulikkal might not be able to answer each question due to the volume expected during this event. Remember that you can continue the conversation on the WAN, Routing and Switching community sub-community in Network Infrastructure shortly after the event.
This event lasts through Friday May 31, 2013.
Visit this forum often to view responses to your questions and the questions of other community members.
4 ACCEPTED SOLUTIONS
Highlighted
Mark as New

Bookmark

Subscribe

Mute

Email to a Friend
Highlighted
Cisco Employee
Mark as New

Bookmark

Subscribe

Mute

Email to a Friend
Hi
Also for transport, Juniper supports RSVP TE. But ASR1k does not support this but supports mLDP
Thanks
Raju
Highlighted
Mark as New

Bookmark

Subscribe

Mute

Email to a Friend
Hi Giuseppe
BGP AD and BGP c-Mc sig are not offcially supported on 7600
Thanks
Raju
Highlighted
Cisco Employee
Mark as New

Bookmark

Subscribe

Mute

Email to a Friend
New generation MVPN eveolved to meed the following requirements
Simplicity, managability, scalability,....
Label Switched Multicast has following advantages over traditional GRE based MVPN
Enables the use of a single MPLS forwarding plane for both unicast and multicast traffic.
Enables existing MPLS protection (for example, MPLS Traffic Engineering/Resource Reservation Protocol (TE/RSVP link protection) and MPLS Operations Administration and Maintenance (OAM) mechanisms to be used for multicast traffic.
Reduces operational complexity due to the elimination of the need for PIM in the MPLS core network.
. Both Mldp and P2P TE support a unified forwarding plane for unicast and multicast. They are hop-by-hop protocols. MLDP is receiver driven while P2MP is headend driven. MLDP is a suitable for generic MVPN, secondary video and consumer video distribution where the trees are dynamic and number of participants are larger. P2MP is suitable for primary and studio-to-studio distribution where the trees are static and the number of participants is smaller.
Here is a white paper for this
http://www.cisco.com/en/US/prod/iosswrel/ps6537/ps6552/ps11505/whitepaper_c11-598929_v1.pdf
Thanks
Raju