Participant
Mark as New

Bookmark

Subscribe

Mute

Email to a Friend
OSPF ip sla default routing internet failover
Hi All,
Currently entire network is under ospf area 0 with internet traffic in DC routed out to ISP 1, and DR internet traffic routed out to ISP2.
We have a requirement to do a routing failover from DC to DR when Internet connectivity to ISP1 is down. It would failover to use DR's ISP 2.
What method should i use to achieve this?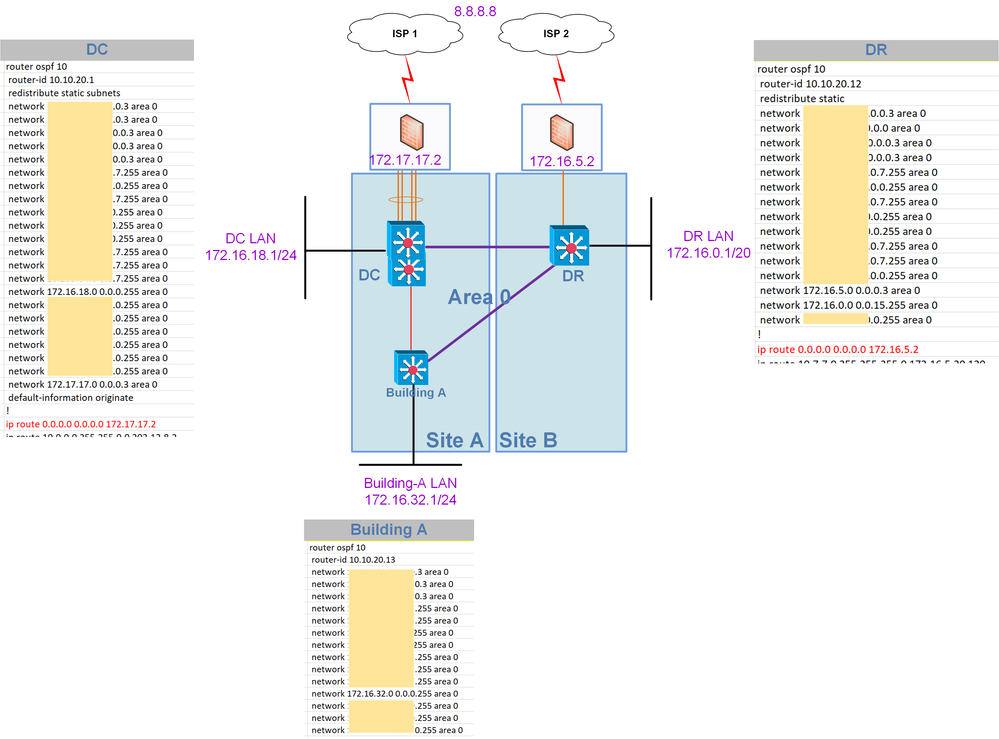 I have tried the below config on DR router but it did not work as expected.
!
ip sla 1
icmp-echo 8.8.8.8 source-ip 172.16.5.1
threshold 2
timeout 1000
frequency 3
access-list 101 permit icmp host 172.16.5.1 host 8.8.8.8 echo
!
ip sla schedule 1 life forever start-time now
!
track 100 ip sla 1 reachability
ip local policy route-map DR_RP
!
ip route 0.0.0.0 0.0.0.0 172.16.5.2 track 100
ip route 0.0.0.0 0.0.0.0 172.17.17.2 200
!
route-map DR_RP permit 10
match ip address 101
set ip next-hop 172.16.5.2
set interface Null0
Appreciate any advise at all