This video features a step by step walk through of configuring Cisco AnyConnect on FTD managed by FMC. Timestamps included for certificate installation, Access Control, Licensing, NAT, and Deployment failures.
En este video reviso cómo usar GNS3 en conjunto con VirtualBox para crear topologías complejas de red para practicar pentesting.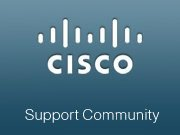 Community Live video- How to optimize your Cisco Security investments with Threat Response (Live event - formerly known as Webcast- Tuesday February 18, 2020 at 10 am Pacific/ 1 pm Eastern / 7 pm Paris) This event had place on Tuesday 18th, Februay 2020 a...
Read More
Join us live from the RSAC show floor on Tuesday, February 25 at 12:30 pm PT (and on demand after) for a livestreaming event that captures the excitement of RSAC and shares the latest from Cisco Security. Host Jason Wright will be joined by Cisco executiv...
Read More
Join us live on Thursday, February 13 at 10 am PT (and on demand after) as we present ways to supercharge and simplify your threat hunts. Security analysts consume and process thousands of threat intelligence indicators every day. The vast majority of the...
Read More
Meet the Authors video - A Cybersecurity Deep Dive with Omar Santos (Live event – Thursday, January 23rd, 2020 at 10:00 a.m. Pacific / 1:00 p.m. Eastern / 7:00 p.m. Paris) This event had place on Thursday 23rd, January 2020 at 10hrs PDT In this session, C...
Read More
Dear Team Suppose we have hundreds of rules in access policy on cisco fmc device. Now I want to fetch all access policy rules in which I have mentioned some specific port number X. Can anyone help me with the process to fetch the same?
Join us live on Tuesday, December 17 at 9 am PT (and on demand after) to learn about the cyber threats of 2019 and how to defend your organization in the future. Some cybercriminals have specific organizations in mind when they're planning an attack. We l...
Read More
Join us live on Thursday, December 12 at 10:00 am PT (and on demand after) for an in-depth look at the latest Cisco Cybersecurity report. The Cisco 2019 Consumer Privacy Survey shows consumers placing a greater premium on data privacy, providing companies...
Read More
Join us on Tuesday, December 10 at 10 am PT and on demand after to meet the CEO and Founder of Cisco's most recent security investment. In today's cybersecurity arms race, how does Cisco stay one step ahead in the battle against attackers? One key strateg...
Read More
Join us live on Thursday, December 5 at 10 am PT and on demand after to learn how Cisco can help you secure your network, whatever kind you have, against today's cybersecurity threats. Networks are changing and every organization's network is configured u...
Read More
Over 100-year-old Yokogawa Engineering Asia deploys Cisco Advanced Malware Protection (AMP) to shield itself against cyber attacks. With Cisco Talos threat intelligence, it stays ahead of the latest malicious behavior on the Internet. Learn more at http:/...
Read More
Hello Experts, Would you please suggest, how I can upload a file to set the required TLS for multiple domains as sample? RegardsAnil Kumar Bhardwaj
Join us on Tuesday, October 22 at 1:00 pm PT to learn what it takes to get Cisco certified in Security. Get the motivation you need to keep going and pave your path to a Cisco Cert with our upcoming broadcast featuring Omar Santos, principal engineer of C...
Read More
Join us live on Thursday, October 17 at 11:00 am PT as we discuss the skills you need to possess to be a successful part of the threat research and intelligence field. We have all read the breaking headlines of security breaches and massive attacks threat...
Read More