Cisco Technical Support Mobile App v3.10.1 - New Features
Options
Mark as New

Bookmark

Subscribe

Mute
‎03-16-2015 12:28 PM
We are pleased to announce the latest release of the Cisco Technical Support mobile app.
What's New in Version 3.10.1:
• Mobile Push Notifications for Support Cases and generic PSIRT announcements
• Opt-In to receive Support Case update notifications
• Expanded "My Shortcuts" section includes bookmarked Bugs and Video Channels
• Expanded access to Product Lookup - no longer blocked whether the device is not under contract or user lacks entitlement
• Significant performance improvements loading case notes. Horizontal swiping support to move directly from one note to the next
Note: Tapping on a notification will launch the app, and take you to the content in question.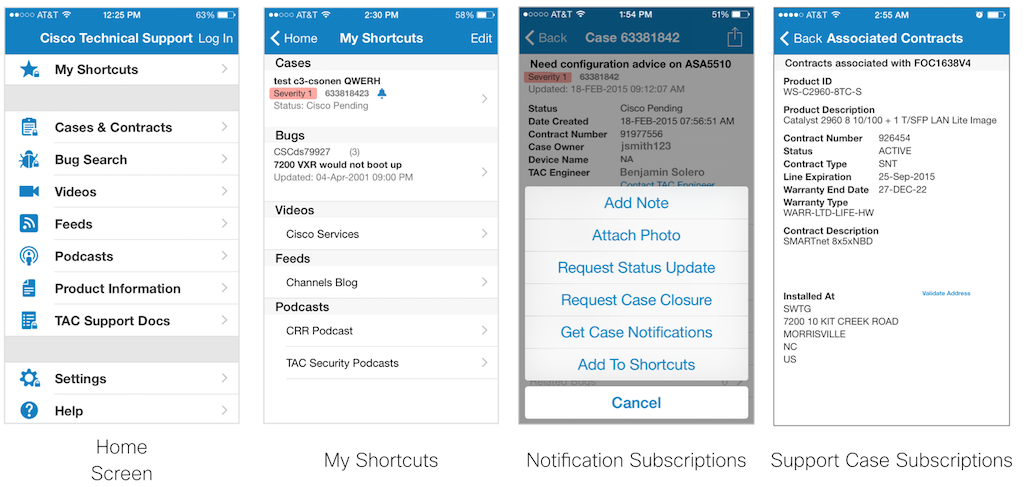 Complete Feature List:

Available Features for All Users:
• Research Cisco products and services through mobile optimized content, videos and podcasts.
• Complete access to all our installation and configuration guides, data sheets, command reference guides and more for over 7,000 Cisco products.
• Access to over 1,700 troubleshooting guides covering 26 domains; written by TAC, for TAC, and freely available to all our customers.
• PSIRT Mobile Push Notifications - Tap on the notification to launch the app and view details about the PSIRT
• Control what notifications you receive from within "Settings"
• Add bookmarks to your favorite Podcasts, RSS Feeds, and Video Channels for easy access from "My Shortcuts"
• Integration with Pocket (Read-It-Later) service. Save content to your Pocket account for offline consumption across all of your enabled devices. Go to http://www.getpocket.com/ to learn more about setting up a Pocket account.
Available Features for Cisco Support Contract Owners:
Cisco Support Cases & RMAs:
• View, Edit and Create Support Cases
• Access to all case notes, attachments (txt, pdf, xls, ppt, doc, and image file types), and related bugs
• Receive mobile push notifications when a TAC Engineer has been assigned to your case and when your case transitions to a Customer Pending state
• Opt-In to receive mobile push notifications for any support case you are entitled to access
• Direct contact (phone & email) with your assigned TAC Engineer, On-Site Contact, and Field Engineer
• Add bookmarks to Support Cases for easy access from "My Shortcuts"
• Single tap to request case updates, case closure, and reopen cases
Cisco Support Contracts & Product Coverage Information:
• View basic contract information and set-expiration reminders prior to their expiration
• Lookup product coverage details by serial number - An embedded bar code is available to make the process easier
• Ability to validate and update the current installation using your current location
Bug Search Tool:
• Research Cisco software bugs by product, iOS version, or any other keyword using a simplified search utility
• Bookmark software bugs for easy access from "My Shortcuts"
Have questions or want to provide feedback? Send us an email at: ctsmobilefeedback@external.cisco.com