Phone & Fax numbers not exported in Manage Registrations "Export Details..." CSV when added via XML API or URL API
Options
Mark as New

Bookmark

Subscribe

Mute
‎03-14-2018 12:52 PM
I'm using the XML API endpoint CreateMeetingAttendee, RegisterMeetingAttendee, and/or URL API m.php?AT=RM to register a user for our Training Sessions. All the data seems to get sent successfully to WebEx. When our hosts click on an Attendee's hyperlinked First or Last Name, they get their full info including phone and fax (see below):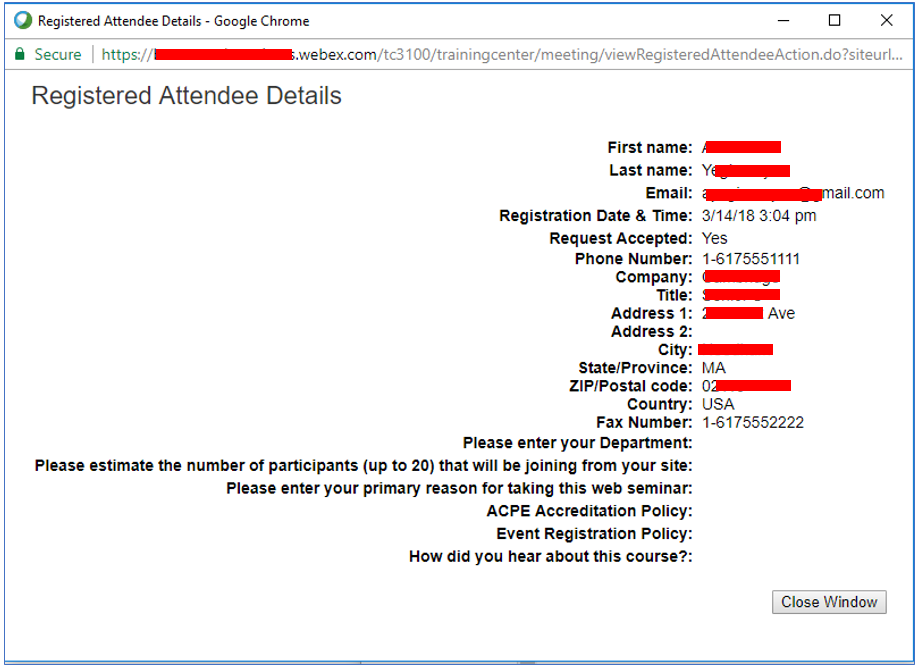 When our host's then export the Registration details via the "Export Details..." button (screenshot below), the exported CSV file does not export the Phone number or Fax number but does export all other details from the screenshot above

If a user registers using the Registration form (and not added via the XML API or URL API), then their phone number is exported in the CSV that's created when pressing the "Export Details..." button above.
Any help on what we can do to get the phone and fax number into the CSV file would be much appreciated! ryanhunt