edited on:

‎03-12-2019

‎09:55 AM
Introduction
When you need to manage multiple user accounts at once, Cisco Unity Connection offers a Bulk Edit mode for editing
user account information, and the Bulk Administration Tool.
This document explains how to use Bulk Edit to remove alternate extensions for several users.
Problem
You are having  several users that need to have the alternate extension removed from their

 account. You have tried a CSV file 
with nothing in the cells and you have also tried it with %null% per the online help file. 
You have tried changing the number to another number and 

that works so you are sure that you have the right header fields.



Solution
To Edit User Account Information in Bulk Edit Mode
Step 1
In Cisco Unity Connection Administration, on the Search Users page, check the applicable user check boxes, and select Bulk Edit.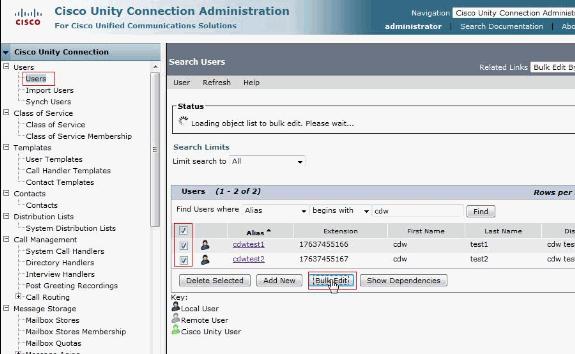 If the user accounts that you want to edit in bulk do not all appear on one Search page, check all applicable check boxes on the first page, then go to the next page and check all applicable check boxes, and so on, until you have selected all applicable users. Then select Bulk Edit.
Step 2
On the Edit User Basics page,
Click Edit > Alternate Extensions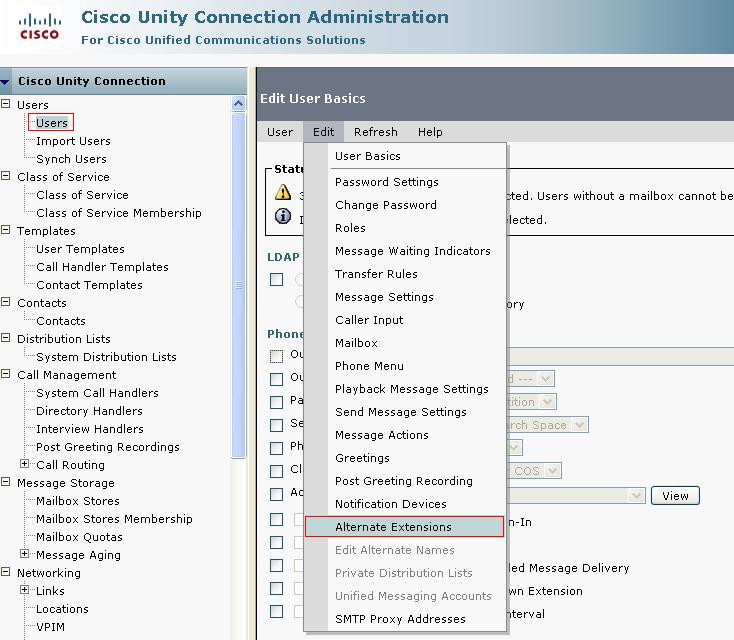 On "Modify Alternate Extension," select the dropbox to choose the type of Alternate Extension you are interested in removing
Choose Delete Alternate Extension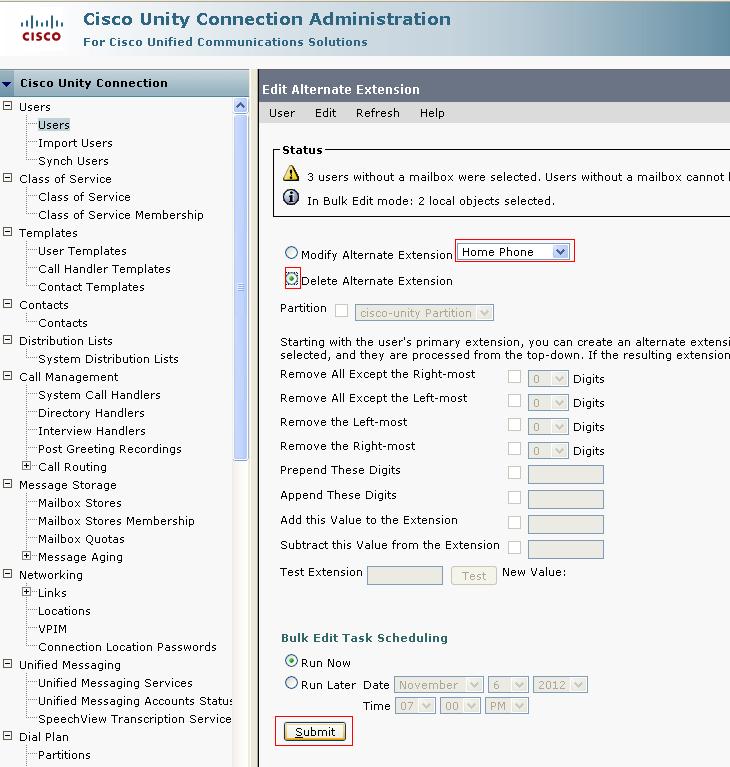 Note
The Status message at the top of the Edit User Basics page tells you how many user accounts are being edited. Also note that the page is populated only with the fields that you are allowed to edit in bulk mode, and that the fields available for edit also depend on whether all of the user accounts reside on the local server.
Step 3
If applicable, set the Bulk Edit Task Scheduling Fields to schedule the Bulk Edit operation for a later date and/or time.
Step 4
Select Submit.
Step 5
If applicable, continue to change settings for these user accounts on the related pages available from the Edit menu. As you make changes on each page, select Submit before going on to the next page to make additional changes.
Note: If you have more than one alternate extensions per user, and want to keep some of them, be careful how you remove them.
It will remove only the one that you specify. For example, if you select User A and User B
and choose Work Phone Alternate Extension, it will only remove Work Phone Alternate Extension number for User A and User B only.
Other user's Work Phone Extension will remain. Also, if User A and User B have other Alternate Extensions such as "Home Phone" they will remain as well.
If you want to delete the entire content in the alternate extension column in the CSV file Unfortunately, it seem like the Bulk Administration will not work. If you tried using %null% in other fields,also it may gave errors while importing.
Looking at Cisco Documentations on Bulk Administration, you will notice that it will mention about "modifying a specific field" or "deleting a user account" but never talks about "deleting a specific field" as you are attempting to do.
To resolve this you can choose to display 250 users per page on the users page, and click "select all" and deleting 250 extension at a time using Bulk Edit. This probably is the only option.
Reference