Options
Mark as New

Mark as Read

Bookmark

Subscribe
Recently, we published the Cisco Hyperflex VSI CVD 2.0 (link here). The CVD was based on HXDP software version 2.0.1a and Cisco UCS Manager version 3.1(2f).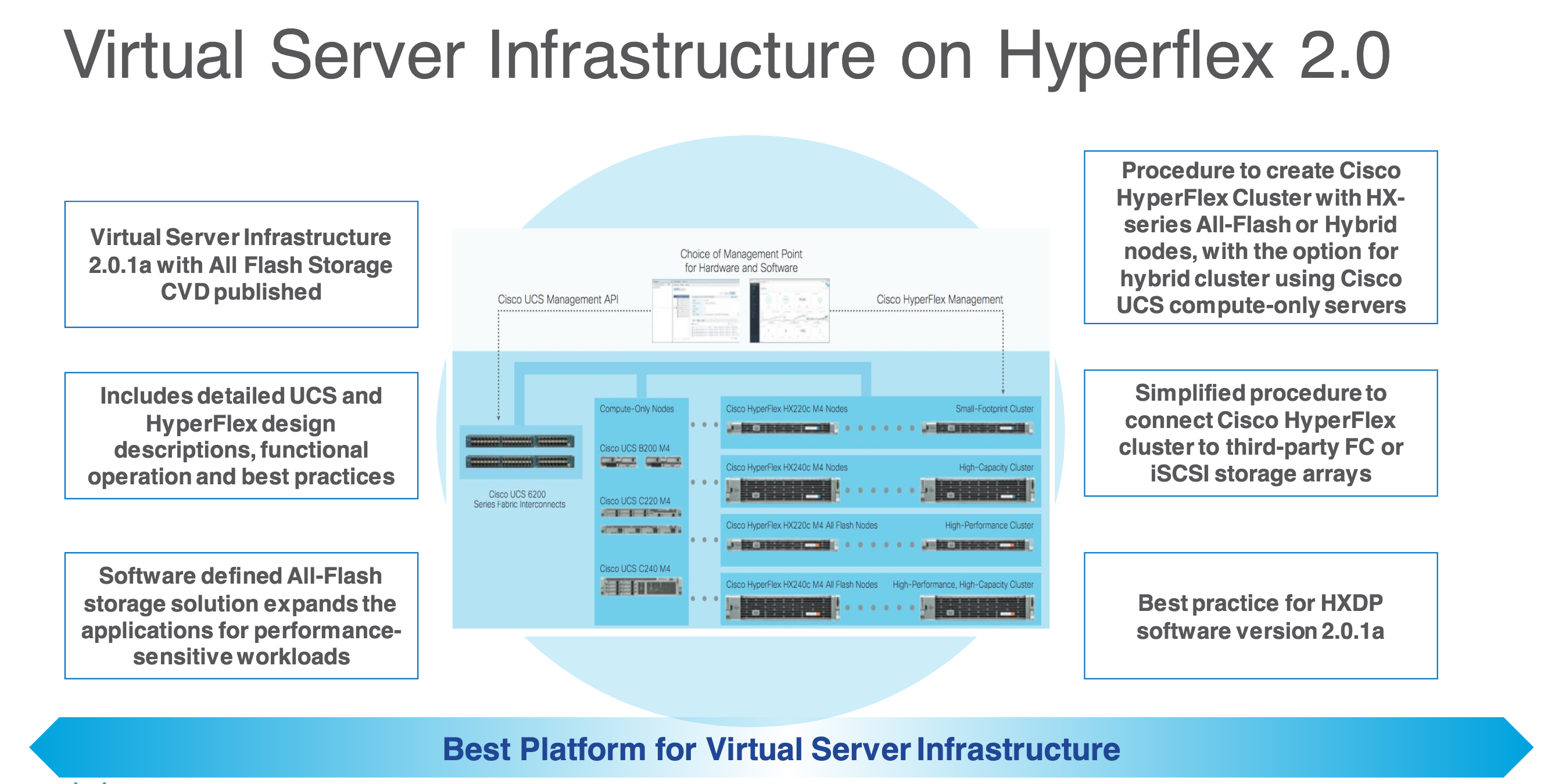 Major features supported in HDXP 2.0.1a that are covered in the CVD:
- New All-Flash HX server models that offer all flash storage using SSDs as capacity disks;
- Simplified procedure to connect HX cluster to the external storage (iSCSI or Fibre Channel) devices;
- Support for adding HX nodes to an existing Cisco UCS-FI domain;
- Introduction of the newly released Cisco HyperFlex Sizer tool.
Since then there are some further enhancements that were introduced in HXDP 2.1.1b release:
- Single HX Cluster scaling is improved from maximum of 16 nodes to maximum of 32 nodes for all-flash system (16x converged nodes + 16x compute-only nodes) while the maximum of 16 nodes still holds for the hybrid system.
- Addition of some UCS M3 models as HX compute-only nodes: UCS B200 M3, UCS C220 M3 and UCS C240 M3
- Introduction of Cisco HyperFlex Edge — HyperFlex Systems solution for remote and branch office (ROBO) and edge environments.
- Support of Cisco UCS 6300 Series Fabric Interconnects (UCS 6332 FI, UCS 6332-16UP FI), 1387 VIC network adapter and direct connectivity to 40 GB ports.
- HyperFlex Systems support for Self-Encrypting Drives (SEDs).
More information regarding HXDP 2.1.1b release can be found here in the release notes.

The VSI CVD version 2.0 mentioned that 6-10 capacity SSDs are supported on a HXAF240c node. This limitation will be lifted in HXDP 2.5 code. In 2.5 release, an all-flash HXAF240c node will support 6-23 capacity SSDs.
In the VSI CVD version 2.0 we described the detailed procedure how to connect a newly built HX cluster to the existing third-party storage devices, in either iSCSI or FC protocol. The CVD did not cover the scenario where HX nodes are added to the existing FI domain. Since adding HX nodes to the existing FIs will overwrite the existing configuration and will be disruptive to the existing production environment, the customers need to be extremely careful and Cisco service support is recommended for performing this kind of change.
A Youtube video is created here to demonstrate how a newly built HX cluster connects to the existing Fibre Channel storage devices:
And here is the demo to show how a newly built HX cluster connects to the existing iSCSI storage devices:
You must be a registered user to add a comment. If you've already registered, sign in. Otherwise, register and sign in.