Options
Mark as New

Mark as Read

Bookmark

Subscribe
‎10-19-2012 02:19 AM - edited ‎03-01-2019 05:57 AM
Overview
Cisco's Nexus switches offer the latest in Next-Generation Data Center switching innovations that enable efficient virtualization, high-performance computing, and a unified fabric. There is a wide range of Cisco Nexus family products that support different features and capabilities. Consequently designing a data center network that uses Cisco's Next Generation of data center switches (Nexus) requires a very good understanding of the data center network recruitments such as servers' network connectivity requirements, protocols, layer 2/layer 3 demarcation points, data center interconnect requirements and traffic load.
For more details about Cisco Nexus family products see the following link:
http://www.cisco.com/en/US/products/ps9441/Products_Sub_Category_Home.html
This document will briefly discuss some high level design examples of data center networks that utilise Cisco Nexus Switches with emphasis on the mapping between data center business requirements and the selected hardware and features to meet these requirements, taking into consideration the size of the data center network.
Note:
The bellow design examples can be used as a guide/reference only and are not Cisco's official best practice solutions
Example 1:
XYZ.com has a small size data center with the following requirements
20x servers that use single 1Gbp Ethernet copper access ports

5x physical servers for Virtualized services with 2x 10G/1G that work in active/active and active/standby NIC teaming modes

4x 10G uplinks to the campus core with L3 routing

2x 1G FiberChannel storage array

Solution:
Recommended Hardware
2x Cisco Nexus 5548 with the following HW specifications per chassis:
L3 daughter cards

2x Nexus 2248 Fabric extender switches (FEX)

Design description:
Using Cisco nexus 5500 series in a small to medium data cneter can provide a reliable and cost effective data center switching solution. Based on the above requirements nexus 5548 can provide the following:
1G/10G unified fabric interfaces

FC port for NAS/SAN

Layer 3 routing capability

Nexus 2K FEXs for ToR to provide high density of access ports

vPC for active/active multi-homed services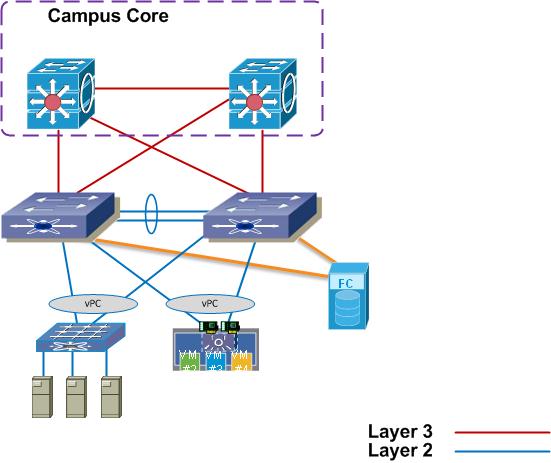 Example 2:
XYZ.com has a medium size data center with the following requirements
150x servers that use dual 1Gbp Ethernet copper access ports that work in active/active and active/standby NIC teaming modes

Virtualized services on 1x Cisco UCS system that need 4x10G uplinks to the network in active/active mode

4x 10G uplinks to the campus core ( routed )

2x ASA firewalls with 2x 1G interfaces each

Some services need to be placed in a DMZ zone behind the ASA firewall

Future plan is to increase 10G services in the DC access

Solution:
Recommended Hardware
2x Cisco Nexus 7009 with the following specifications per chassis:
2x supervisors

2x F2 10G/1G module ( to provide up to 48 ports line rate of 10G/1G ports )

4x Nexus 2248 Fabric extender switches ( can provide up to 192 1G copper access ports )

5x FAB2 ( can provide bandwidth per slot up to 550G)

Design description:
The recommended HW above can provide a simple Nexus DC design without complexity and able to meet the requirements in terms of 1G/10G port density

Collapsed access/distribution design model will be used here by using Nexus VDCs to achieve a complete logical separation (resources and interfaces) over a single physical chassis

vPC will be used for active/active multi-homed services

Example 3:
XYZ.com has 2x large data centers with the following requirements:
100s of servers that use dual 1G/10G access ports that work in active/active and active/standby NIC teaming modes

Virtualized services on multiple Cisco UCS systems that need x10G uplinks to the network in active/active mode

10G uplinks to the DC core

High density 10G ports

Layer 2 extension between the 2 data centers over 2x 10G dark fiber links

Support for local default gateway for extended layer 2 vlans between the 2 DCs

Layer 2 multi-pathing between access and aggregation DC layers without STP blocking in any link

Support of multi-homed services in active/active mode

Scalable solution to add more distribution PODs to the DC

Solution:
Recommended Hardware per DC:
DC core:
2x Nexus 7009

FAB2

M1 10G modules

DC aggregation:
2x Nexus 7010/7018

FAB2

M1 10G modules ( for OTV)

Multiple F2 modules for high density of 10G ports and fabricpath support

DC Access:
Nexus 7009 with FAB2, Multiple F2 modules for high density of 10G/1G ports

Nexus 5596, nexus 2K if required

Design description:
The above HW can meet the requirements by providing:
Layer 3 routing capability with 10G support in the core

High density of 10G ports in the DC aggregation and access layers

L2 Multi-pathing (none-blocking) between the DC access and aggregation layers using Cisco FabricPath

Layer 2 VLAN stretching between the 2 data centers using OTV which support localised default gateway

vPC+ that can support multi-homed services in the access layer in conjunction with fabricpath between the DC access and aggregation layers

Regards,
Marwan Alshawi