Beginner
Mark as New

Bookmark

Subscribe

Mute

Email to a Friend
VXLAN BGP EVPN: Is there any problem on connect Border Leafs to the external network using OSPF
Hello,
We are implementing VXLAN BGP EVPN in our Datacenter. Our VXLAN Fabric consists of two Nexus 9364c Switches (Spines) and four Nexus C93108TC Switches (Leafs). The Leaf switches are forming two pairs of vPC VTEP Switches (Leaf1 with Leaf2) and (Leaf3 with Leaf4).
1-) Would there be a problem on connect the Border Leafs to the external network with OSPF instead eBGP?
2-) What should we take into account to implement this type of connection to the external network? (One OSPF link to the external network on each Leaf Border)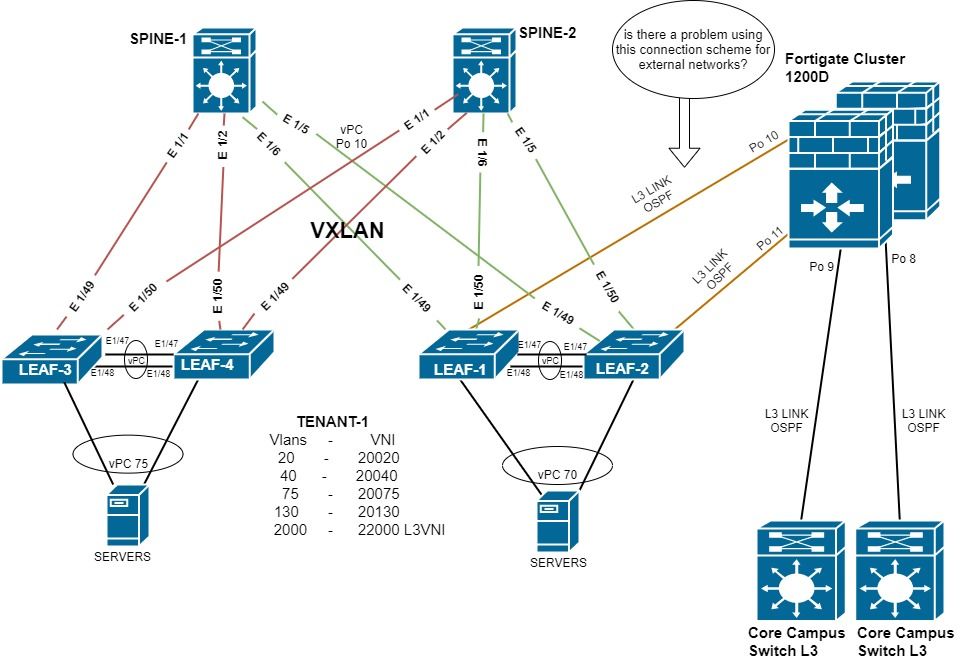 1 ACCEPTED SOLUTION

Cisco Employee
Mark as New

Bookmark

Subscribe

Mute

Email to a Friend
Hi Carlos,
Assuming that both units within the Fortigate cluster are able to send an identical LACPDU, then Po10 and Po11 could be combined into a single vPC. Since vPCs are Layer 2 constructs, this means your OSPF adjacencies to the Fortigate firewalls would be an SVI in each respective tenant VRF.
I did not find any documentation explicitly stating that this is supported, but the NextGen DCI with VXLAN EVPN Multi-Site Using vPC Border Gateways White Paper (which places Border Gateways into a Border Leaf role) indicates that this is supported.
With this being said, I would recommend using Layer 3/routed links between each border leaf and the Fortigate cluster if possible. I would expect you to see just as good performance in failover scenarios with Layer 3/routed links as you would with routing over vPC. Furthermore, Layer 3/routed links would involve less technology (since vPC is no longer a consideration), which means there is one less point of failure to be concerned about.
I hope this helps - thank you!
-Christopher