Beginner
Mark as New

Bookmark

Subscribe

Mute

Email to a Friend
Anyone out there experienced with using ISE as an Intermediate CA for BYOD?
When using ISE as an intermediate CA we seem to get odd results in the windows client certificate issued by the BYOD process. We have observed the same in ISE 1.3 and 2.0 patch 3. Although the cert works, certificate information seems to be missing info we normally see as you can see in the screen captures below.
I would have thought the certification path (in the second picture) would show the root CA, intermediate CA and finally the user cert. Is it because the client doesn't have the Intermediate CA certificate? If so how can you get this from ISE and why doesn't it push it automatically along with the root certificate?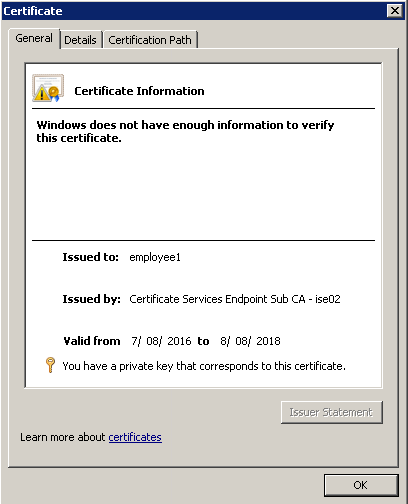 Root CA is installed:

ISE Auth is successful:

1 ACCEPTED SOLUTION
Cisco Employee
Mark as New

Bookmark

Subscribe

Mute

Email to a Friend
This is expected. ISE itself has the certificate chain in its trusted store so ISE can authenticate the endpoints with their TLS certificates. Normally, the clients only need to trust ISE server certificate(s) so no need to install the full certificate chain for the client on the endpoints.