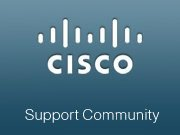 Community Manager
Mark as New

Bookmark

Subscribe

Mute

Email to a Friend
Ask the Expert: ISE 1.2: Configuration and Deployment with Cisco expert Craig Hyps
Welcome to the Cisco Support Community Ask the Expert conversation. This is an opportunity to learn and ask questions about how to deploy and configure Cisco Identity Services Engine (ISE) Version 1.2 and to understand the features and enhanced troubleshooting options available in this version, with Cisco expert Craig Hyps.
October 27, 2014 through November 7, 2014.

The Cisco Identity Services Engine (ISE) helps IT professionals meet enterprise mobility challenges and secure the evolving network across the entire attack continuum. Cisco ISE is a security policy management platform that identifies users and devices using RADIUS, 802.1X, MAB, and Web Authentication methods and automates secure access controls such as ACLs, VLAN assignment, and Security Group Tags (SGTs) to enforce role-based access to networks and network resources. Cisco ISE delivers superior user and device visibility through profiling, posture and mobile device management (MDM) compliance validation, and it shares vital contextual data with integrated ecosystem partner solutions using Cisco Platform Exchange Grid (pxGrid) technology to accelerate the identification, mitigation, and remediation of threats.
Craig Hyps is a senior Technical Marketing Engineer for Cisco's Security Business Group with over 25 years networking and security experience. Craig is defining Cisco's next generation Identity Services Engine, ISE, and concurrently serves as the Product Owner for ISE Performance and Scale focused on the requirements of the largest ISE deployments.
Previously Craig has held senior positions as a customer Consulting Engineer, Systems Engineer and product trainer. He joined Cisco in 1997 and has extensive experience with Cisco's security portfolio. Craig holds a Bachelor's degree from Dartmouth College and certifications that include CISSP, CCSP, and CCSI.
Remember to use the rating system to let Craig know if you have received an adequate response.
Because of the volume expected during this event, Ali might not be able to answer each question. Remember that you can continue the conversation on the Security community, sub-community shortly after the event. This event lasts through November 7, 2014. Visit this forum often to view responses to your questions and the questions of other community members.
(Comments are now closed)
1 ACCEPTED SOLUTION
Advocate
Mark as New

Bookmark

Subscribe

Mute

Email to a Friend
Hello Kevin,
Whether posture or any security control is a good investment is always a balance between security policy, risk, and the cost/impact to organization to deploy such controls. I will not attempt to answer that for your organization here, but will try to shed light on other facets of your query.
I do not have exact counts, but in my years working with both NAC Appliance and ISE, I would say most NAC customers deploy posture. I would say less than half deploy posture with ISE, but realize that many have migrated from a AAA-only deployment, say CiscoSecure ACS, and many are green-field deployments where customer starts with basic authentication and access enforcement and then builds upon that foundation with more advanced functions of profiling and endpoint compliance.
Higher education is a unique vertical and the decision to perform posture or not is often rooted in the university's culture--some have the mantra that students shall have free access to all resources and do not mandate installation of any client software on student PCs; others treat the network as a privilege that is governed by specific terms of use including the installation of posture agent and software to help ensure the connected device is not a threat to other PCs or to the security and productivity of university as a whole. Depending on which camp your organization sits will often dictate whether posture is deployed.
With the growing popularity of Bring Your Own Device (BYOD) in the broader market, endpoint compliance is becoming a more prominent requirement. Endpoint compliance incorporates both the traditional posture assessment functions attributed to PC desktops/laptops as well as the more recent Mobile Device Management (MDM) solutions with a primary focus on mobile devices. With users connecting from personal devices where they have admin controls versus a managed endpoint that has been locked down with a corporate image, customers want to make sure there is a way to validate that the BYOD device meets some minimal compliance level.
Interestingly, Higher Ed has been a BYOD environment many years before the term became popularized in corporate networks. However, the same security concerns exist and the university culture and IT policy will dictate whether endpoint compliance is more important than unfettered student access from their personal devices.
Moving forward I see MDM usage increasing and general endpoint compliance treated simply as a super-set of these device assessment and remediation options. In my opinion, basic posture/MDM makes perfect sense to improve the general security of network and connected devices. I also agree that its use not significantly impact user productivity. ISE 1.3 targeted for end of this month adds support for AnyConnect 4.0 as the posture agent. This is a major step forward to integrate endpoint compliance and security functions into single client and to improve on the end user experience and administration across the entire organization.
I hope this answered your questions.
Regards,
Craig