Highlighted
Cisco Employee
Mark as New

Bookmark

Subscribe

Mute

Email to a Friend
Fix for ISE Guest with Aruba and CoA Delay
I have been working on setting up ISE with an Aruba IAP running version 6.5.4.2 and ran into an issue that I think should be noted in the config guide published on cisco.com for configuring Aruba with ISE flow:
Configure Guest Flow with ISE 2.0 and Aruba WLC - Cisco
What we found when following the guide is that while the guest flow worked correctly, the CoA was taking 90 seconds to complete after successfully authenticating in the guest portal. This caused the users to continue to get redirected for 90 seconds at which point the CoA finally went out and the users were able to access the network as expected.
The delay was highlighted in the ISE RADIUS CoA log entry as a StepLatency attribute showing 90502ms or around 90 seconds.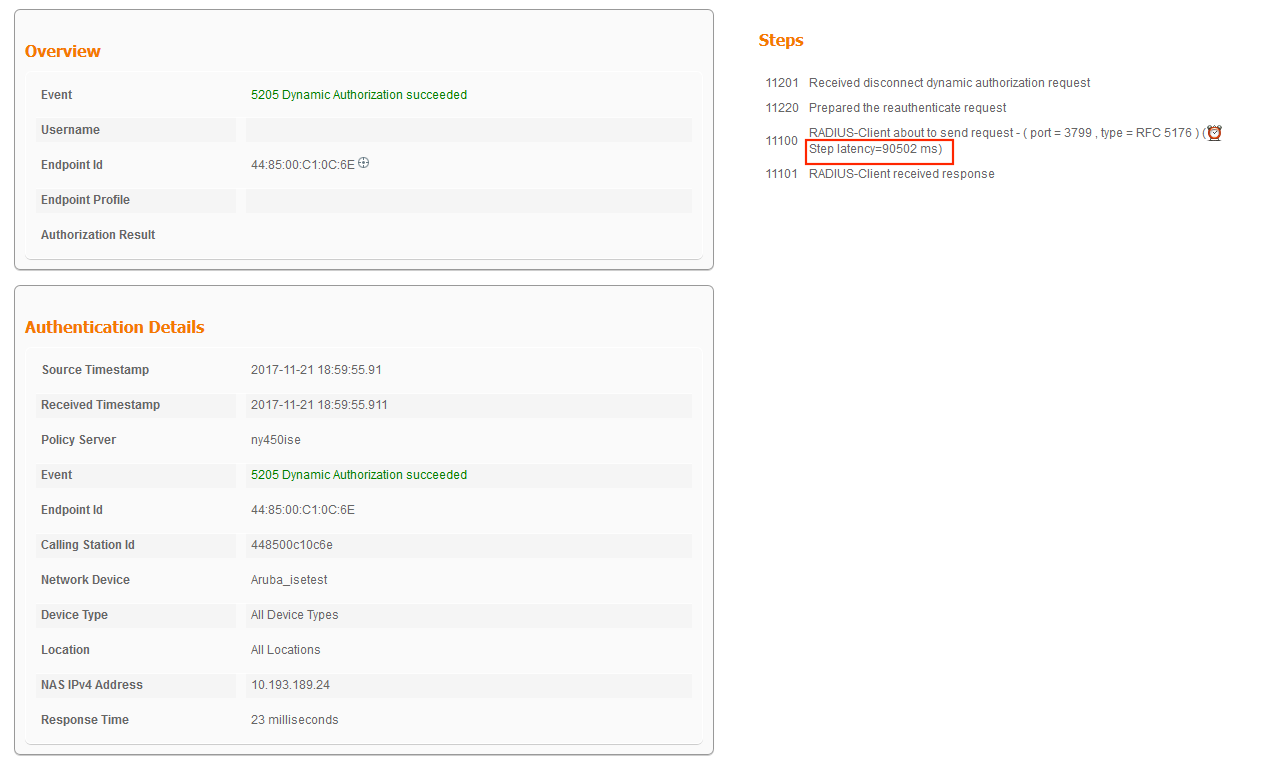 This latency is related to the way Aruba sends MAC address related attributes in RADIUS messages. By default, Aruba will send the MAC address as the username without any delimiters (for example 448500c110a6). This can cause delays with ISE when generating the CoA to send to Aruba.
Aruba allows this delimiter to be configured for MAC addresses within the SSID setup:
Once this delimiter was configured with a colon, the IAP had to be rebooted for the changes to take effect. Afterwards, the CoA delays cleared and the process worked as expected, allowing guest users to access the network immediately.
1 ACCEPTED SOLUTION
Highlighted

Advocate
Mark as New

Bookmark

Subscribe

Mute

Email to a Friend
Yes, this issue was called out in the past on Community but I cannot find my response. Obviously should have documented this much better since you were not able to find it in your troubleshooting.
In addition to deliberate setting of the delimiter for Calling ID, you can also set the values for Called ID so that they are similar to what you might see from WLC...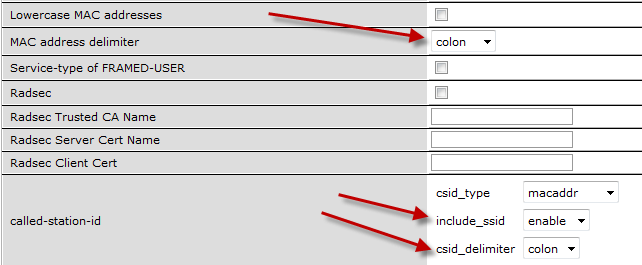 As mentioned, changes made on ISE side have made original issue less common, but I still recommend to customers set these more deliberate settings rather than relying on ISE to normalize.
/Craig